We have gathered all of Baton Rouge's best brunch spots, decided by locals, so you don't have to! From grits and grillades to morning benedicts, experience a taste of Baton Rouge at local favorites for dine-in, outdoor seating or take-out! Follow our brunch map through the city, and find a list with more "can't miss" brunch spots below.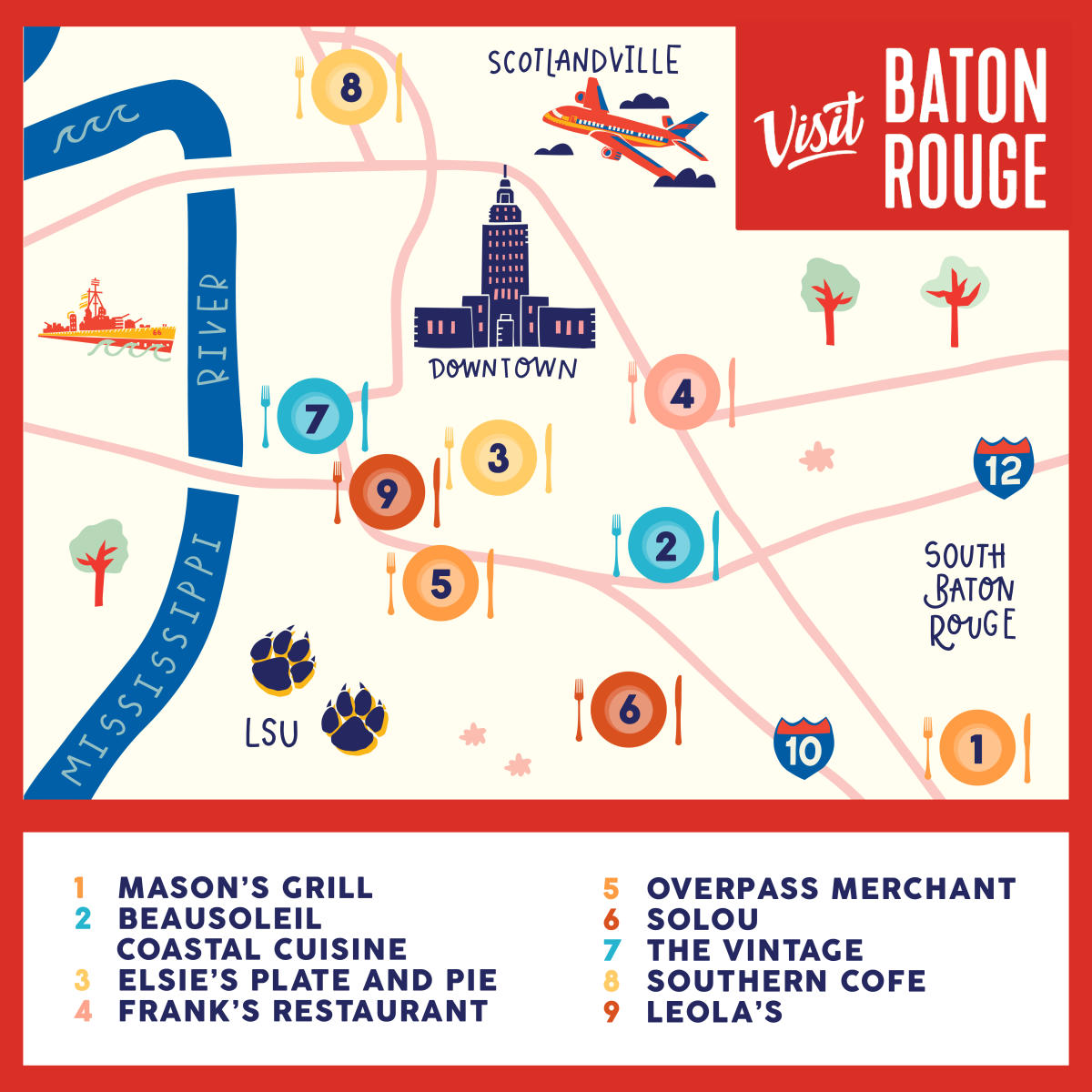 Mason's Grill - Voted 2019, 2020 & 2021 Best Brunch
13556 Jefferson Hwy. 
$$ 
Saturday & Sunday
Mason's is the defending champion of the Best of 225 Brunch award, and it sure does live up to the title! With bottomless mimosas, famous Bloody Marys and a home-style menu, this is the perfect place to go on a Saturday or with the whole family on Sunday.
"Mason's brunch was so yummy!! Coffee lovers… their nitro vanilla cold brew is a must have!" -Ashlyn L.
7731 Jefferson Hwy. 
$$ 
Sunday
Often called "a hidden treasure," Beausoleil does not disappoint with Creole flavors. Their brunch menu holds classic dishes with a slight twist—great for any type of brunch-goer!
"The Mississippi Mule is an absolute must if you like Moscow Mules. Our entrees were amazing as well, but oh my gosh, the bread pudding. We heard a hallelujah chorus. Highly highly highly recommend." -Chelsea J.
Elsie's Plate and Pie  - Voted 2020 & 2021 Best of 225 "Best Overall Restaurant" & 2021 Best of 225 "Best Desserts at a Local Restaurant"
3145 Government St. 
$$
Saturday & Sunday
Winning Best Overall Restaurant in the 2020 & 2021 Best of 225 Awards, Elsie's is the must-try eatery in the city. Named after Chef Paul Dupre's grandmother, Elsie Campeau Rupe always had three things when a guest visited her home: a hug, your favorite meal and pie for dessert. Elsie's carries on that legacy with its welcoming environment, incredible dishes and the best pie you'll ever have. Their brunch menu is a mouthwatering blend of savory and sweet that will leave you satisfied. 
"From its sunny atmosphere to its wonderful blend of French and Cajun cuisine, Elsie's is a must-eat for anyone wanting to experience a true taste of the capital city." -Joseph M.
.
Frank's Restaurant - Voted 2021 Best of 225 "Best Breakfast"
8353 Airline Hwy. 
$ 
Daily
Also known as the "home to the best homemade biscuits in the world," Frank's is a go-to spot for anyone looking for a traditional, downhome southern breakfast. We're drooling just looking at their menu! 
"Great home cooked meals, large portions, and the best biscuits in town!" -Linda D.
2904 Perkins Rd. 
$$
Sunday 
Located under the Perkins Overpass, this bustling restaurant features some of the best specialty drinks and breakfast plates. They even have a biscuit menu which varies from classic with jam to fried chicken or ham and egg sandwiches! Sit under the large outdoor tent to bask in the gorgeous Baton Rouge weather while you enjoy your meal. 
"A quaint little place with a great staff and wonderful atmosphere! THE go-to place for Sunday brunch. The brunch menu is full of many great dishes, especially like the biscuits. Definitely worth trying." -Rick G.
7246 Perkins Rd.
$$
Saturday & Sunday
SoLou is the newest addition to the Baton Rouge food scene, and man, has it taken the city by storm. Southern meets elegance meets Instagram photo ops at this Perkins dining spot. Take it from us, you'll have FOMO if you don't try it soon.
"Overall great restaurant!! The atmosphere and service was fantastic. We made a reservation for Sunday brunch and they sat us when we arrived! The food was delicious, and we can't wait to go back! A must try :)"           -Kaitlyn W.
333 Laurel St.
$-$$
Daily
Located on historic Third Street, The Vintage is the perfect spot for a quick and delicious breakfast downtown. Their coffee is incredible, and don't even get us started on the beignets! Pro tip: Take your food to go, and walk over to the levee to enjoy brunch with a view!
"The atmosphere was perfect to relax and enjoy a delicious breakfast! The service was quick, and the food was delicious! Will definitely make this a preferred stop next time we come to visit." -Liz H.
8418 Scotland Ave. & 501 Main St.
$
Monday – Saturday
Southern Cofé marries healthy eats with southern comfort and incredible coffee. Check out the original Scotlandville location, or stop in at Main Street Market downtown—we're sure that you'll feel right at home.
"Not only is the space great, but the staff are always so friendly and helpful. This place is an oasis of affordable, healthy eats and good coffee. Their vegan cookies are so amazing, and the buddha bowl was refreshing and light. 10/10 recommend this hidden gem!" -Layni L.
1857 Government St.
$$
Tuesday – Sunday  
Leola's Café is tucked away off of Government Street in a cluster of antique shops and boutiques. Offering unique flavors and pairings, Leola's has left a stunning impression on locals. Weather permitting, we recommend dining in their outdoor courtyard area.
"This was one of the best brunches I've had in a loooong time. We got the brunch board and a mimosa flight... A+++. The board consisted of bougie cado toast, bagel and lox, veggie quiche, brie, hummus, veggies, caprese salad, fruit, brisket, and pancakes. Everything was spot on and DELICIOUS! I was dancing in my seat." -Liza S.
Looking for more breakfast and brunch spots?
District Donuts
Magpie Cafe
Before you take a bite, make sure to snap a pic and tag #ExploreBatonRouge! See our list of open restaurants to taste even more of what the Capital City has to offer.