Absorb all there is to know about Louisiana's capitol city of Baton Rouge.
Where else can you get a glimpse of historic mansions, coast through tree-lined historic neighborhoods, experience being on a Mardi Gras float, learn about life on a plantation and see the mightiest river in the U.S. – all in just a few hours?
There's no way to individually tackle all the sights in Baton Rouge in one afternoon, but Red Stick Adventure Tours is now offering a way to see a lot in a short amount of time. The tour hits the big must-sees in the greater downtown area. Consider this adventure your built-in itinerary, stopping at Baton Rouge's famous landmarks and attractions and learning a little about each along the way.
If you've been here before, you'll notice that the downtown area looks much different.  There wouldn't have been too much to tour even just a few years ago. But today, Red Stick Adventures has countless stops that teach their riders all about the new and old of Baton Rouge.
Even locals will learn a thing or two they didn't know on this trip.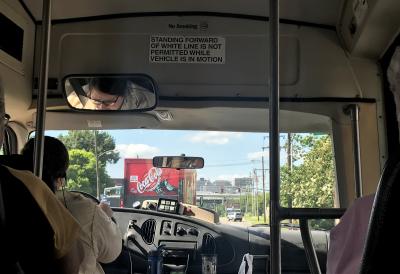 The Tour
Immerse yourself in history and political repertoire of the area, where you'll learn about Louisiana politicians' impact on the architecture and their competitions of grandeur political epicenters and residences.
Tour guide Susan details the passing-byes of days past and present in Baton Rouge, and shares trivia questions that leave you with fun tidbits about the city.
Riders may be intrigued when the tour starts off with how our city earned the name 'Red Stick' and what it means.  Points that can be seen along the beginning of the route include the Raising Cane's River Center, Catfish Town, the statue of Christopher Columbus, Red Stick Fountain, USS Kidd, Town Square, and more.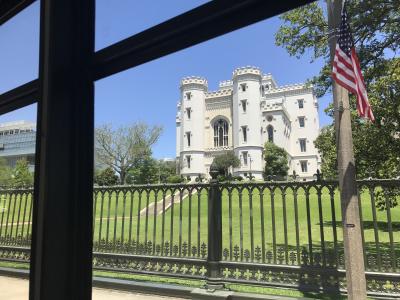 Awe over details of three significant pieces of Baton Rouge architecture, including the Old State Capitol building, our own 'castle on the river,' that one famed author thought to be a "monstrosity"; the Old Governor's Mansion, designed by a former governor to look like the White House due to his presidential aspirations; the New State Capitol, which sits as the tallest capitol building in the states, as well as learn the fate of former Governor Huey P. Long inside of it.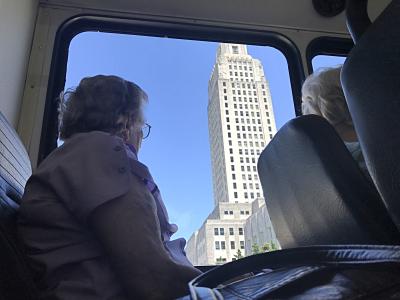 An outstanding view of the downtown Baton Rouge skyline will be viewed from the interstate on your way to the New Governor's Mansion, built by former Governor Jimmie Davis, and learn what famous song he wrote. Continuing the politically historic theme of the capital city, you'll be able to spot landmarks with significance to the Civil War and Battle of Baton Rouge.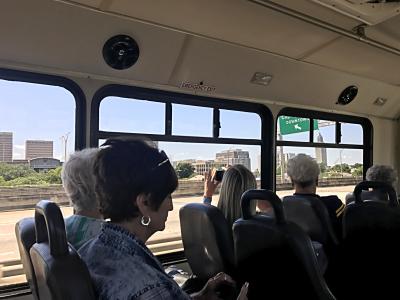 Pit Stop
Here, guests will hop off for a tour stop at the Capitol Park State Museum for interactive exhibits about Baton Rouge and the Pelican State.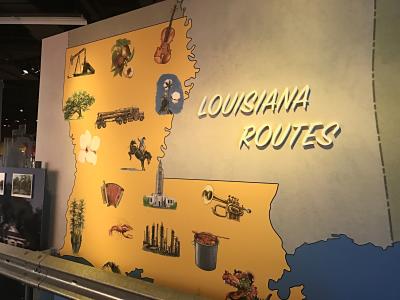 Admission is included in the tour price and in the museum, you'll chose your path down one of the historic highways to learn more about areas of the state including the North, Acadiana, and Southeast regions.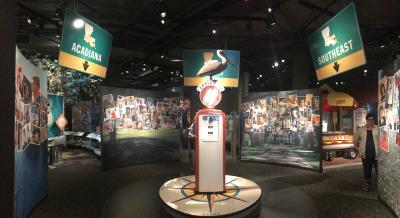 In the North corridor, you'll learn about how we let the good times roll at Louisiana festivals.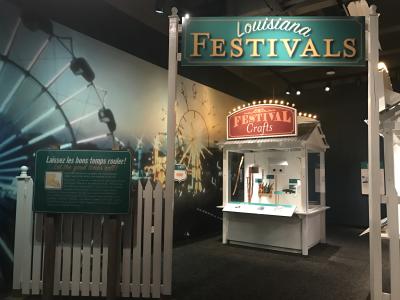 Venture through the Acadiana region and discover that there is in fact a difference between Cajun and Creole.
Stop in the Southeast and climb a top a float to experience the unique southern tradition of Mardi Gras. A video gives you the perspective of a rider in a Mardi Gras parade, staring down at those waiving on the street for beads.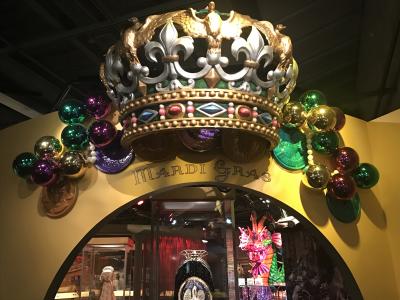 Learn about the various influences on things like our music and food, and look upon giant replicas of the southern ways of life including a shrimp boat, oil rig and machinery used to harvest sugar cane.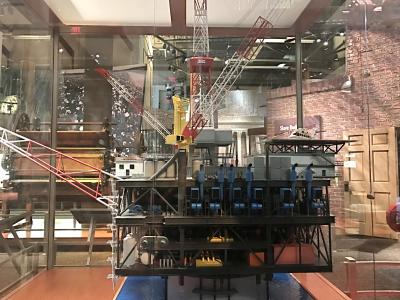 The museum houses other interesting exhibits that tell the story of Baton Rouge, including one dedicated to the mightiest river of them all, The Mississippi River, which guests will get a glimpse of later in the tour.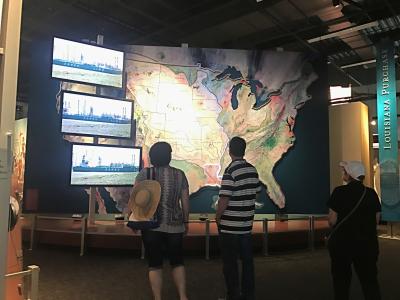 The Tour Continued
Climb back aboard Red Stick Adventures for the second leg of the tour that takes you through two of Baton Rouge's earliest settlements, the neighborhoods of Spanish Town and Old Beauregard town. You'll be encouraged to spot all the pink flamingos you can and learn more about the significance of their tradition.
Many don't know that Baton Rouge is home to a beautiful National Cemetery for Union soldiers. Tour-goers will also get to see some of Baton Rouge's oldest cemeteries on the tour, made up of above-ground graves, the style for many below sea level.
Visitors will then love exploring the breathtaking campus of Louisiana State University, famous for its live oak trees almost as much as its athletics. See where LSU Football plays at Tiger Stadium, aka 'Death Valley,' and then baseball fans can get a view of Alex Box Stadium and Skip Bertman Field.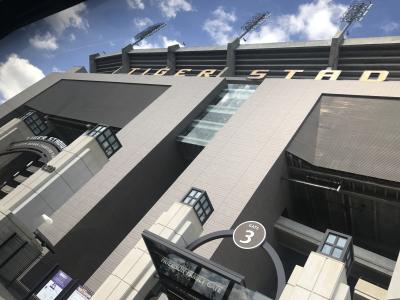 Heading back downtown, gorgeous churches, parks and plantations are spotted, and Red Stick Adventures shares tidbits of history of landmarks such as the former Heidelberg Hotel and it's not-so-secret-anymore tunnels, the Mississippi River Bridge, Water Co. Stand Pipe, and Louisiana Art & Science Museum, before returning to the tour's starting point.
Locals in need of a staycation, or just for something different to do, will find this tour a perfect way to revisit a city you know and love, and witness just how much its grown and improved in the past few years!
Visitors with just a few hours of free time, or those who are coming early or staying after their scheduled visit to enjoy more of Baton Rouge, will be able to experience its true beauty and adventure through Red Stick Adventures city tours. By the end of the route, the city will have earned a place in their hearts.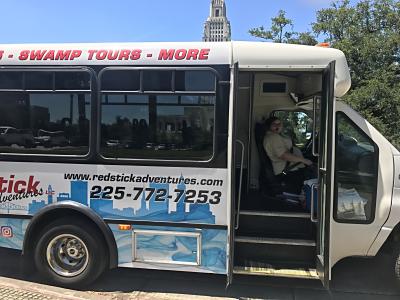 For more information on Red Stick Adventures or to book a tour, click here.