As Mardi Gras season begins, there are plenty of ways to celebrate in the Capital City. The most important, of course, is picking up a delicious king cake from one of these Baton Rouge bakeries, grocery stores and restaurants. So this Mardi Gras season, we're challenging you to show your support for these local king cake sellers by visiting every stop on our King Cake Map. Let us know if we missed one of your favorites, and help us crown the best Capital City king cake in the comments below!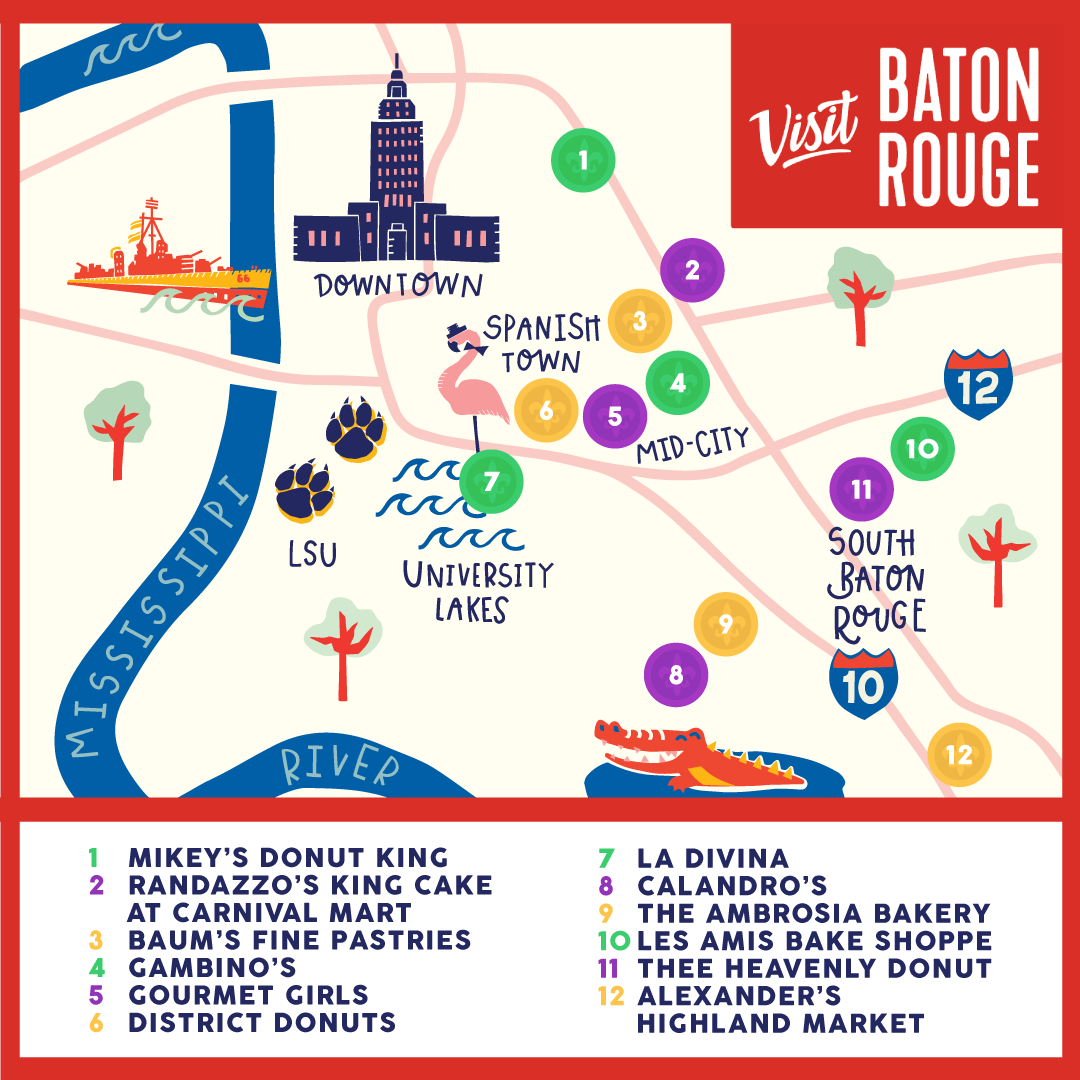 Mikey's Donut King
7046 Airline Hwy.
If your go-to king cake is a fluffy donut, Mikey's is your shop! 
Nonna Randazzo's King Cake at Carnival Mart
8696 Florline Blvd.
A New Orleans classic is available in Baton Rouge! Carnival Mart stocks limited quantities of Nonna Randazzo's signature king cakes every day, so grab one while you can. 
8646 Goodwood Blvd.
Gambino's is a fan-favorite bakery, and for good reason too! Their king cake is made with 
Danish dough mixed with cinnamon. Add fillings to make it your own!
1660 Lobdell Ave., Suite 100
Gourmet Girls is your one-stop-shop for all things king cake-related. They offer king cake cookies, mini king cakes, macarons, cupcakes, and of course, traditional king cakes.
7415 Corporate Blvd. #900
District Donuts is always thinking outside the box with their donut creations, and their king cakes are no exception. If you want a unique spin on the classic treat, try out District Donuts.
3535 Perkins Rd.
Everyone knows La Divina for their delicious gelato and coffee, but the Italian cafe also offers personal-sized king cakes in a variety of your favorite flavors, as well as king cake gelato!
Calandro's Supermarket
Calandro's is well-known for their 50+ flavor combinations like the new-for-2021 Royale Cookies king cake. Chocolate, coconut, vanilla, and macadamia nuts combine with cinnamon, butter, and brown sugar for a must-try king cake that's topped with a cream cheese, cookies & cream liqueur, and vodka drizzle.
8546 Siegen Lane
The Ambrosia Bakery is another Red Stick classic! Stop by to pick up a traditional king cake or one of their famous Zulu cakes, filled with coconut and cream cheese and topped with chocolate icing.
11826 Coursey Blvd.
Les Amis bakes up a heavenly traditional king cake, but they don't stop there! You can also find king-cake-flavored cheesecakes, cake balls, macarons and bread pudding at this local bake shoppe.
5830 S. Sherwood Forest Blvd
Thee Heavenly Donut takes the beloved donut king cake and packs in gourmet fillings like bananas foster and chocolate-covered strawberry!
18111 Highland Market Dr.
In addition to its traditional king cakes, Alexander's has all-natural, gluten-friendly, low-carb, and keto-friendly king cakes for those with dietary restrictions. These recipes are soy-free and preservative-free with no added sugars. 
Honorable Mentions
We couldn't leave off some fan-favorite local bakers that offer unique creations by special order. 
Rosch Bakehaus offers a traditional cinnamon king cake and the classic French Galette du Rois, as well as a scrumptious Melvis King Cake, packed with peanut butter, bruleed banana, cream cheese and bourbon salted caramel
Looking for a tasty, vegan king cake? Plant-Based Sweets by Lotus offers traditional and pecan praline options. 
Batch Baking Company makes a delectable mini classic king cake available for pickup in limited quantities at City Roots Coffee Bar every Monday, Wednesday and Friday.
Get New Orleans favorites delivered to Baton Rouge with the all-new food delivery app dliveryNola. Order Brennan's Restaurant's Pink Parade King Cake, filled with strawberry cream cheese and topped with pink frosting and edible glitter.
Savory King Cakes
If you prefer savory over sweet, City Pork and Chris's Specialty Meats make boudin king cakes that will satisfy your taste buds! 
 
Must-Try King Cake-Flavored Food & Drink Items