Snoball or snocone? Here in Baton Rouge, we'll take them either way! Whether you're in the mood for a chantilly cake snoball, a chocolate sno-berge (a chocolate and doberge cake snoball? Don't mind if we do!) or a classic cherry snoball, there are a variety of delicious flavors offered at stands around the Red Stick that will keep you coming back all summer long. We challenge you to see what they hype is all about and try each of these local stands this snoball season!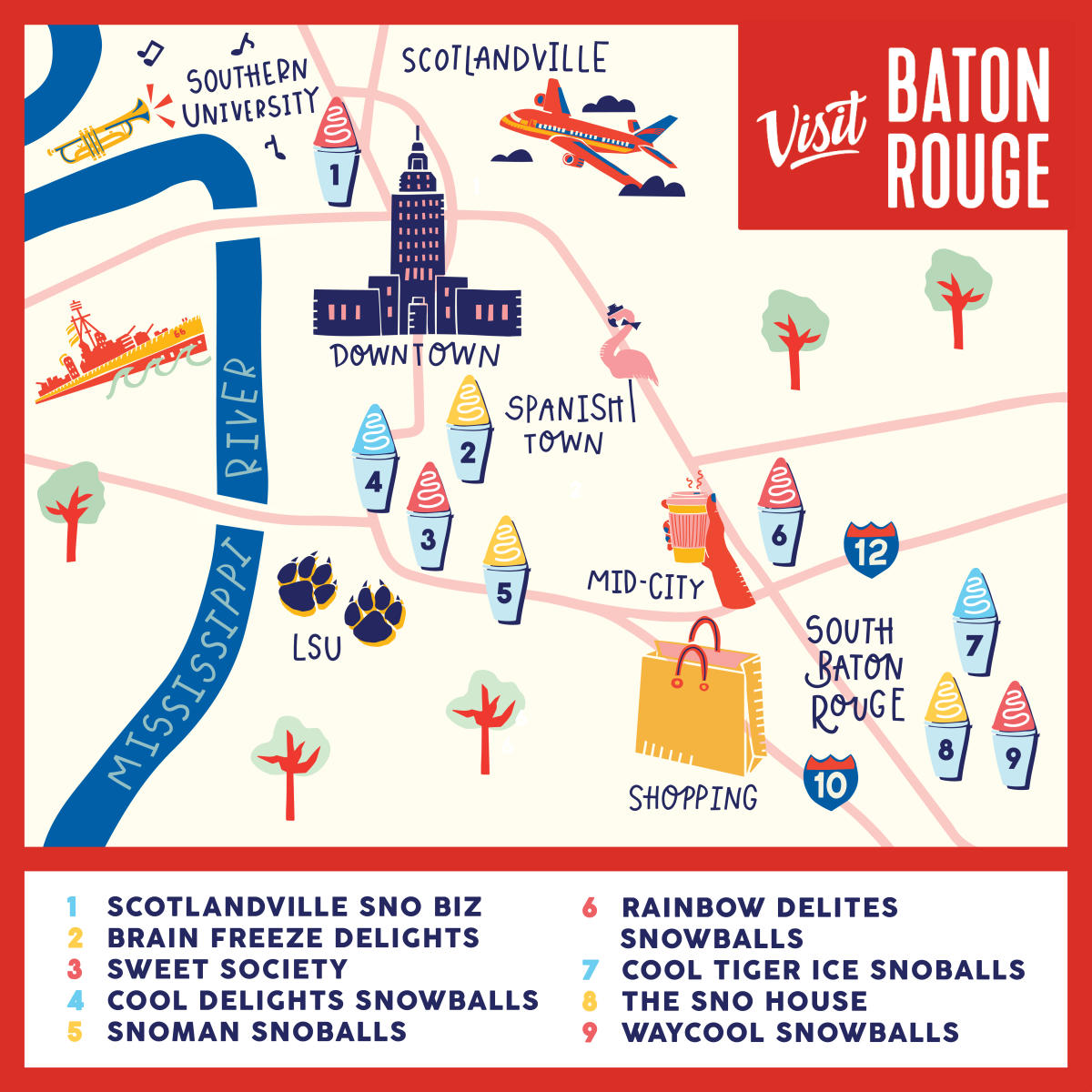 7890 Scenic Hwy
Great snoballs and great service is what Scotlandville Sno Biz is all about! Make sure to request their special "Frog in a Blender" flavor when you stop by. 
3813 Florida Blvd.
Visit Brain Freeze Delights for some of the most creative flavors in Capital City. Don't forget to try the creamy and fruity Chantilly Cake snoball!
1509 Government St.
If you're in the mood to switch it up, Sweet Society on Government Street has just the thing — Korean style snoballs. Try out a Bingsu this summer.
1115 Government St.
On the lookout for both a sweet and salty treat? Stop by Cool Delights Snowballs to pair your classic snoball with one of their hot dogs, hot tamales, or other snack items on the menu.
9534 Burbank Dr., 14616 Tiger Bend Rd. & 3655A Perkins Rd.
Whether you want a snoball topped with condensed milk, fruit, caramel, whipped cream, or even gummy bears, Snoman Snoballs has it all! Be sure to try their one-of-a-kind dipping dots stuffed snoballs when you stop by. 
10770 N Harrells Ferry Rd., Ste B
With snoballs as colorful as its name, it isn't called Rainbow Delites Snowballs for no reason! Open every day, visit this stand any time to try the unicorn flavor combo snoball. 
5355 Jones Creek Rd.
What's better than a snowball stuffed inside a juicy pineapple? Being able to bring your pup along for an icy, dog-friendly treat from Cool Tiger Ice Snoballs.
5522 Jones Creek Rd. A
Looking for the perfect New Orleans style snoballs? The Sno House has you covered! With a wide assortment of flavors to choose from, their Chocolate Sno-Berge snoball takes the cake...literally.
7020 Antioch Rd.
When it comes to cheesecake stuffed snoballs, Waycool Snowballs can't be beat! Stop by and enjoy their famous snoball in the colorful and inviting seating area, complete with picnic tables and swing sets perfect for kids.
Honorable Mentions
Baton Rouge, LA
With juicy flavors served in custom mini takeout boxes, Ninja Snowballs offers a unique snoball experience for everyone! Keep an eye out around town to see if you can spot their stealthy portable stand. 
Gonzales, LA
There's nothing like a specialty snoball from D-Bro Sno! Visit this stand and try the signature "Pink Lady" fan favorite this summer season. 
Baton Rouge, LA
With more than 50 flavors to choose from and a variety of snacks, Mrs. V's is sure to have something for everyone. Stop by this ultimate snack shack today.