Shrimp and Grits is a typical Southern dish rumored to be the creation of South Carolina where it is often referred to as Low Country Shrimp. In Louisiana, we have a slightly different passion for shrimp and grits which can do you right for brunch or really any meal. Over the last couple months I gathered up a list of places in Baton Rouge you can get shrimp and grits any time and a few killer brunch spots as well. These restaurants displayed either a beautifully executed plate of gulf shrimp and grits or a creative twist on the dish that couldn't be ignored. So next time you get a hankering for ground corn and the bacon of the sea, look no further than these great spots in the Capital City:

1. L'Auberge Baton Rouge's 18 Steak: 777 L'Auberge Avenue
Creamy, hearty grits topped with delectable Louisiana shrimp? Count me in! The spicy tomato base of the shrimp brightens up with the slight crunch from the fresh green onions. Snag some of the grits in your bite and magic happens on your taste buds! The flavors blend together so naturally that you'll wonder where this dish has been all your life.
 
Gulf Shrimp and Grits with Cracklin and Heirloom Tomatoes

2. The Chimes Restaurant & Tap Room: 3357 Highland Road
Everyone goes to Chimes for something different. I usually go for the top notch beer selection, half-off oysters on the half shell from 4-7pm (or all day on Tuesdays!), and a big plate of red beans and rice. They also have New Orleans-Style BBQ Shrimp and Grits! A creamy grit cake dredged in a garlicky, well spiced sauce and jumbo shrimp is a favorite menu item for many at the legendary Chimes.
New Orleans-Style BBQ Shrimp

3. Leroy's: 4001 Nicholson Drive
They may be known for their fried chicken over at Leroy's, but it's the cast-iron Southern comfort dishes I like best. Take for example the Garlic Shrimp and Asiago Grits. These are some of the creamiest grits I've had and they don't hold back on the serving size. Leroy's shrimp and grits presents a mountain of silky grits topped with savory garlic shrimp and your choice of one of their splendid sides. You'll need a nap afterwards, but if you didn't they wouldn't be doing it right.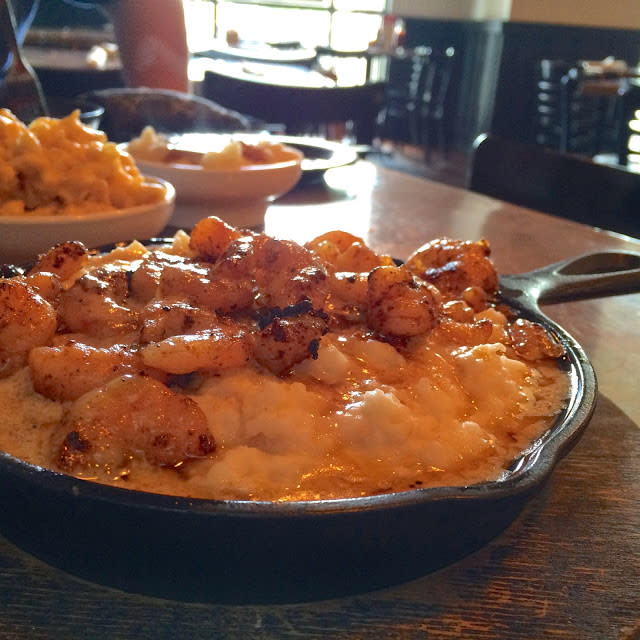 Garlic Shrimp and Asiago Cheese Grits

4. City Club: 355 North Boulevard
I met up with a friend at City Club downtown and happened upon their shrimp and grits. It's not often I make it over to City Club, but Chef Eric Arceneaux puts out some of Baton Rouge's best cuisine (you seriously need to try his breads). What I like most about this version of shrimp and grits is the nice tang from the heirloom tomatoes. The shrimp boasted a freshness you hope to find in Louisiana as well. These creamy, garlicky shrimp and grits should definitely be on your list to try in the Capital City.

Bite and Booze Bonus: City Club is a club. Unfortunately you have to know a member or be a member to get a bite of these Shrimp & Grits.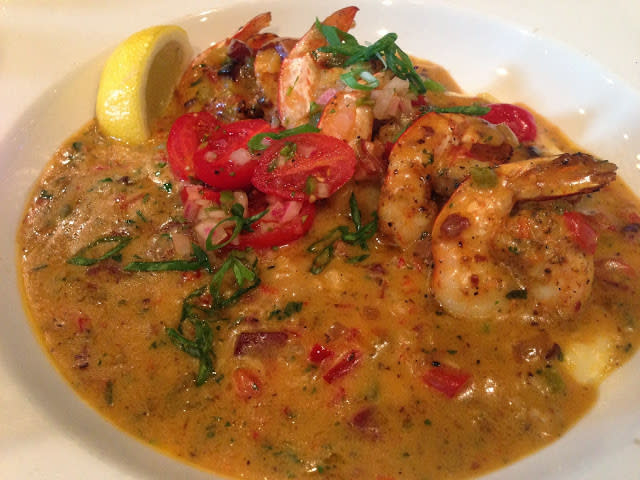 Shrimp and Grits at the City Club in Baton Rouge

5. Le Creolé: 18135 E. Petroleum Dr.
Chef Ryan André does Southern comfort food right every day at Le Creolé, and his shrimp and grits dish is no exception. Creamy Papa Tom's grits smothered in a tomato-shrimp roux is the perfect craving fix. Ryan knows seafood and uses only the choices jumbo Louisiana shrimp in his masterful dish. The roasted bell peppers bring a bold flavor that brightens up the roux and gives the dish another textural element not typically found in this decadent favorite.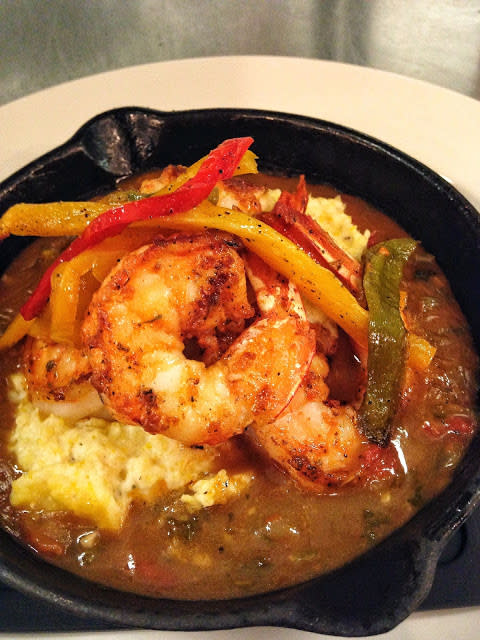 Le Creole's Shrimp and Grits

6. Portico: 4205 Perkins Rd. & 11777 Coursey Blvd.
Portico is breaking the mold with their shrimp and grits by whipping theirs into shape...literally. These delicious fritters of cheesy grits are molded around sautéed shrimp. Turning this classic Southern dish into an easy-to-share appetizer is a nice twist. The roasted pepper and mushroom cream sauce really builds the flavors...a must try in Baton Rouge for sure!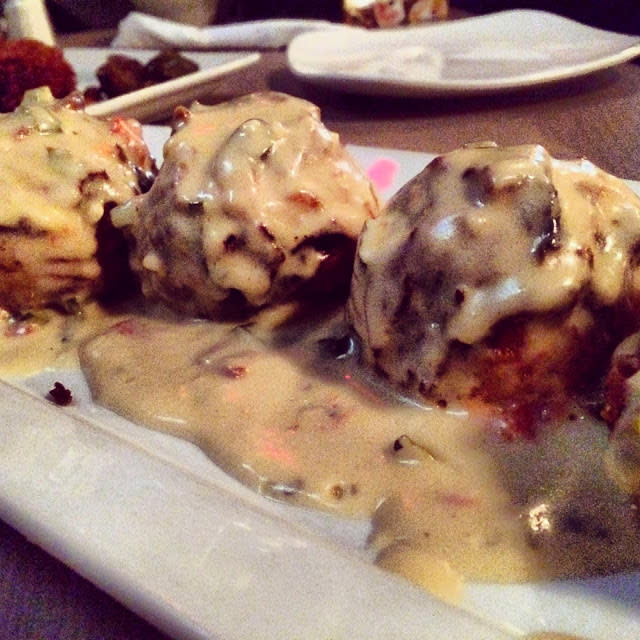 Creamy Asiago Cheese Grits Stuffed with a Sautéed Shrimp, Hand Battered, Deep Fried, and Topped with a Mushroom & Roasted Pepper Cream Sauce

7. Mason's Grill: 13556 Jefferson Hwy.
Photo Credit: Mason's Grill
Mason's Grill rocks their own version of shrimp and grits. The fried grit cake gets surrounded by sauteed shrimp in a nice butter sauce. This is the kind of dish that makes you wonder about all the other versions of shrimp and grits that might be out there. With a great combination of textures in each bite due the crispy and creamy grit cake met with the buttery shrimp, there's no way to resist it. Obviously Mason's is known for their brunch and this would be a great choice for that meal, but they actually spoil us by putting it on their full time menu! And speaking of brunch...

Who doesn't love a good shrimp and grits brunch? Here are a few more Baton Rouge shrimp and grits spots that proudly boast their own version on the brunch menu.
Juban's Shrimp & Grits: Gulf shrimp broiled in New Orleans barbeque butter, with garlic cheese grits, 
and spinach primavera

All of the aforementioned eateries have shrimp and grits on their menu at all times, but there are a few places in town that include it in their brunch menus. Here are a few of my favorites:

Juban's: 3739 Perkins Rd.
Mansur's on the Boulevard: 5720 Corporate Blvd.
City Café: 4710 O'Neal Ln.
Frank's Restaurant: 8353 Airline Hwy.

If you have a favorite shrimp and grits dish in Baton Rouge that we missed leave it in the comments or let us know on the Facebook page!
Posted by:
Jay D. Ducote, Bite and Booze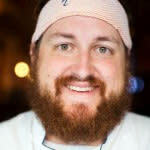 Jay D. Ducote is a chef, food and beverage writer, and overall culinary personality. He is the author of the blog Bite and Booze, host of the Bite and Booze Radio Show, and co-host of Raise a Glass, both on the air in Baton Rouge.

You can find him on his blog, and keep up with him on Twitter and Facebook!