One of Visit Baton Rouge's most loved employees says that her favorite dish to have for Thanksgiving is Spinach Madeline. At first, I didn't know what that was at first until I looked it up. Now I wish my family would have been serving it my whole life. Maybe I will bring it this year and start that tradition myself!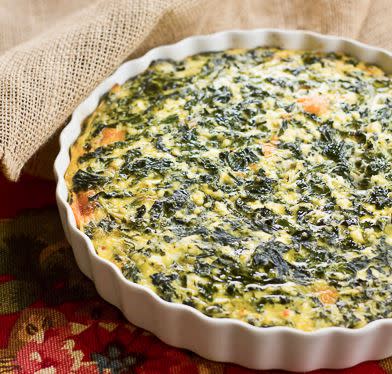 For those of you interested in spicing up your own Spinach Madeline recipe, or if you are a beginner like me, here is the perfect recipe for you! 
Ingredients
- 2 (10 ounce) boxes of frozen spinach, cooked and drained (reserve 1/2 cup liquid)
- 2 tablespoons flour
- 1 medium size onion, chopped
- 1 (6 ounce) garlic cheese rolls, cut into small pieces
- 1/4 cup butter
- Salt & pepper
- 1/2 cup evaporated milk
- 3/4 teaspoon garlic salt
- 1 tablespoon Worcestershire sauce
- 1 dash hot sauce
- Breadcrumbs
Instructions
1. Melt butter
2. Add onions and flour to the butter and stir until smooth
4. Add seasonings and 1/2 of the cheese roll
5. stir until cheese melts.
6. Combine all ingredients except bread crumbs and remaining cheese in a casserole dish
7. Top with dish  with the remaining the crumbs and cheese and bake at 350 degrees for 20-25 minutes.
P.S. Don't forget to bring something to dip with, such as crackers, chips or vegetables. 
Posted by: Julie Thomas, Visit Baton Rouge
Julie is the new Communication Intern for Visit Baton Rouge. Before relocating to Baton Rouge, Julie lived in Haughton, Louisiana and attended Louisiana State University in Shreveport where she graduated in May 2014 with a degree in public relations. She now attends LSU as a graduate student at the Manship School of Mass Communications. She loves reading, watching Law and Order, playing with her dog, traveling and exploring the amazing city of Baton Rouge. You can follow her on Instagram or on her personal blog
.