The actual name of this dish is Shrimp Fra Diavolo Pizza but it is basically just homemade shrimp pizza! This combination of ingredients may sound unusual, but trust me, the dish is delicious. Created by the chefs at Gimme Some Oven, this special pizza will entice your taste buds with a unique sensation of flavors in every bite!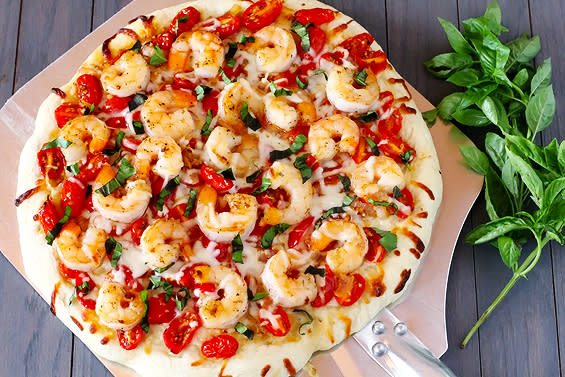 Shrimp Fra Diavolo Pizza

Ingredients:
1 medium pizza dough, home made or store bought (I used Pizza Dan's
recipe
1/4 cup (4 Tbsp.) olive oil, divided
1 lb. large uncooked shrimp, peeled and deveined
pinch of salt and black pepper
5 cloves garlic, minced
1 medium onion, thinly sliced
1 cup dry white or red wine
2 cups grape tomatoes, halved
1 tsp. crushed red pepper flakes
1/4 tsp. dried oregano
2 cups shredded mozzarella cheese
1/2 cup fresh basil, chopped
grated Parmesan cheese
Instructions:
Preheat oven (and baking stone if using) to 425 degrees F.

Heat 1 Tbsp. oil in a large skillet over medium-high heat. Season shrimp with salt and pepper, then add to the skillet. Saute for one minute, then flip shrimp and saute until the shrimp is just seared on both sides. Remove and transfer shrimp to a separate plate.

Add an additional 2 Tbsp. oil to the skillet. Add onions and saute for another 5 minutes, or until translucent. Add garlic and saute for one minute. Add wine, and deglaze pan for one minute. Then add tomatoes, crushed red pepper, and oregano. Reduce heat to medium-low, and let simmer and reduce for 10-15 minutes, stirring occasionally. Remove from heat and set aside.

Meanwhile, brush or mist the top of the pizza crust with the remaining 1 Tbsp. oil. Sprinkle about half of the mozzarella cheese evenly over the top of the pizza, leaving a 1-inch border. Then evenly spread the tomato mixture on top of the cheese. Add the shrimp in an even layer, and then cover with the remaining mozzarella.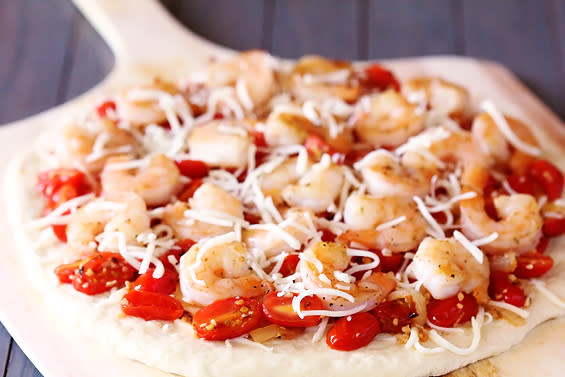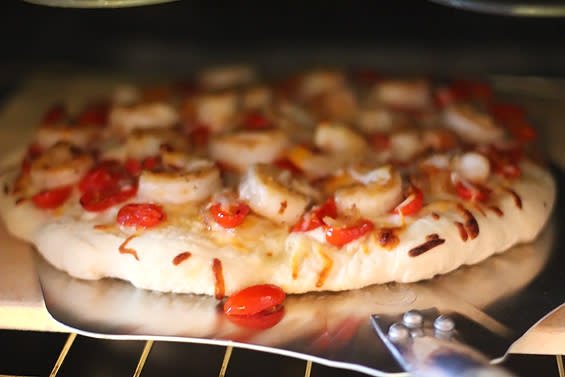 Bake for about 10-12 minutes, or until dough has risen and cheese is melted. Remove and garnish with chopped fresh basil and Parmesan cheese. Serve immediately.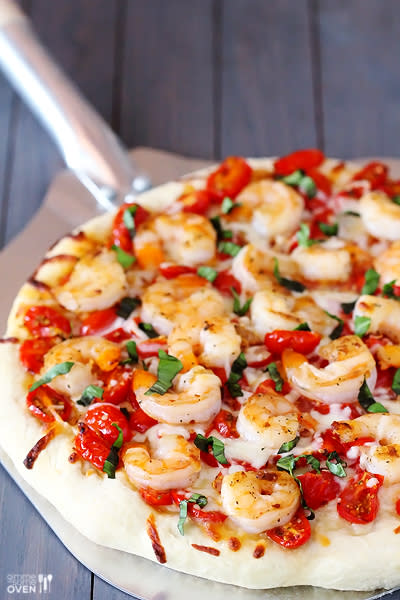 Tell us in the comments below what other types of recipes you are interested in trying and you may be featured in that Recipe Wednesday!
Don't forget to follow the Visit Baton Rouge #Pinterest page for other recipes, party ideas, style tips and more!
Posted by: Julie Thomas, Visit Baton Rouge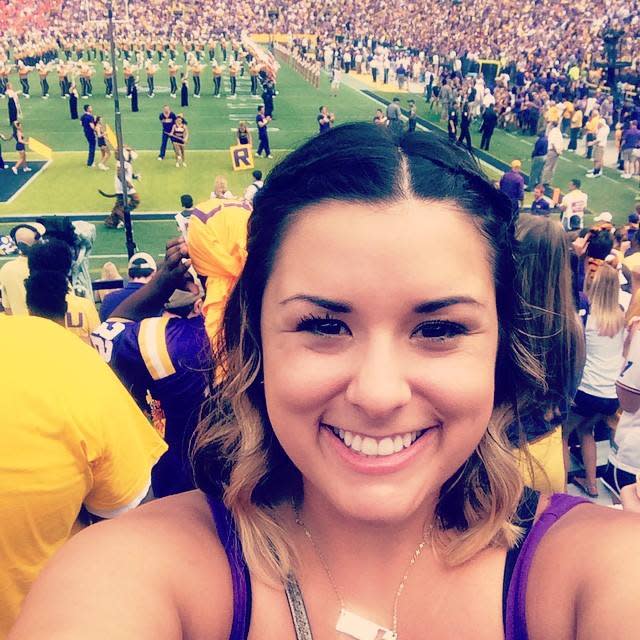 Julie is the Communication Intern for Visit Baton Rouge. Before relocating to Baton Rouge, Julie lived in Haughton, Louisiana and attended Louisiana State University in Shreveport where she graduated in May 2014 with a degree in public relations. She now attends LSU as a graduate student at the Manship School of Mass Communications. She loves reading, watching Law and Order, playing with her dog, traveling and exploring the amazing city of Baton Rouge. You can follow her on Instagram or on her personal blog.