Multi-Platinum Country singer/songwriter Luke Combs is returning to Baton Rouge, Louisiana, for a headlining show at the Raising Cane's River Center on February 9, 2019.
Fresh off the success of his album "This One's For You" and its subsequent deluxe edition, a sold-out tour of his own, touring with Jason Aldean and headlining CMA Fest, Luke has graduated from dive bars to now headlining his first ever arena tour, the "Beer Never Broke My Heart Tour."
In November 2017, Luke played at Baton Rouge's famous local country music venue, The Texas Club, known for showcasing rising stars early in their career such as George Straight, George Jones, Bonnie Raitt, Clint Black, Tracy Lawrence and more. Due to overwhelming demand for the first Baton Rouge show, a second night was added and sold out just as quickly. Luke put on two electrifying shows in an LSU hat to loyal fans who screamed back every word in the intimate room.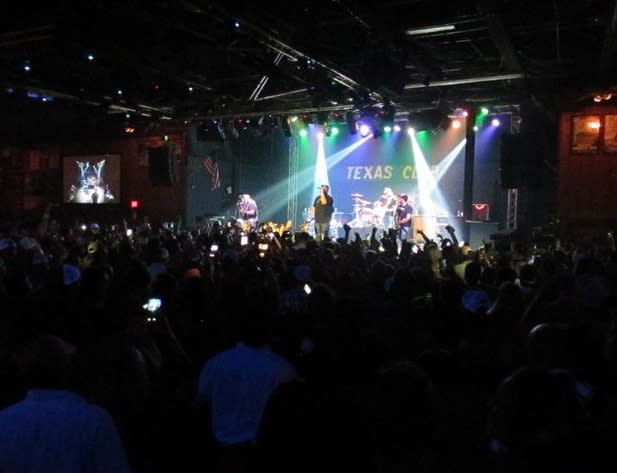 Luke Combs at The Texas Club 11.2.17. Photo by Austin James of WYNK. More pictures.
This time in town, Luke Combs is playing to an even larger crowd. Since he last strummed his "hand-me-down six string" in Baton Rouge, Luke's additional chart-topping hits and nominations for awards (like Male Vocalist of the Year and New Artist of the Year at this year's 2018 CMA Awards) have propelled him to even higher fame and need for larger venues to fit his growing fan base.
He'll be taking stage at the Raising Cane's River Center's Arena, a concert venue in the heart of downtown Baton Rouge with the capacity to hold thousands, allowing visitors to come in from all over to see Luke Combs perform on the "Beer Never Broke My Heart Tour."
Spend the weekend in Baton Rouge to see Luke Combs' return and make extra time to explore the city while you're at it. Catch another local musician playing nearby, try some Cajun or creole cuisine at one of our many restaurants, spend time experiencing our outdoor activities and waterways, stay at one of the city's boutique hotels within walking distance to the River Center. There's plenty to do near the concert and in Downtown Baton Rouge.
Tickets are on sale through Ticketmaster beginning Friday, September 14 at 10:00 AM, and if Luke Combs' last time in Louisiana's Capital City is any indication, this show is likely to sell out fast so start planning your trip to Baton Rouge soon. More event information.
Listen to Luke!
A playlist of his Deluxe Edition Album, "This One's For You, Too" featuring five new tracks