The holiday season wouldn't be complete without my Easy Cranberry Yam Bread. Make ahead and freeze for all the extras in your house or make as a homemade holiday gift, a gift that keeps on giving. This quick bread takes advantage of cream cheese and biscuit baking mix for one of the easiest recipes ever. Make in mini loaf pans, wrap well and freeze to pull out for a quick and personal present. The naturally sweet and nutritionally packed Louisiana yams with the tart cranberries is the perfect seasonal recipe. Use cooked Louisiana yams or canned and remember 1 (15-ounce) can =1 cup yams.
Easy Cranberry Yam Bread
Cream cheese gives this incredible, yet easy, bread a rich flavor packed with the natural sweetness of Louisiana yams and a burst of cranberries. It will top your quick bread list. Toss in nus for added flavor and crunch.
Makes 16 slices
1 (8-ounce) package reduced-fat cream cheese, softened
1 cup sugar
1 (15-ounce) can sweet potatoes (yams), drained and mashed
2 eggs
1 1/2 cups biscuit baking mix
1 teaspoon ground cinnamon
1/2 teaspoon ground nutmeg
1 cup dried cranberries, or 1 cup chopped fresh cranberries
1. Preheat oven to 350°F. Coat 9 x 5 x 3-inch loaf pan with nonstick cooking spray.
2. In large mixing bowl, cream together cream cheese and sugar until light and fluffy. Beat in sweet potatoes and eggs. Stir in biscuit mix, cinnamon, nutmeg, cranberries until just blended. Transfer to prepared pan.
3. Bake 45 minutes – 1 hour, or until toothpick inserted in center comes out clean. Cool in pan 15 minutes before serving.
Nutritional information per serving
Calories 189, Protein (g) 4, Carbohydrate (g) 31, Fat (g) 6, Calories from Fat (%) 26, Saturated Fat (g) 3, Dietary Fiber (g) 1, Cholesterol (mg) 37, Sodium (mg) 231 Diabetic Exchanges: 1.5 starch, 0.5 fruit, 1 fat
Posted By:
Holly Clegg, Guest Blogger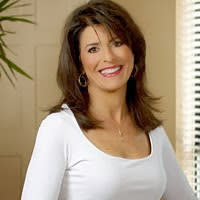 As a long-time Baton Rouge resident, Holly brings her Southern charm to every aspect of her life. Her busy lifestyle and desire to feed her own family health-conscious, homemade meals – even when in a time crunch – has served as her inspiration throughout the years.