Charles Bradley and His Extraordinaires
By now, Charles Bradley's remarkable, against-all-odds rise has been well-documented—how he transcended a bleak life on the streets and struggled through a series of ill-fitting jobs—most famously as a James Brown impersonator at Brooklyn clubs – before finally being discovered by Daptone's Gabe Roth. The year following the release of his debut, No Time For Dreaming, was one triumph after another: a stunning performance at South By Southwest that earned unanimous raves; similarly-gripping appearances at Bonnaroo, Austin City Limits, Newport Folk Festival and Outside Lands (to name just a few); and spots on Year-End Best Lists from Rolling Stone, MOJO, GQ, Paste and more. Victim of Love, Bradley's second record, is a continuation of that story, moving past the 'heartache and pain' and closer to the promise of hope.thecharlesbradley.com
Arrested Development
It's been twenty years since Arrested Development slammed the gangsta-dominated world of hip-hop with defiant lyrics of hope. Apparently the world was ready for a change as they became the first ever hip-hop artist to receive the Best New Artist Grammy as well as a Best Rap Single for their anthemic prayer-like hit song, "Tennessee." For the last thirteen years, Arrested Development has performed concerts in every part of the world. They continue to release new music and find new success in different corners of the globe. Their shows are a celebration of life. In 2013, founding member and frontman Speech, teamed up with multi-platinum award winning producer and hit maker Kevin "Khao" Cates, (best known for his work with TI, Jay-Z, R. Kelly, Ludacris, Snoop Dogg, Lil Kim). Together, they have been working on riveting new music, loaded with powerful lyrics and pulsating grooves, that are sure to stir it up, in the hearts and souls of hip-hop fans everywhere. Experiencing an Arrested Development concert is an uplifting and spiritual event wrapped into one big party. 
arresteddevelopmentmusic.com
Heartless Bastards
Brimming with confidence and creativity, Heartless Bastards is pushing their distinctive sound forward with their most eclectic, energetic collection thus far. Their latest album 
Arrow
 is marked by singer/guitarist/songwriter Erika Wennerstrom's remarkable voice, at turns primal and pleading, heartfelt and heroic. Songs like "Parted Ways" and the searing "Low Low Low" expertly capture the Bastards' multi-dimensional rock in all its strength and spirit. Following upon the difficult introspection of 2009's acclaimed third album, 
The Mountain
,
Arrow
 stands as a powerhouse new beginning for Heartless Bastards, showcasing the depth and breath of the band's indelible sound, lighting upon spaghetti western film scores, Seventies soul, psychedelia, funk, blues, glam, and mudhole-stomping hard rock. 
theheartlessbastards.com
Heritage Blues Orchestra
The grit of low-down country and urban blues with the bold brass of New Orleans; the hand-clapping fervor of gospel punctuated with fiery postmodern, jazz-infused horn arrangements; the haunting cries of work songs and pulsating drums that reach back to the real roots of it all. You'll journey across the Middle Passage, be driven down Highway 49 from Clarksdale to New Orleans, go from chain gangs and juke joints to orchestra pits, church pews and even back porches. Heritage Blues Orchestra's music is an inspiring testament to the enduring power, possibilities and boundless beauty of African-American music. 
Lazy Lester
Back when blues was king and South Louisiana was the breeding ground for a blast of some of the most memorable American music ever recorded, at the heart of it was Lazy Lester. It was in the mid-1950s, on a bus, that fate turned Lester's way, and the roots to what would become classic music began to grow. As Lester tells it, he was living in Rayne, Louisiana at the time and was on the bus riding home. Lightnin' Slim, who was already an established recording artist, was also on the bus and was headed to Crowley to cut a record at Jay Miller's Studio, where so much of the material for the Nashville-based Excello Records was being recorded. Since Crowley was just seven miles further than Rayne and because Lester had a serious itch to be around big-time music making, Lester decided to stay on the bus and accompany Slim to the studio. When they got there, the scheduled harp player, Wild Bill Phillips, didn't show for the session. Lester told Slim that he had actually played with Slim's band and thought he could handle the harp parts for the session. Remarkably, Slim and Miller gave Lester that chance, and he did not disappoint. A classic pairing was born, and Lester became a mainstay on Slim's Excello recordings and his gigs. Through the popularity of his recordings and as the Excello story has become the stuff of legend, Lazy Lester has enjoyed tremendous popularity worldwide. In 1998, he was inducted into the Louisiana Blues Hall of Fame. In 2004, he played at Radio City Music Hall in New York as part of Martin Scorsese's Year of the Blues super concert that resulted in his Lightning In A Bottle documentary. As a true living legend, his talents are as much in demand as ever. 
lazylester.net
James "Chicken Scratch" Johnson
James "Chicken Scratch" Johnson is a true swamp blues legend most widely known as Slim Harpo's guitarist. He was a self-taught for most of his youth, until another musician gave him informal training in his late teens. After sitting in with Harpo one night, his talent was impressive enough to be asked to join the band. While not formally credited, it was his standout "chicken scratch" lick in Harpo's iconic song, "Baby Scratch My Back." Touring took its toll on Johnson, who inevitably quit the band and took at job at LSU. He continued to play in his spare time, sustaining respect from the blues community in Baton Rouge and beyond. Johnson released his first solo album in 2014. (Photo by Thomas Besson Jr.) 
Larry Garner
Larry Garner started moonlighting for the first few years he played out at Tabby's Blues Box. He met such Baton Rouge bluesmen as Silas Hogan, Whispering Smith, Arthur Kelly and Raful Neal. He occasionally played in New Orleans at Rhythms on Bourbon Street, or with Bryan Lee at the late, lamented Old Absinthe Bar. But eventually he couldn't keep burning the candle at both ends. He recalls hanging out at Tabby's one night with Kenny Neal, who'd just finished touring. When Neal pleaded with him to stick around for another drink instead of getting ready for work in the morning, Garner tried to explain. "He said, 'You got to quit that job.' I said, 'I know, but I still got to go to work in the morning.' I left, but Kenny saying that stuck in my head. I had to quit." Garner continued playing music during his military service, and playing in army bands—while stationed in Korea—steeled him for the life of a full-time musician. Leaving his full-time job for a career in music was initially tough for him, but now he has a devoted following throughout the country and across the Atlantic Ocean. larrygarnerbluesman.com
For information about the other artists performing at the Baton Rouge Blues Festival, click here. 
Posted by: Julie Thomas, Visit Baton Rouge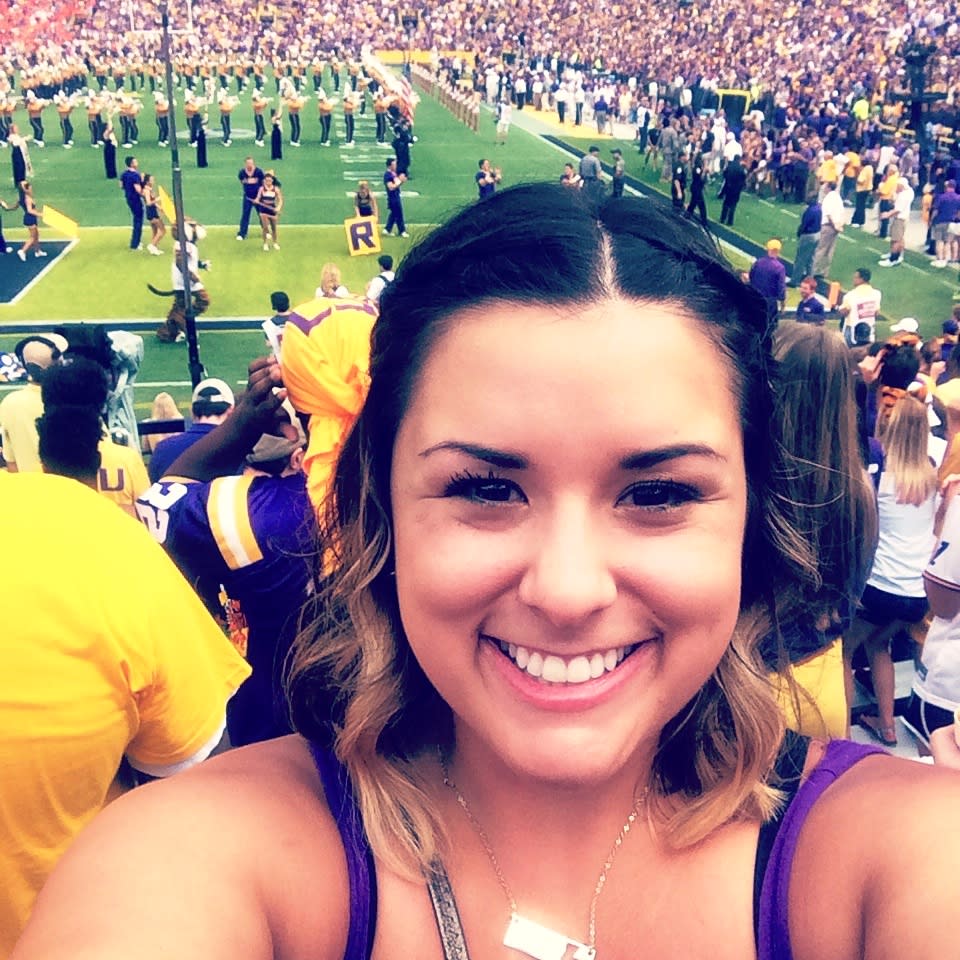 Julie is the Communication Intern for Visit Baton Rouge. Before relocating to Baton Rouge, Julie lived in Haughton, Louisiana and attended Louisiana State University in Shreveport where she received a degree in public relations. She is now as a graduate student at the LSU Manship School of Mass Communications. She loves reading, watching Law and Order, playing with her dog, traveling and exploring the amazing city of Baton Rouge. You can follow her on 
Instagram
 or on her 
personal blog
.