Fire up the grill and break out the BBQ! Some people consider Memorial Day as the official start of summer, but the day is very important to not take for granted. Some ways people use to honor and celebrate the military members who have fought for our country  include cooking up hot dogs on the grill, picnics, volunteering throughout their communities, and even attending Memorial Day ceremonies that includes hanging flags and bands playing patriotic music.
This year, there are many ways to commemorate the holiday from right here in the Capital City. Here are a few events that you can check out the weekend leading up to Memorial Day 2021:
Stay at the Crowne Plaza Executive Center - Baton Rouge
The Crowne Plaza hotel has the perfect staycation plan for you!
Live music, an open bar and special food and beverage deals are just some of the things you can enjoy if you want to book a hotel room for the holiday weekend. The hotel is offering different packages at rates that include music from various artists that you might not want to pass up on. What more could you ask for to celebrate the holiday? Book your stay for the weekend now!
Blue Star Mothers Flag Ceremony
Honor those who sacrificed so much for us at this year's flag ceremony at the Louisiana State Capitol.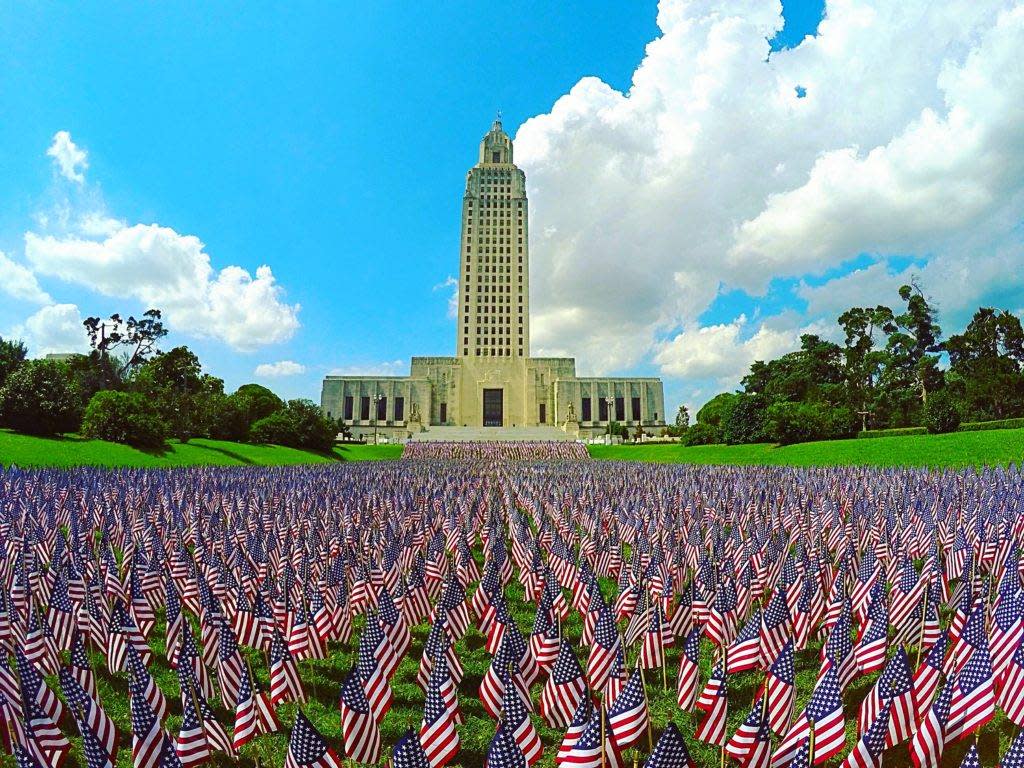 "Hero Hump" is a 6-mile march where current and former military members carry flags starting at 7:30 in the morning from the Memorial Tower on Louisiana State University's campus to the Blue Star Mothers (BSM) of Louisiana at the State Capitol grounds. The members will carry over 11,000 flags to pay homage to Louisiana's fallen heroes from past wars. Volunteers will plant the flags and then read of names of military members from 9/11 to present day. The ceremony will start around 9 a.m. on Saturday, May 29.
Baton Rouge Concert Band Memorial Day Concert
Show your support and come enjoy patriotic music played by the Baton Rouge Concert Band.
The band has set a concert for Memorial Day on Monday, May 31. The sounds will start at 7 p.m. at the East Baton Rouge Library on Goodwood Boulevard. The concert is free and open to all people wanting to honor those who spent their lives fighting for ours.
Groovin' on the Grass Fest at Red Stick Social
The more live music, the better.
Come show off your dance moves at the Red Stick Social this Memorial Day weekend! From great food, drink specials and plenty of bands, the Grass Fest is sure to be a fest that you will not want to miss out on. Doors open at noon on Sunday, May 30, while the live music will kick off at 4 p.m.. Grab your buds and purchase your tickets to make sure you get a front row set to this event!
Vitalant and USS KIDD Veterans Museum M*A*S*H Bash Blood Drive
Observe this Memorial Day by giving the gift of life through a blood donation.
Vitalant and the USS KIDD are teaming up to host a M*A*S*H themed blood drive to commemorate the holiday. You can stop by the bloodmobile that'll be stationed in front of the museum downtown on Friday, May 28 and Saturday, May 29. Come by from 10:30 a.m. to 2 p.m. on both days to give back, and even get a free t-shirt for your support! Just make sure you schedule an appointment ahead of time.