Fire up the grill and break out the BBQ! Some people consider Memorial Day as the official start of summer, but the day is very important to not take for granted. Some ways people use to honor and celebrate the military members who have fought for our country include cooking up hot dogs on the grill, picnics, volunteering throughout their communities, and even attending Memorial Day ceremonies that include hanging flags and bands playing patriotic music.
This year, there are many ways to commemorate the holiday right here in the Capital City. Here are a few events that you can check out this weekend leading up to Memorial Day 2023:
Live After Five featuring Press 1 for English
Friday, May 26
Kick off the holiday weekend with Live After Five, featuring Press 1 for English! Jam to music ranging from classic rock to R&B at Rhorer Plaza in downtown Baton Rouge, from 5 p.m. to 8 p.m. on Friday, May 26.
Blue Star Mothers Flag Ceremony
Saturday, May 27
Honor those who sacrificed so much for us at this year's flag ceremony at the Louisiana State Capitol.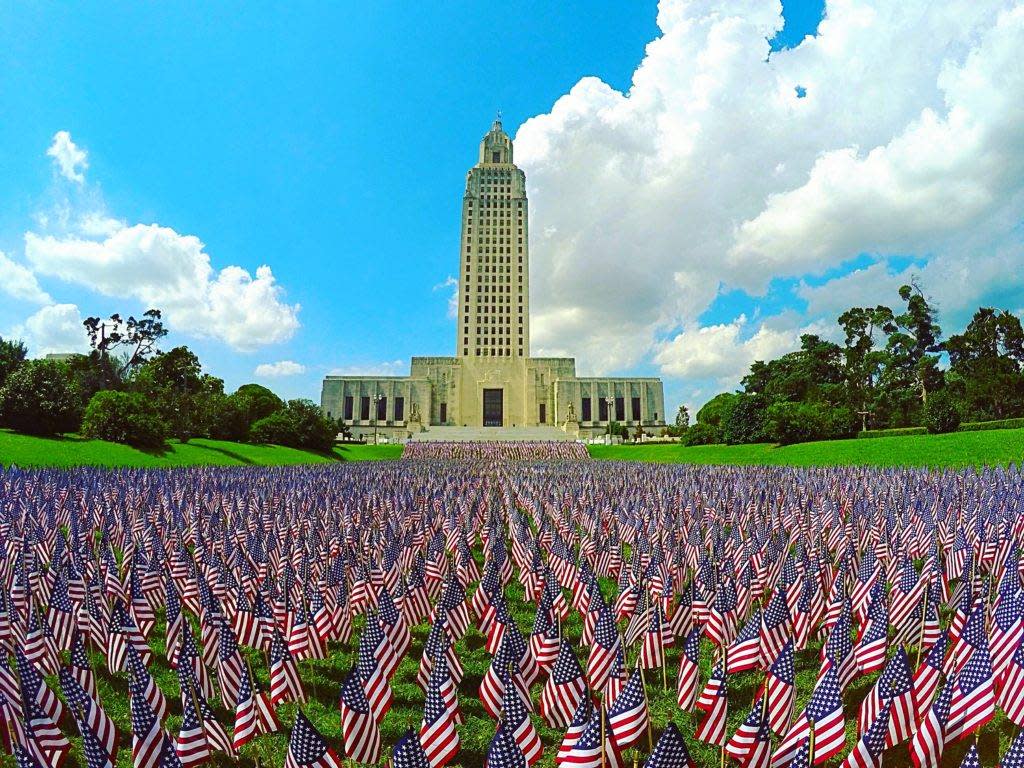 "Hero Hump" is a 6-mile march where current and former military members carry flags starting at 7:30 in the morning from the Memorial Tower on Louisiana State University's campus to the Blue Star Mothers (BSM) of Louisiana at the State Capitol grounds. The members will carry over 11,000 flags to pay homage to Louisiana's fallen heroes from past wars. Volunteers will plant the flags and then read of names of military members from 9/11 to present day. The ceremony will start around 9 a.m. on Saturday, May 29.
Local Pop-Up Memorial Weekend Pop-Up
Saturday, May 27
Local Pop-Up will welcome over 35 artists, creators and food vendors around the Electric Depot campus on Saturday, May 27, 20203. The tented market will be set up from 10:00 a.m - 2:00 p.m. with the annual Red Stick Social Groovin' on the Grass to follow shortly after.
Live Music Sunday at Tin Roof Brewing Co. at Tin Roof Brewing Co.
Sunday, May 28
Enjoy the long weekend with some live music at Tin Roof Brewing Co., on Sunday, May 28. Live music kicks off at 2 p.m., where you'll hear tunes from Billy Callaway and friends. Bring your own lawn chair, blankets and other comfy seating, and get ready to enjoy happy hour pricing on drafts all day long!
Groovin' on the Grass Fest at Red Stick Social
Saturday, May 27
The more live music, the better.
Come show off your dance moves at the Red Stick Social this Memorial Day weekend! With great food, drink specials and plenty of bands, Groovin' on the Grass is sure to be a fest that you will not want to miss out on. Doors open at 11 a.m. on Saturday, May 27, while the live music will kick off at 1:30 p.m. Grab your buds and purchase your tickets to make sure you get a front-row seat for this event!
Baton Rouge Concert Band Memorial Day Concert
Monday, May 29
Show your support and come enjoy patriotic music played by the Baton Rouge Concert Band.
The band has set a concert for Memorial Day on Monday, May 29. The sounds will start at 7 p.m. at the Main Library at Goodwood. The concert is free and open to all people wanting to honor those who spent their lives fighting for ours.