Every year on Thanksgiving, I'm like......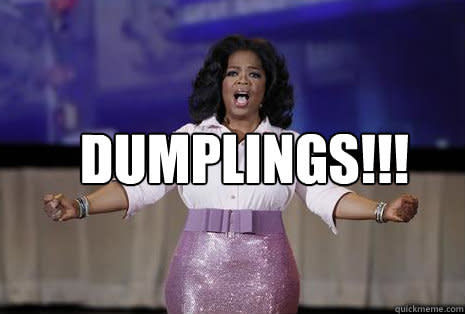 My absolutely favorite thing to have on Thanksgiving is my aunt's amazing, home made chicken and dumplings. Because Thanksgiving is TOMORROW, I've put together a list of delicious chicken and dumplings recipes that are quick and easy to make! Enjoy!

1. Chicken and Dumplings Casserole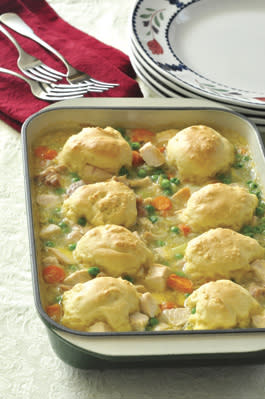 Ingredients:
3 tablespoons oil
1 cup chopped onion (about 1 medium)
1 cup chopped carrots (about 2 small)
1 cup chopped celery (about 2 stalks)
3 cups low sodium chicken broth
3 tablespoons flour
2 cups cooked chicken, bite sized
1 cup frozen peas
salt and pepper (try 1/4 to 1/2 teaspoon)
For the dumplings:
1 cup flour
2 teaspoons baking powder
1⁄4 teaspoon salt
1 egg
1⁄3 cup non-fat or 1% milk

Instructions: 
1. Heat oil in a large skillet over medium-high heat (350 degrees in an electric skillet) and saute onions, carrots and celery until soft.
2. Add a small amount of unheated broth to the flour and stir until smooth.
3. Slowly stir in remaining broth and add to skillet. Stir over medium heat as the mixture thickens.
4. Add the chicken, peas, salt and pepper. Heat on low while making dumplings.
Dumplings:
1. sift the flour, baking powder and salt together into a mixing bowl.
2. Add the egg to the milk and beat until well blended.
3. Stir into the flour until well combined.
4. Pour the chicken mixture into a lightly oiled or sprayed casserole dish.
5. Drop dumpling dough by spoonfuls onto chicken mixture (makes about 8 dumplings).
6. Bake uncovered at 400 degrees for 15 minutes or until the dumplings are golden brown.

2. Classic Southern Style Chicken and Dumplings

Ingredients:
Chicken:
1 large fryer chicken (4-5 lbs.), neck and gizzards removed
1 large onion, peeled and cut in half
3 carrots, cut into large pieces
3 stalks of celery, cut into large pieces
Kosher salt, to taste
Pepper, to taste
Dumplings:
3 cups cake flour
3/4 tsp. baking soda
3/4 tsp. salt
4 1/2 tbsp. shortening*
1 cup milk

Instructions: 
1. Place the chicken, onions, carrots, and celery in a large stock pot and cover with water.
2. Bring to a boil, then reduce heat so water maintains a gentle simmer.
3. Cook chicken for 1 hour or until cooked through (about 165 degrees). While the chicken is cooking you can start making the dumplings.
4. Once chicken is done, remove from the broth and let cool.
5. Remove chicken from the bone (this shouldn't be hard, it should be falling off pretty easily at this point) and shred into medium-sized pieces, discarding bones and skin.
6. Pour the chicken broth through a fine mesh sieve lined with cheese cloth or some type of filter (like a coffee filer) discarding the vegetables in the chicken broth.
7. Reserve 6 cups of the broth for the dumplings.
8. Mix flour, baking soda, and salt together in bowl.
9. Cut shortening into flour mixture with your fingertips until it resembles small peas.
10. Add 1/4 cup of milk at a time, you may not need a full cup — and stir until a ball of dough just begins to form, being careful not to over-mix.

Dumplings: 

1. Roll out the dough onto a floured cutting board. Roll about 1/4 inch thick.
2. Using a pizza cutter or sharp knife, cut dough into rectangles about 1 inch wide by 3 inches long. 3. Place strips on wax paper and allow to harden up a bit, at least 30 minutes or up to several hours.
4. In a large pot or dutch oven over medium-low heat, bring broth to a gentle simmer and drop in dumplings. Cover and allow to cook for 7-10 minutes.
5. After those 7-10 minutes are up, reduce heat to low and add chicken.
6. Allow to cook until thickened, about 20 to 30 minutes.
7. Season generously with salt and pepper.

3. Crockpot Chicken and Dumplings
Ingredients
2 boneless, skinless chicken breasts
2 Tbsp. butter
2 cans cream of chicken soup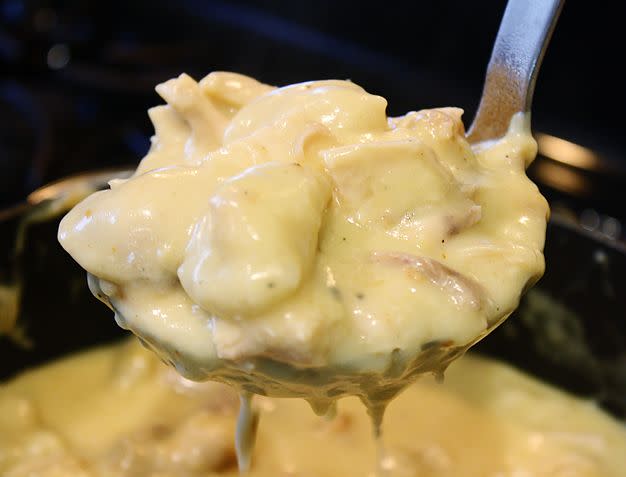 1 (14.5 oz) can chicken broth 1/2 onion, diced OR you can use 2 Tbsp. dried, diced onion
1 Tbsp. dried parsley
4 Grands flaky refrigerator biscuits

Instructions:
1. Place chicken in crockpot. Add the butter on the chicken.
2. Add the cream of chicken soup to the crockpot.
3. Pour the chicken broth over all.
4. Add the diced onion and dried parsley.
5. Cover and cook on High for 4-5 hours or Low for 8-9 hours.
6. After the chicken is cooked, shred it and put it back into the soup.
7. Cut each biscuit into 9 pieces, or how many you want depending on how thick you want your dumplings.
8. Stir gently into the soup. Cover and turn the crockpot to High and cook for another hour.
9. After an hour, stir it up and enjoy!

So now that my mouth is watering for these dumplings, I might just make myself an early batch tonight!

Happy Thanksgiving and may your day be filled with love, comfort, thanks giving and safety for those traveling. 
Posted by: Julie Thomas, Visit Baton Rouge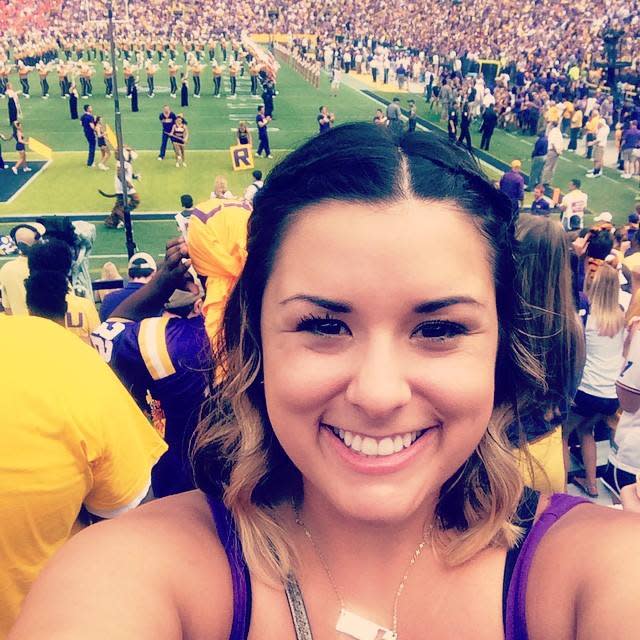 Julie is the new Communication Intern for Visit Baton Rouge. Before relocating to Baton Rouge, Julie lived in Haughton, Louisiana and attended Louisiana State University in Shreveport where she graduated in May 2014 with a degree in public relations. She now attends LSU as a graduate student at the Manship School of Mass Communications. She loves reading, watching Law and Order, playing with her dog, traveling and exploring the amazing city of Baton Rouge. You can follow her on 
Instagram
 or on her 
personal blog
.