First, I would like to say MERRY CHRISTMAS EVE!

Now, let's get down to business; the Santa cookie making business, that is. Tonight you will set out cookies for Santa; but these can't be just any cookies, these have to be cookies worthy of the big guy, Father Christmas, Kris Kringle, or better known as Santa Claus!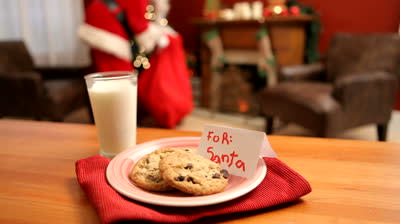 Below are 3 cookie recipes sure to wow Santa Claus and make sure he leave you plenty of amazing gifts!

1.Christmas Tree Cookies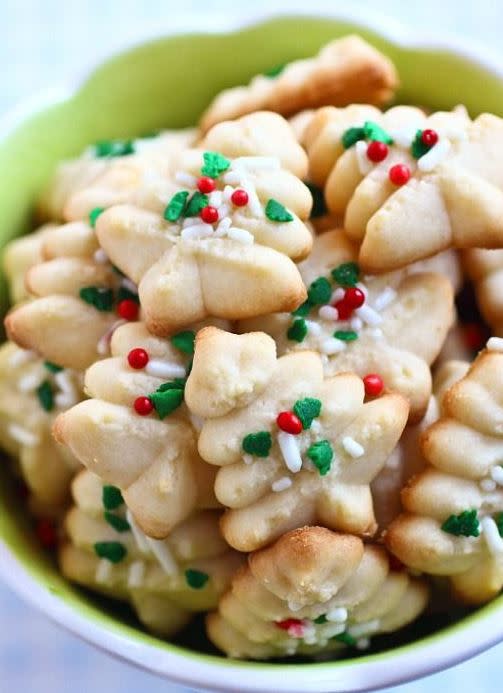 Ingredients
10 oz (280g) unsalted butter, room temperature
1 egg yolk
3 oz powdered sugar + 1 heaping tablespoon sugar (100g)
1/4 teaspoon salt
11 oz (310g) all-purpose flour
4 oz (110g) cornstarch
3 tablespoons milk powder, optional
2 tablespoons full cream milk/whole milk
1/2 teaspoon vanilla extract
Holiday-themed sprinkles

Instructions:
1. Cream the butter with sugar, egg yolk, salt and vanilla extract until fluffy. Mix in the milk powder, full milk.
2. Add the all-purpose flour and corn starch into the mix.  Mix until the dough becomes soft and not stick to hands.
3. Preheat the oven to 350 degree Fahrenheit.
4. Line two baking sheets with parchment paper or Silpat. Transfer the cookie dough onto the cookie sheet and spread out the dough with a rolling pin. 
5. Press with your desired cookie pattern, in this case it is a Christmas Tree.  
6. Place the cut out cookie dough pieces onto the baking sheet. Make sure to leave some space in between the cookies. 
7. Top the cookies with some sprinkles and place the baking sheets in the refrigerator for about 15 minutes. This will firm up the dough so the cookies will maintain their shape when baked.
8. Bake for about 13-14 minutes, or until cookies are completely cooked through inside or turn slightly brown. Cool on rack.
2. Candy Cane Cookies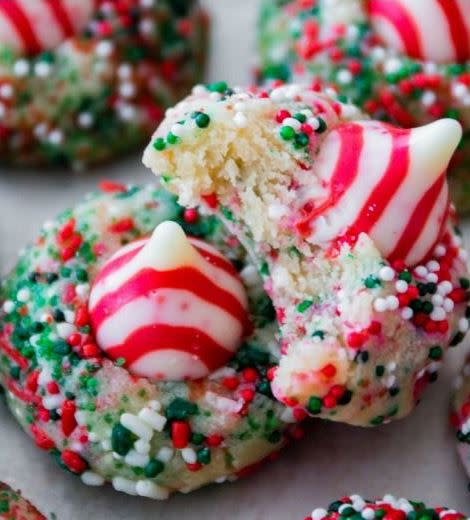 Ingredients:
Sugar or Vanilla cookie dough
10 Tablespoons (145g) unsalted butter, softened to room temperature
1 cup (200g) granulated sugar
2 egg yolks*
1 teaspoon vanilla extract
1 and 1/2 cups (190g) King Arthur unbleached all-purpose flour
3/4 teaspoon baking powder
1/4 teaspoon salt
Sprinkles of your choice
24 Candy Cane Hershey Kisses
Instructions:
1. Preheat oven to 350F degrees.
2. Line two large baking sheets with parchment paper or silicone baking mats. Set aside.
3. Using a hand-held or stand mixer with a paddle attachment, cream the butter and sugar together on medium speed for 5 full minutes, scraping down the sides and the bottom as necessary. 
4. Add the egg yolks and vanilla, beating on medium-high until fully combined. 
5. In a medium bowl, toss the flour, baking powder, and salt together. Add the flour mixture to the wet ingredients on low speed until fully combined. The dough will be very thick. If the dough is extremely sticky, chill for at least 45 minutes.
6. Roll dough into balls, a little less than 1 Tablespoon of dough each. The dough may seem dry, but the warmth of your hands will allow it to come together in a ball. 
7. Take your cookie balls and roll them into the sprinkles and bake for 8-10 minutes. The cookies will look very, very under baked. That's what you need. Do not over bake. 
8. Allow the cookies to cool on the baking sheet for about 5 minutes. 
9. Press a Hershey Kiss into the center and immediately put the cookie sheet into the freezer for 5 minutes. Doing this will prevent the kiss from melting.
10. Once the five minutes are up, enjoy!
1 package Betty Crocker Sugar Cookie Mix
10 large marshmallows
Betty Crocker Cookie Icing (white and orange)
Wilton Decorating Icing Tubes in Black, Red, Green, Blue and Pink
Instructions:
1. Mix cookie mix according to directions, or prepare your favorite cut out sugar cookie recipe, then just grab a golf ball sized chunk and squish it down until it's about 1/4-1/2 inch thick.
2. Bake according to recipe directions.
3. Once the cookies are cool, load them up with the cookie icing and spread it around with the back of a spoon, let some dribble over the edge for a "puddle" look.
4. Spray a microwave safe plate with cooking spray, and place marshmallows on the plate. Set the microwave for 30 seconds, but watch the marshmallows as they cook. Stop the microwave as soon as the marshmallows start to get puffy, do not let them double in size.
5. Spray your fingers with cooking spray or grease them up with shortening, and carefully pull the marshmallows off, by the base, and set them on top of the frosted cookies. This is to prevent the marshmallows from sticking to your fingers.
6. Then just decorate as you'd like with the Wilton frosting! 
Oh and don't forget to leave Santa a glass of milk to go with his cookies! 
Merry Christmas and Happy Holidays! 
Posted by: Julie Thomas, Visit Baton Rouge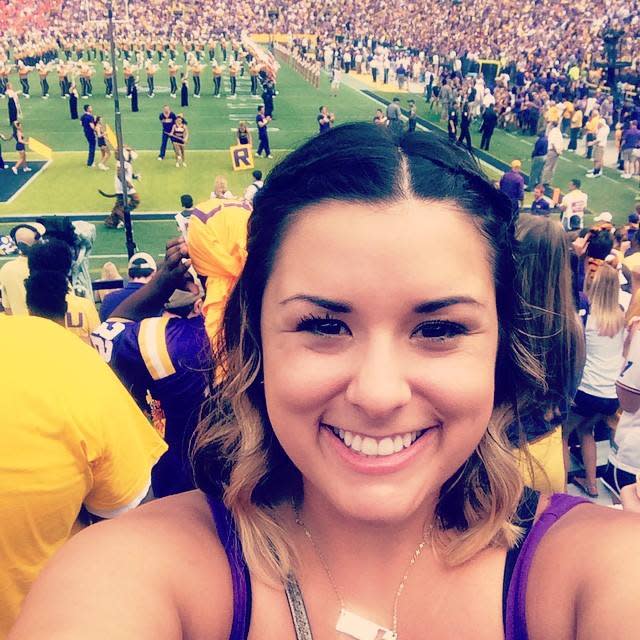 Julie is the new Communication Intern for Visit Baton Rouge. Before relocating to Baton Rouge, Julie lived in Haughton, Louisiana and attended Louisiana State University in Shreveport where she graduated in May 2014 with a degree in public relations. She now attends LSU as a graduate student at the Manship School of Mass Communications. She loves reading, watching Law and Order, playing with her dog, traveling and exploring the amazing city of Baton Rouge. You can follow her on Instagram or on her personal blog.