Guess what Tiger fans? Game day is only 1 1/2 days away and you know what that means? Football and tailgating! 

According to USA Today, College Football Fan Index ranked LSU the number one place to tailgate for college football. That probably does not come to a surprise to most, but a major reason for the decision was based on the delicious food served among the many tailgaters around Tiger Stadium.

Because game day is so close, we have put together a list of must-have dishes to serve at this weekends game.

1. Cheeseburger Bloody Marys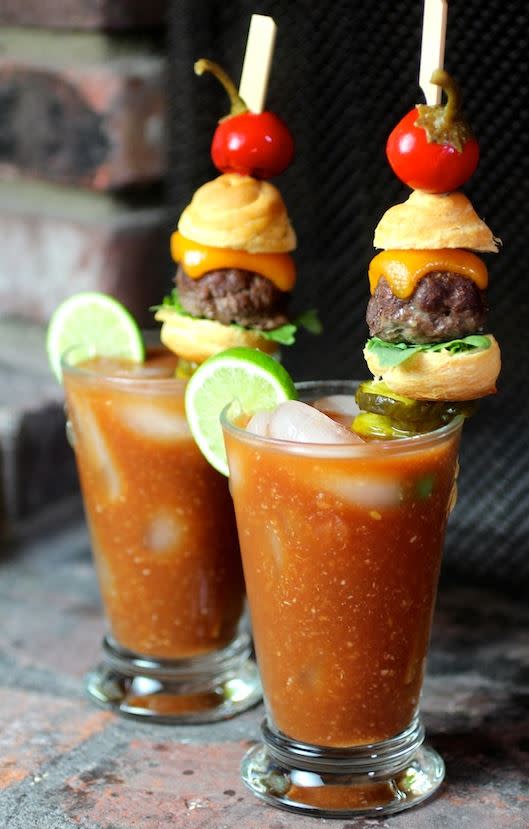 Cheeseburger ingredients:
- Ground beef
- Worcestershire sauce
- Dijon mustard
- Bread crumbs 
- Mini buns
- Salt and pepper
Instructions
Form the beef mixture into little plump patties and bake at 400 until just cooked through. Top the warm burgers with a slice of cheddar cheese. To assemble the cheeseburgers – spread a bit of dijon mustard on a mini bun (made from cutting a normal size bun into smaller portions) add a couple leaves of arugula, then top with the burger. Slide a skewer through a sweet cherry pepper (optional) then through the cheeseburger. Add three sweet pickles to the bottom to keep the bun from touching the drink. 
Bloody Mary ingredients: 
Instructions
2. Sticky Meatball Poppers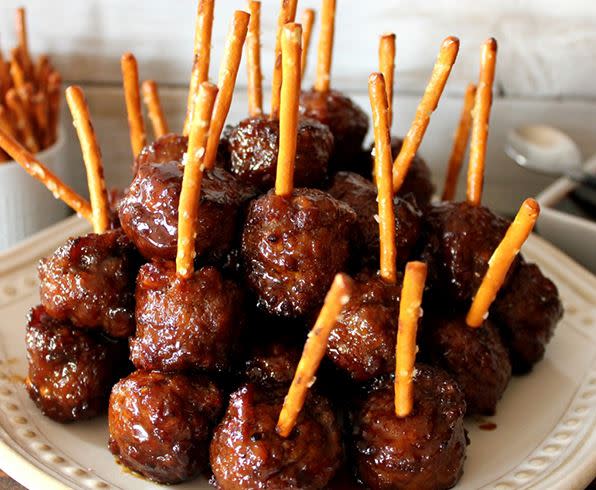 Ingredients:
- 1-2 lbs. frozen, pre-cooked cocktail meatballs
- 1 c. molasses
- 1 tsp. hot chili powder
- Pinch (or more) of cayenne pepper
Instructions
In a large pot, combine all ingredients except the meatballs and the pretzel sticks. Add the meatballs and simmer until they are heated through, stirring occasionally. Poke a pretzel stick into each meatball for serving.
Stick Meatball Poppers and more 
3. Mini Loaded Potato Poppers 
Ingredients:
- 20 small red potatoes
- 1 tablespoon extra-virgin olive oil
- 1 teaspoon kosher salt
- Toppings:  sour cream, cheese, chives, vegetarian bacon, etc.

Instructions
Preheat the oven to 375 degrees. In a large bowl, toss the potatoes, olive oil and salt together until coated thoroughly. Place the potatoes on a rimmed baking sheet and bake for 20 minutes or so, or until soft. Remove from the oven and let cool slightly. Once cool enough to touch, cut a small slit in the top of each potato and gently scoop out a small portion of the flesh, discarding it.Top each potato with your desired toppings and serve while still warm.
 
4. Healthy Option- Sweet Bean and Avocado Salsa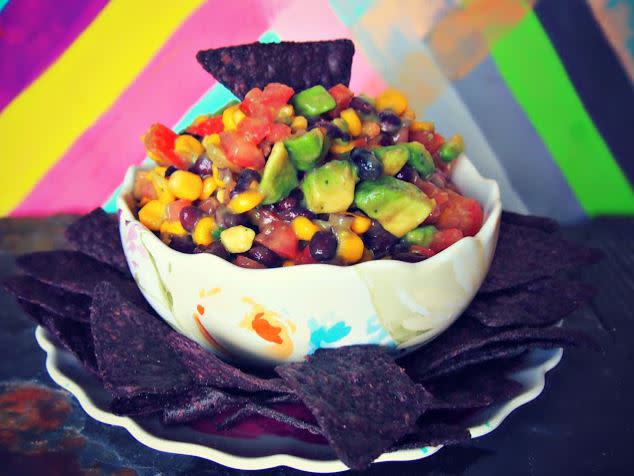 Ingredients:
- 1/4 Cup Chopped Green Onion
- 1 Tbsp Red Wine Vinegar
- 1 Packet Low Sodium Salsa Seasoning
- Tortilla chips (preferably purple)  
Instructions
Drain cans of black beans and corn then add them to the mixing bowl. 
Chop up tomatoes into little dices. 
Make sure to drain the juices from the tomatoes before adding them to the bowl.
Chop up green onion and red onion very finely then add to the bowl. 
Add packet of seasoning, brown sugar, black pepper , garlic salt and vinegar. 
Mix until everything is combined evenly. Chop up three avocados into dice sizes and squeeze 1/2 a lime over the top of the avocado to prevent them from browning. Add the avocado to the bowl and mix gradually. Be careful not to smash the avocado! Store in the refrigerator when not eating.  
Sweet Bean and Avocado Salsa and more 
5. Peanut Butter Football Desert Dip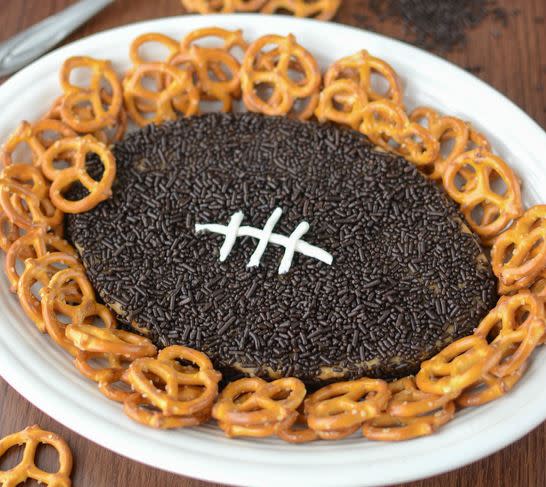 Ingredients:
- 1/4 cup butter, softened
- 4 ounces cream cheese, softened
- 1 cup peanut butter (your choice; crunchy or smooth)
- 1/2 teaspoon vanilla extract
- 1 1/2 cups powdered sugar (up to 2 cups if needed)
- 1/2 cup mini chocolate chips
- Chocolate sprinkles or chocolate chips for the outside of the football
- White chocolate or frosting for the football laces
Instructions 
Cream butter, cream cheese, and peanut butter until mixed (using a hand-held mixer). Mix in vanilla. Add powdered sugar, 1/2 cup at a time, and mix until combined. (If you want a stiffer mixture, add the extra 1/2 cup of powdered sugar.) Mix in chocolate chips.Turn out mixture on a large sheet of waxed paper. Use your hands to form into a football shape. Place the waxed paper onto your serving plate. Cover in sprinkles or chocolate chips, pressing them into the surface a little so they stick. Pipe on the laces using melted white chocolate or some leftover frosting and chill until ready to serve.
Serving suggestion: pretzels, animal crackers, cookies, a spoon.
The Fighting Tigers will square off against the ULM Warhawks in

 Tiger Stadium this Saturday at 6 p.m. For ticket information, visit www.lsutix.net.
Julie Thomas, Visit Baton Rouge
Julie is the new Communication Intern for Visit Baton Rouge. Before relocating to Baton Rouge, Julie lived in Haughton, Louisiana and attended Louisiana State University in Shreveport where she graduated in May 2014 with a degree in public relations. She now attends LSU as a graduate student at the Manship School of Mass Communications. She loves reading, watching Law and Order, playing with her dog, traveling and exploring the amazing city of Baton Rouge. You can follow her on Instagram or on her personal blog.