Whether you know him as CEO and President of Visit Baton Rouge or the Kingfish, we're bringing you an exclusive interview with Paul Arrigo. From festive bow ties to business role models, we're giving you the inside scoop on our one-of-a-kind leader!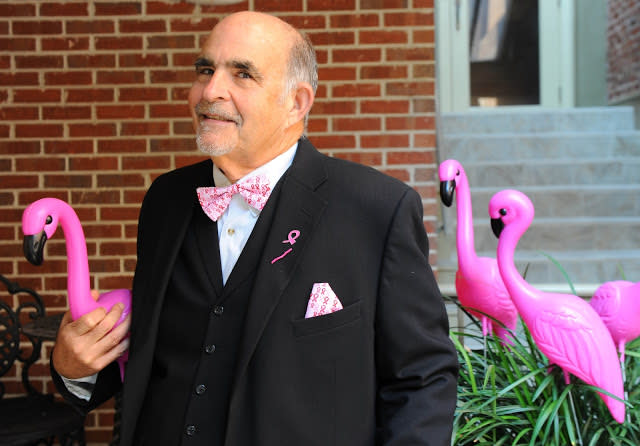 1. What's your favorite thing about Baton Rouge?
The passion that we have for football, family, faith, food and festivals.

2. How long have you worked in the tourism industry?
Over 40 years

3. What tips would you give someone who is visiting the Red Stick for the first time?
Expect the unexpected - take time to explore the hidden gems of our community.

4. We've noticed you've been wearing a lot of pink lately. Why?
It makes me look thin! No, actually I have been selected as an ambassador for the American Cancer Society's Real Men Wear Pink campaign against breast cancer throughout the month of October. (Contributions are appreciated!)

5. What is the best piece of advice you've received?
Strive through production and fulfillment. PR and politics will fall into place.

6. Who is/are your business role models? 
So many! But my mentor was/is Ed McNeill, former CEO of New Orleans CVB.

7. In one sentence, give us your best elevator pitch for the Capital City.
Baton Rouge is the ultimate host. Can you consider us for a future event/visit/conference?

8. What makes Visit Baton Rouge so successful?
My outstanding staff!

9. What has been your proudest moment or accomplishment to date?
The way we handle disasters, specifically responses to hurricanes. Our approach swiftly shifts from pursuing business to recovery and helping those in need. Additionally, we have been a successful driving force in getting a major music festival (Bayou Country Superfest) to Baton Rouge.

                                                                                                                                                                                  

And now for the lightning round...

Favorite holiday? Thanksgiving - it's stuck between Halloween and Christmas, and I'm always a fan of the underdog!
Favorite Louisiana food season: crawfish, oyster, shrimp or crab? All of the above!
Snow cone or snowball? Snowball
Best Halloween costume? When my daughter was younger, she dressed up as a mouse and I went as the cheese.
How many Red Stick articles of clothing do you own? Over 15!
Current Netflix obsession? How to Get Away With Murder
Nickname? The Kingfish
Any other interesting facts you think we should know? I once modeled for a barber in a hair show

                                                                                                                                                                                  

Be sure to follow Visit Baton Rouge on Twitter, Instagram and Facebook to stay updated on all things happening in the Red Stick! You never know when we may post another exclusive feature or an exciting giveaway!