Finally, the first cold snap of the fall has hit Baton Rouge.  While the majority of the nation has been soaking up all the best of fall - pumpkin everything, scarves, boots, leaves that change colors instead of just falling off of trees - we have been patiently waiting for our turn. It is a plight that hits all of us Baton Rougians. You may love that pumpkin spice latte, but it just isn't the same when it's October 4th and 90 degrees outside.  Thank goodness, it looks like our time has finally come.

Now, as always, the beautiful weather may be here today and gone tomorrow. However, let's just go ahead and give way to all the fall stuff we've been missing out on. Everyone has something they love about kicking off fall. Judging by the look of my twitter feed and the abundance of fall themed emojis, everyone is pretty pumped that it is finally here.

Although, I have to admit, while everyone else is instagramming away about pumpkin spice lattes and other pumpkin accessories I have another cool weather favorite on my mind. It is something that has been lurking in the back of my mind since the first warm weekend of the spring, something I have missed dearly, my very close friend - gumbo.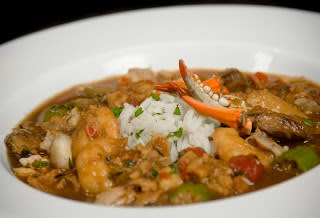 Photo Credit: David Gallant

Now it's not like gumbo went anywhere, or that anyone was stopping me from ordering it in the middle of August. However, there is just no denying that it just isn't the same. There really is nothing on earth like a good gumbo in the middle of a cold snap. It's the stuff that Louisiana dreams are made of. Now, my cravings are topping the charts and I can't wait to get my hands on the perfect bowl of gumbo. Narrowing down where to get the perfect dish is an entirely different challenge, but thankfully Baton Rouge has a ton of great options.


Here is a list of 20 Baton Rouge restaurants where you can cure the craving, including specifics on what varieties of gumbo they offer:

Harringtons's Cafe – Shrimp and Crab

George's Place – Chicken and Okra

Galatoire's Bistro – Seafood and Okra

Mason's Grill – Chicken and Sausage

Louie's Café - Chicken Andouille