FOR IMMEDIATE RELEASE
JUNE 2, 2021
CONTACT: SARAH AMACKER, LSU MOA COMMUNICATIONS COORDINATOR
samacker1@lsu.edu 
BATON ROUGE, La. — LSU Museum of Art (LSU MOA) is excited to present two exhibitions showcasing the ceramic arts with a focus on teaching, creating, and collecting. Form & Fire: American Studio Ceramics from the E. John Bullard Collection and The Boneyard: The Ceramics Teaching Collection will both be on view at LSU MOA from July 8 until October 17, 2021.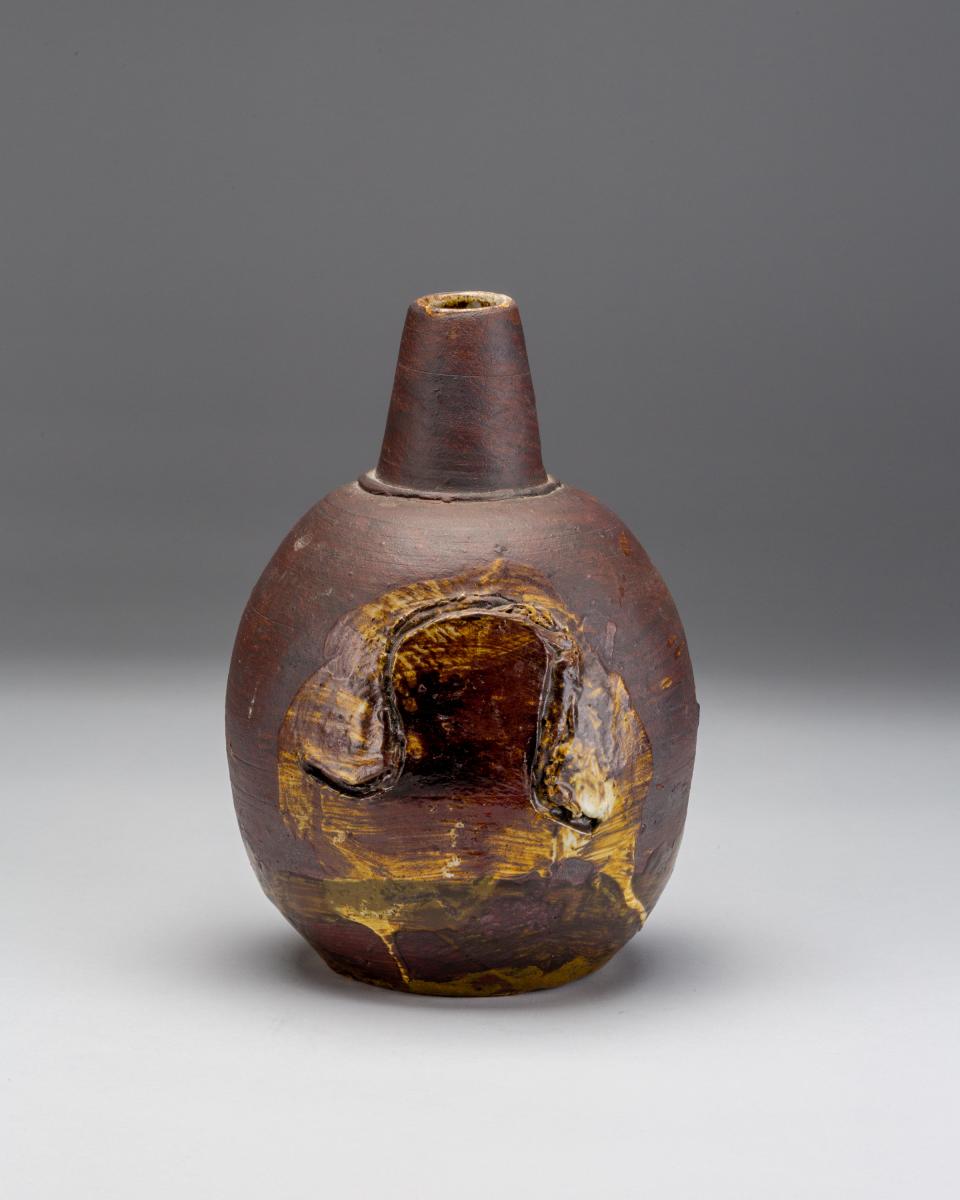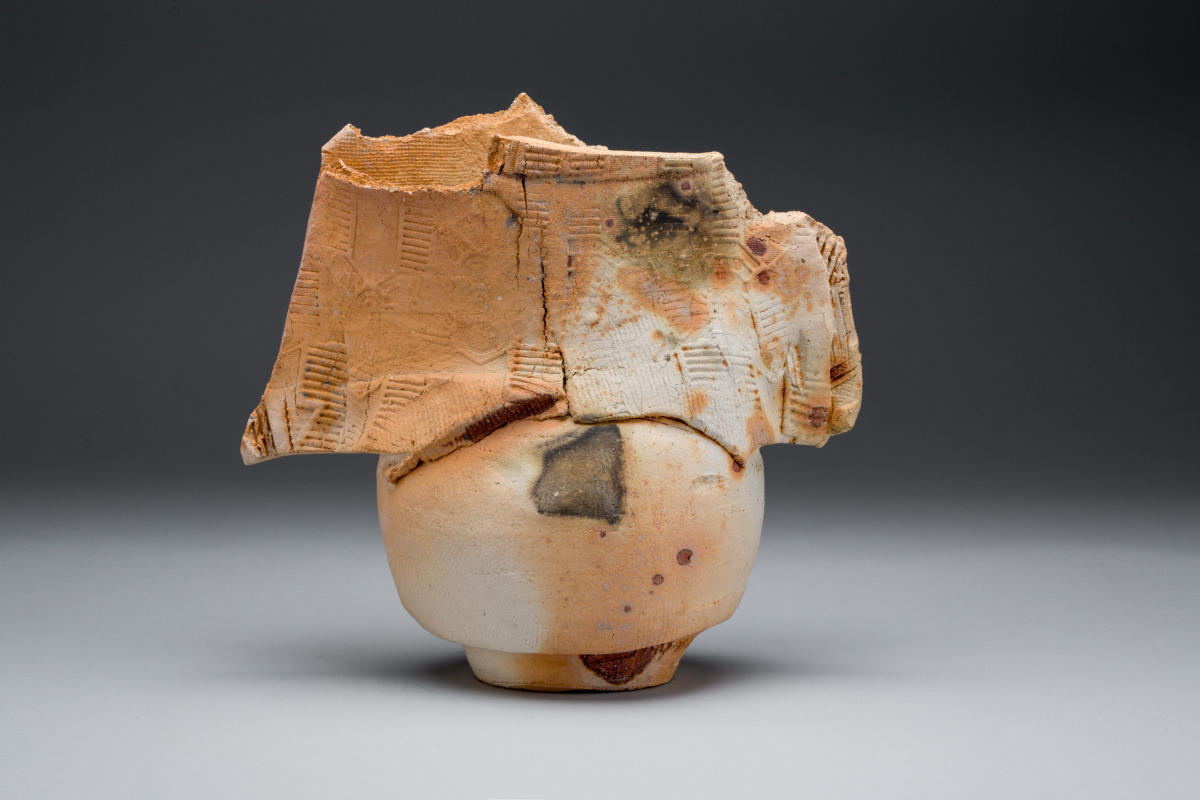 Images: (top) Peter Voulkos (American, 1924–2002), Chimney Pot, 1964, glazed stoneware; (bottom) Paul Soldner  (American, 1921–2011), Pedestal Piece from Kimono series, 1982, unglazed Raku fired earthenware; Promised gifts of E. John Bullard 
Form & Fire: American Studio Ceramics 
from the E. John Bullard Collection 
On view July 8–October 17, 2021 

Form & Fire: American Studio Ceramics from the E. John Bullard Collection features a group of over 100 American studio ceramic works on long-term loan and are a promised gift by bequest to the LSU Museum of Art from E. John Bullard. This collection will be studied over time by the public and students in support of LSU's top-ten ranked ceramics program. This collection comprises artworks by 69 artists, including important figures in ceramics history such as Andrea and John Gill, Vivika and Otto Heino, Ken Ferguson, Wayne Higby, Roberto Lugo, Gertrud and Otto Natzler, Don Reitz, Daniel Rhodes, Richard Shaw, Charles Smith, Paul Soldner, Akio Takamori, Robert Turner, Peter Voulkos, Kurt Weiser, Marguerite Wildenhain, and more. 

Most of these works are functional wares whose design, surfaces, and glazing activate our senses; the sculptural and visual/tactile experience is heightened through the hands of these master artists. The materials and techniques are unique in each work, while also acting in dialogue with history and each other. Ceramic art was reconsidered and recognized for artistic and historic achievement in 20th-century America. These artists' aesthetic achievements rival the achievements of any other artistic medium. 

In some cases, this collection contains multiple works by individual artists, showing a range of forms, styles, and glazing techniques. These works are important in the broad context of modern and contemporary art history. This collection will add significant depth to our ceramic holdings; the addition of these works expands the collection beyond the Newcomb collection, further into studio ceramics of the 20th century with important developments in scale and style. They join other works in the collection including ones by Walter Anderson, Piero Fenci, Sin-Ying Ho, Pres Kors, Shadow May, Robert Milnes, George Ohr, W. Steve Rucker, Sharon Smith, Akio Takamori, and Michaelene Walsh. 

LSU MOA encourages you to contemplate these works in the broad context of modern and contemporary art history. The clay of the earth has been formed and fired and the magic of the kiln is evidenced within each work. This exhibition is curated by Daniel E. Stetson, Executive Director of the LSU Museum of Art. LSU MOA thanks the following sponsors for making this exhibition and catalogue possible: Partner Sponsors Catherine Burns Tremaine and Becky and Warren Gottsegen; Supporters Debbie de La Houssaye and Lake Douglas and Jacki and Brian Schneider (as of June 2021). 
ABOUT THE COLLECTOR E. John Bullard is Director Emeritus of the New Orleans Museum of Art. His distinguished career as Director and CEO at NOMA spanned 37 years. In retirement his artistic love has manifested in an abiding interest in ceramics and in a short seven years his collection has grown to around 1,000 objects.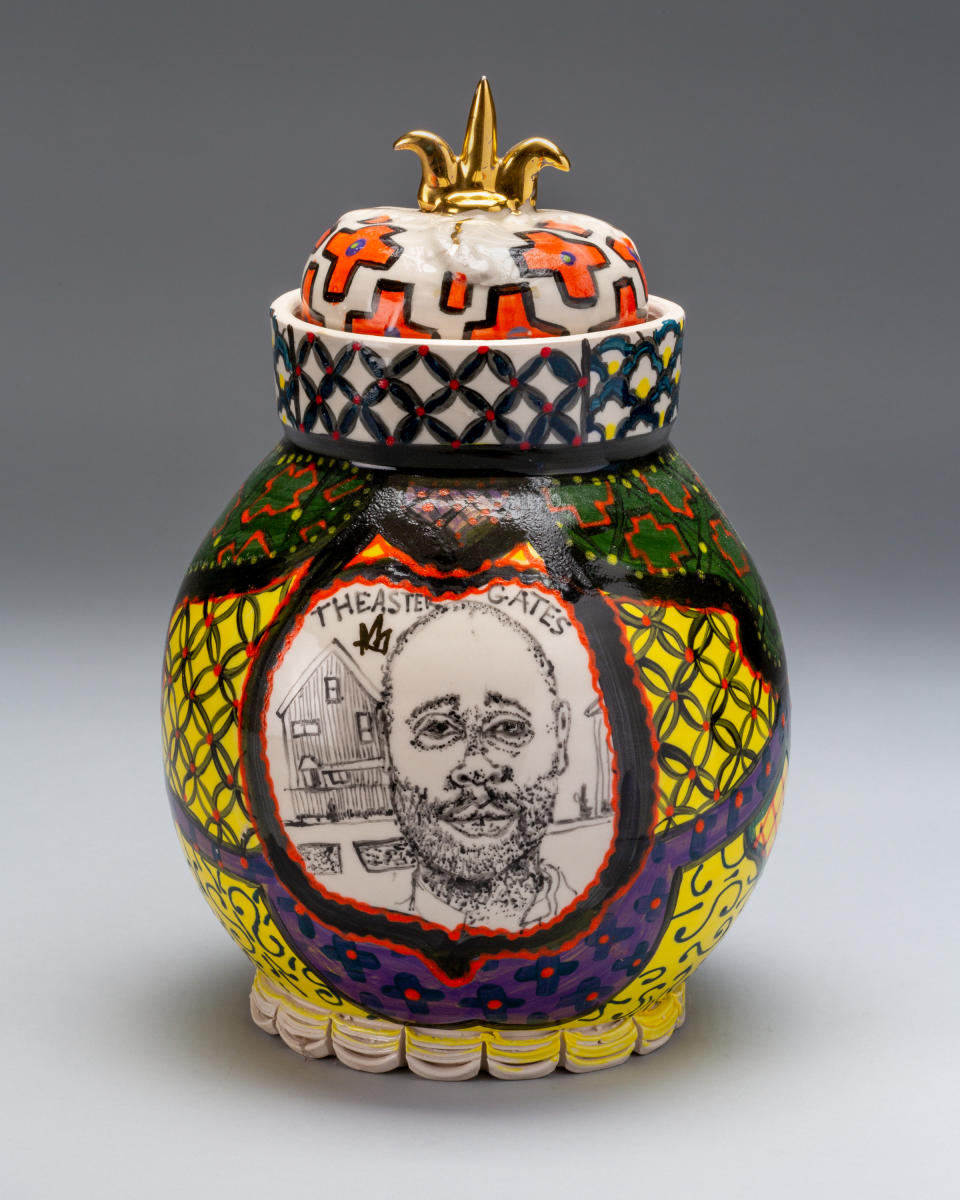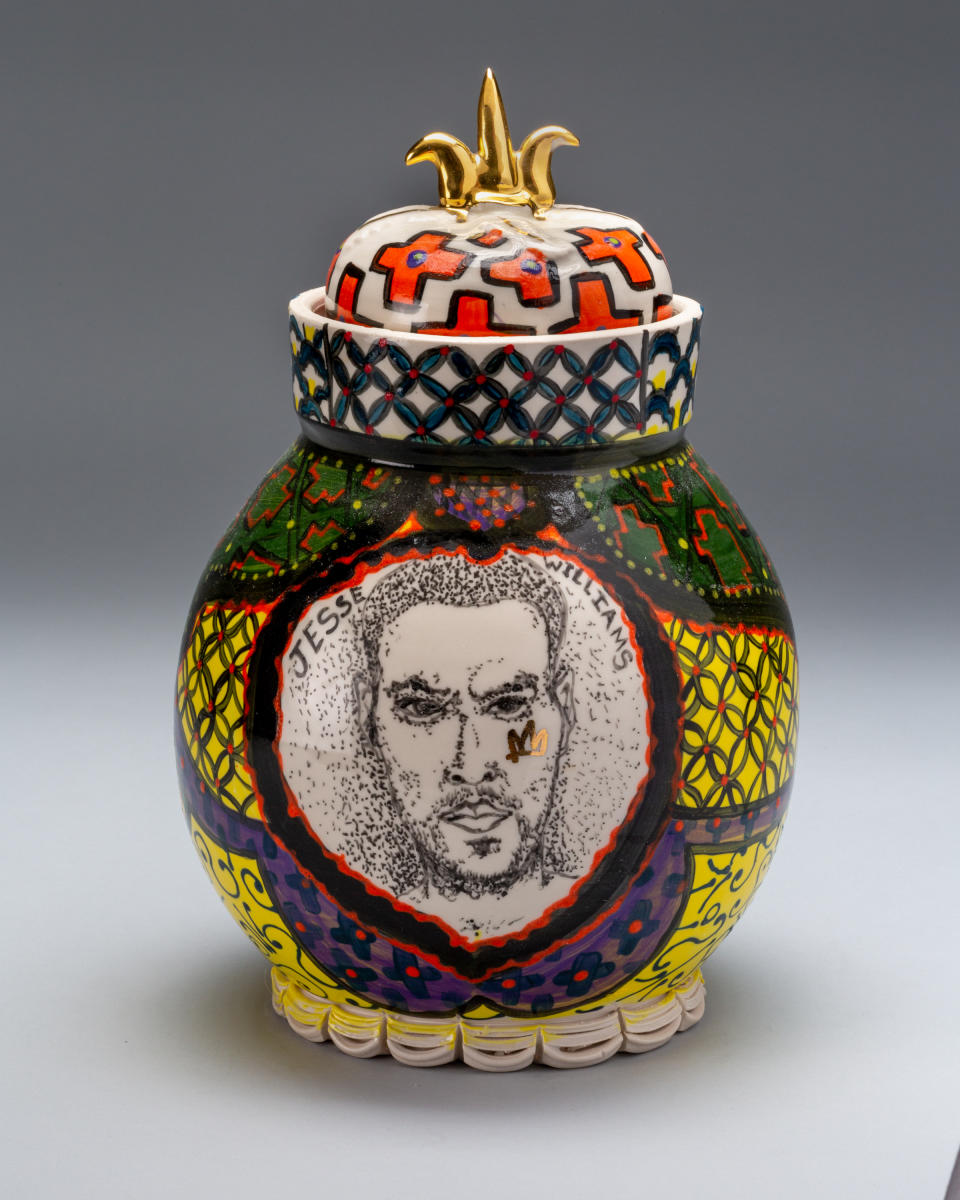 IMAGES ABOVE (front & back views): Roberto Lugo (American, b. 1981), Covered Jar: Theaster Gates and Jesse Williams Portraits, 2016, porcelain;  Promised gift of E. John Bullard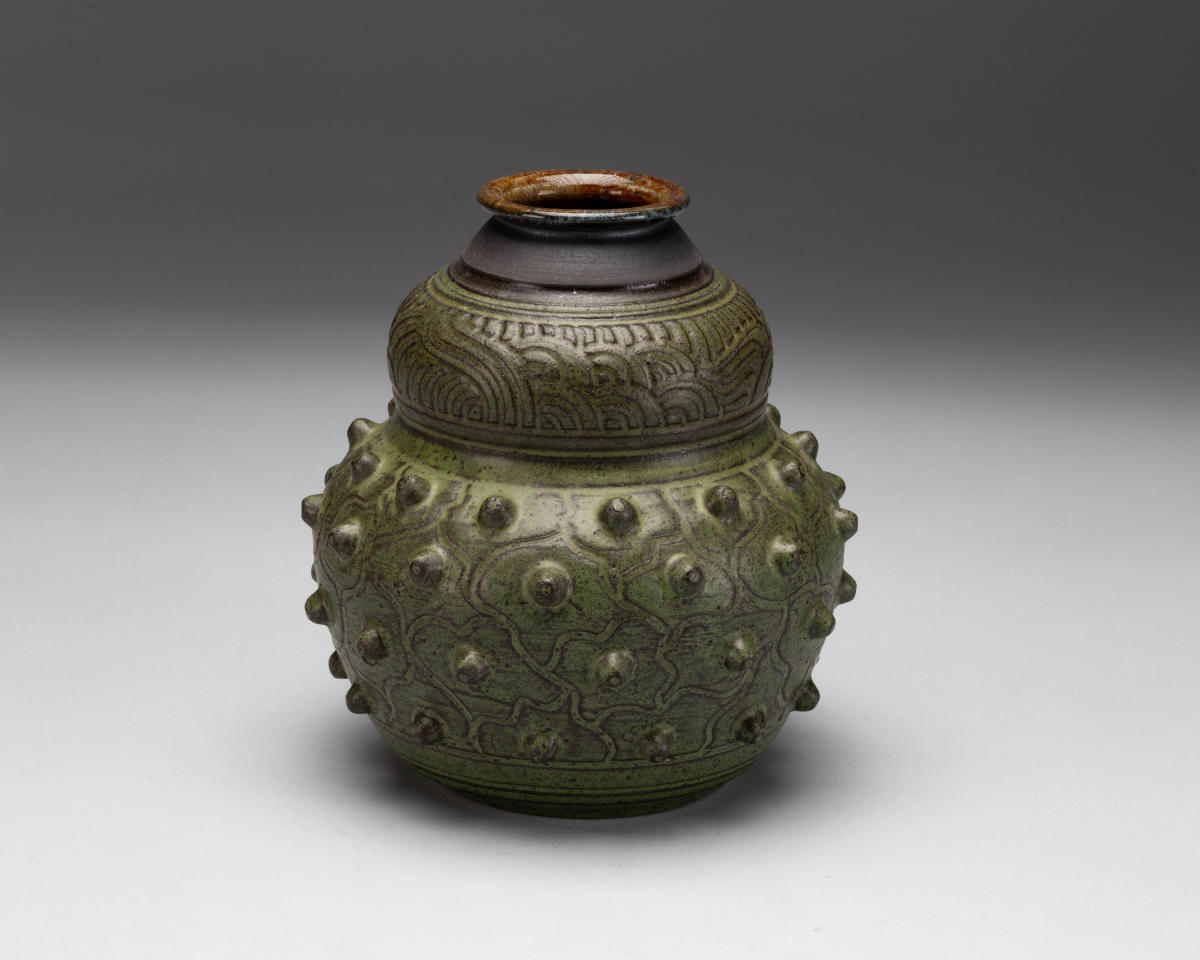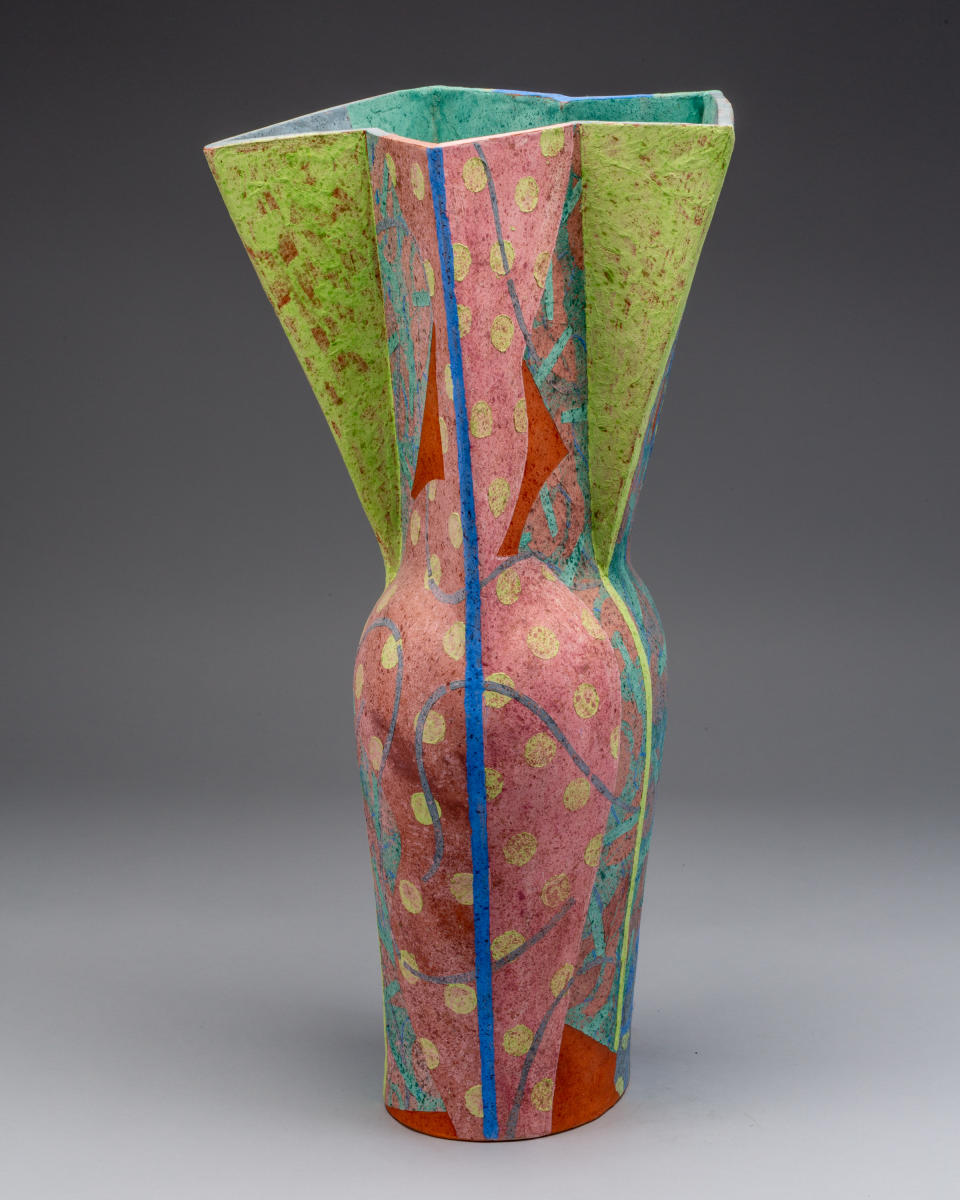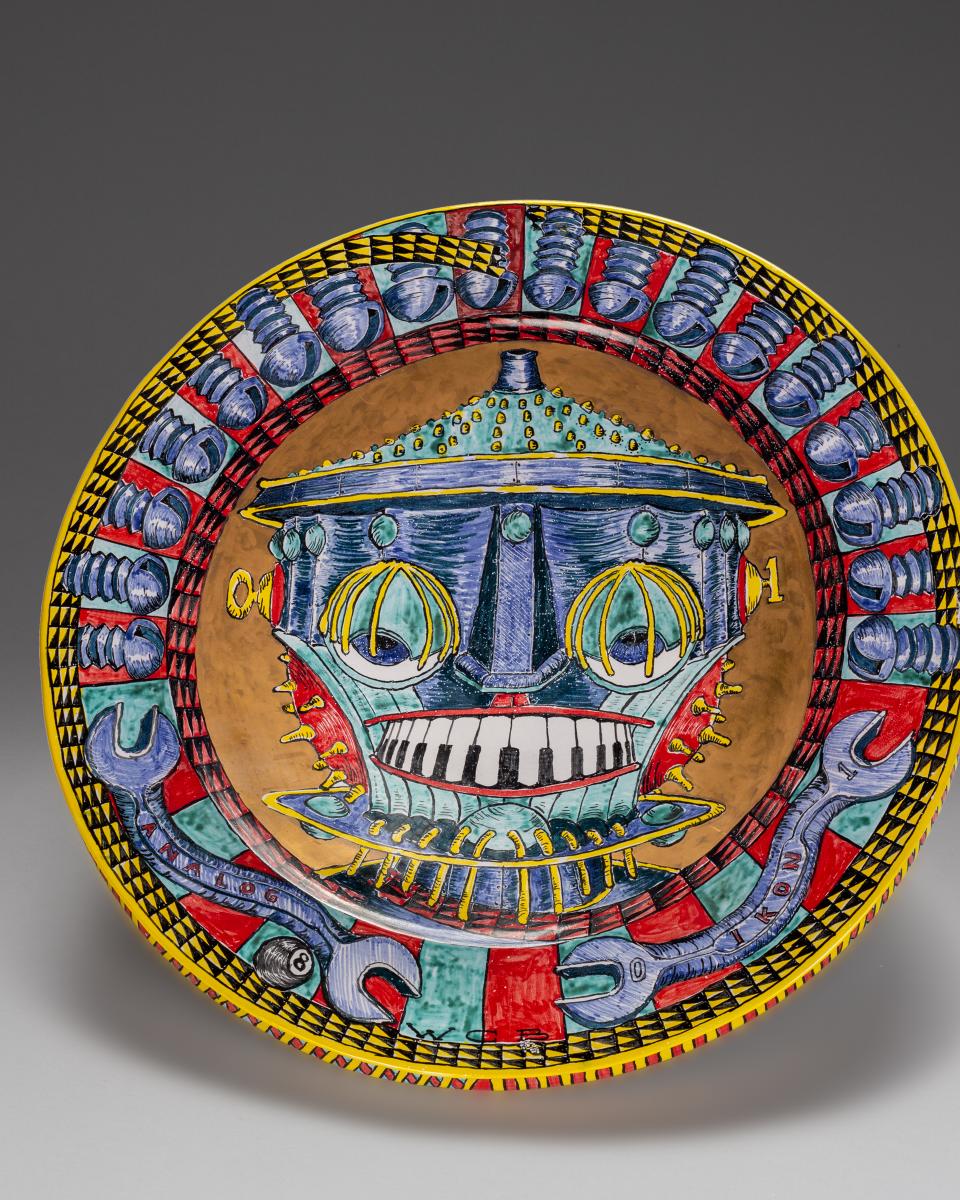 IMAGES ABOVE: (top) Charles Smith (American, b. 1949), Acorn Vase, 2016, stoneware; (middle) Andrea Gill (American, b. 1948), Tall Vase, 1991, earthenware; (bottom) William Brouillard ( American, b. 1947), Machine Age Analog Icon Charger, 2015, earthenware; Promised gifts of E. John Bullard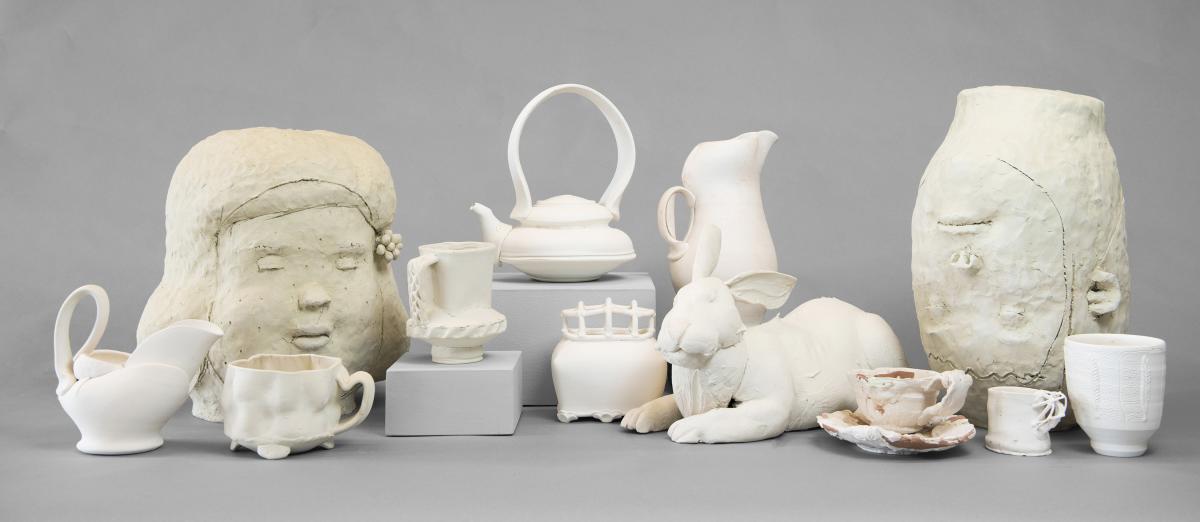 Image above: Bisqueware works from The Boneyard: The Ceramics Teaching Collection. Bisque works featured are unfinished ceramic works used for teaching purposes.  (left to right) sauce boat by Jen Allen; mug by John Gill; head by Kensuke Yamada; handled vase by John Gill; teapot by Mike Jabbur; caged vessel by Jen Allen; rabbit by Joe Bova; pitcher by Jen Allen; cup and saucer by Lisa Orr; upside-down head by Kensuke Yamada; white mug by Lauren Gallaspy; cup by Doug Peltzman 
The Boneyard: The Ceramics Teaching Collection 
On view July 8–October 17, 2021 

Inspired by the visiting artist tradition, The Boneyard: The Ceramics Teaching Collection presents the energy and legacy of ceramics demonstrations through bisqueware. Bisque refers to the state achieved after a wet clay demo is completed and then fired once. What remains is a porous, unglazed record of the visiting artist's creative process that can be referenced year after year by professors and students. Included in this exhibition are over 200 bisque works that provide a valued resource for LSU School of Art's top-ten ranked ceramics program. The ever-growing collection will be displayed at LSU MOA to imitate the classroom use of the boneyard. The "boneyard" refers to bisque works and how they are stored in studio spaces for teaching and ceramics demonstrations. It's known for its unique display on high shelves in the studio, with many bisque works together, showcasing a variety of techniques, improvisation, and skill. Faculty and instructors pull bisque objects from the shelves in order to highlight specific techniques and attributes of form, only to return the bisque back to the shelf so they can grab another set of objects. 

This exhibition will feature rotating displays and a demonstration space that will be activated by MFA students, local artists, and visiting artists to allow museum visitors to share in the boneyard tradition—to watch clay transform and to see artist-specific techniques shared in the openness of the craft tradition. Artists featured: Andrew Martin, Kristen Kieffer, Jen Allen, Joanna Powell, Doug Peltzman, Lisa Orr, John Gill, Jeremy Brooks, Lauren Gallaspy, Kevin Snipes, Mike Jabbur, Mike Helke, Matt Mitros, Sam Chung, Matt Towers, Kim Dickey, Mary Louise Carter, Joe Bova, David Eichelberger, Matt Metz, Kensuke Yamada, Tip Toland, TJ Erdahl, Ryan Wilson Kelly, Jeremy Hatch, Jason Bige Burnett 
(additional artists may be added to this exhibition). This exhibition is a collaboration between LSU Museum of Art and LSU School of Art and is curated by LSU Ceramics Associate Professor Andy Shaw, LSU MOA Curator Courtney Taylor, and LSU MOA Educator Grant Benoit.  
CELEBRATE CLAY PROGRAMS AT LSU MOA 
Virtual and In-Person Artist Talk & Demos. FREE to attend! 
Register at https://bit.ly/lsumoacelebrateclay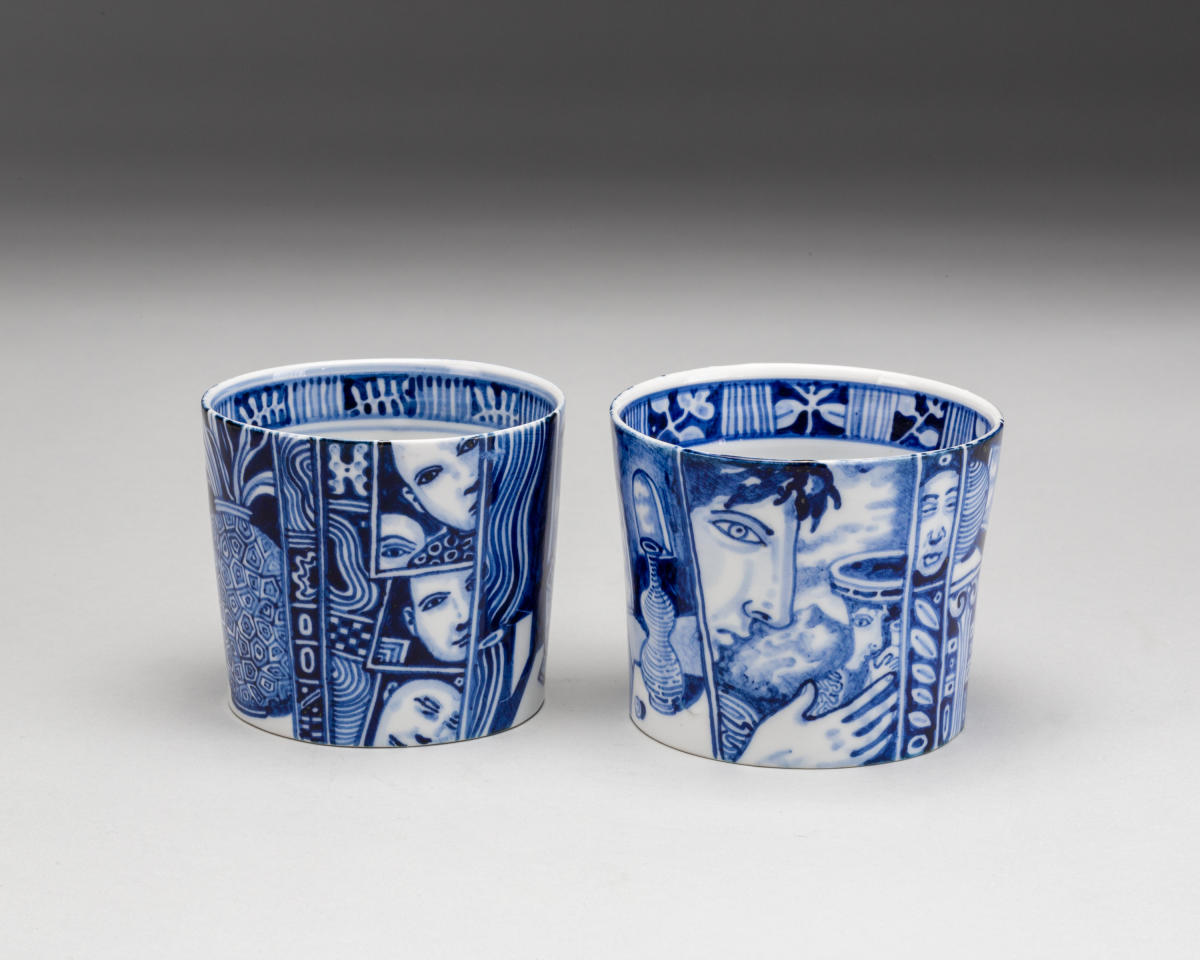 Artist Talk with Kurt Weiser on July 8 at 5:30 p.m. on Zoom 
Join LSU MOA for a virtual talk with artist Kurt Weiser, featured in Form & Fire, as we celebrate the opening of LSU MOA's two ceramic exhibitions. Free to attend. Register at https://bit.ly/lsumoacelebrateclay 
IMAGE: Kurt Weiser (American, b. 1950), Pair of Yunomi: Faces and Pots, 2012, porcelain; Promised gift of E. John Bullard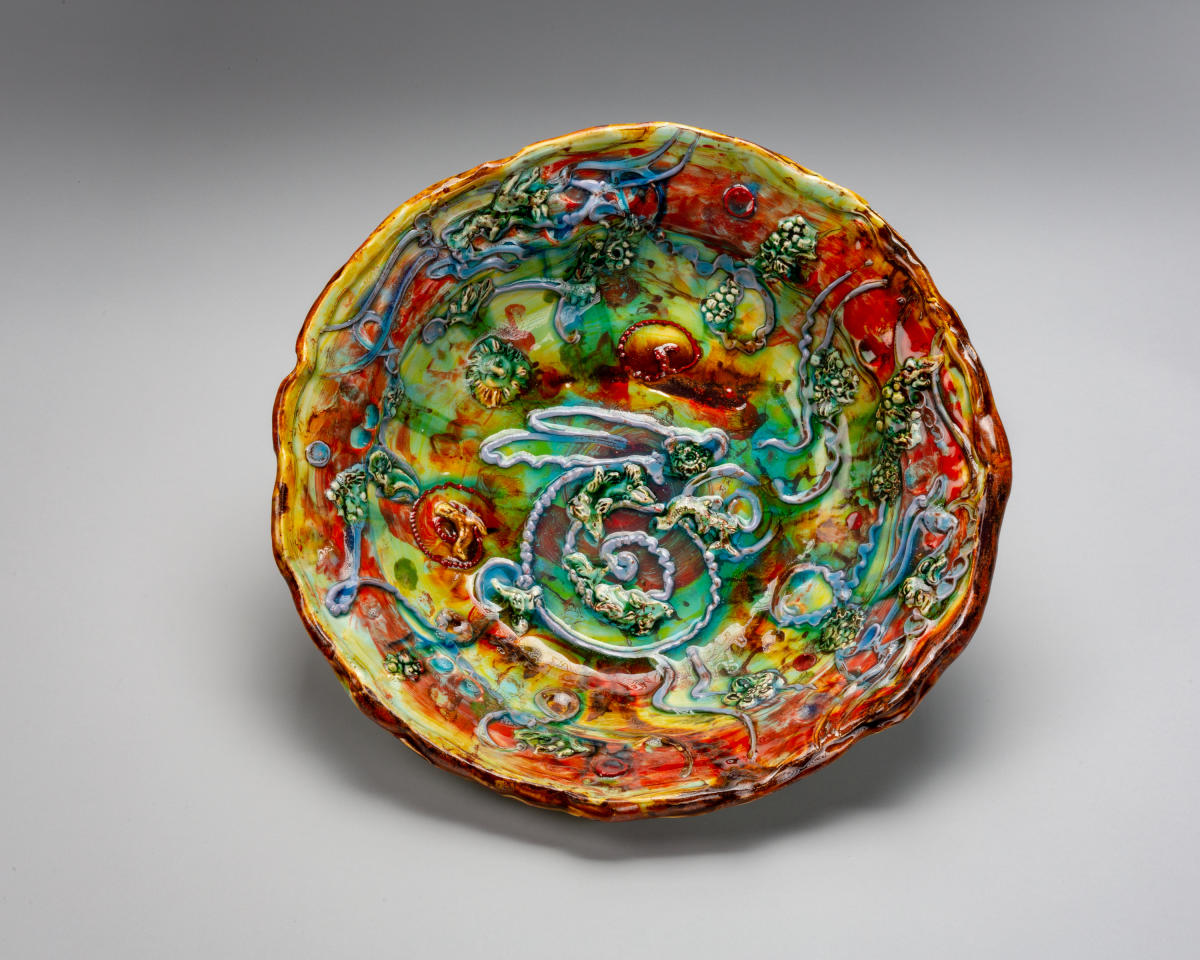 Artist Talk & Demo with Lisa Orr on August 1 from 1-5 p.m. at LSU MOA 
Join LSU MOA back at the museum for a live ceramics demonstration and artist talk with visiting artist Lisa Orr, whose work is featured in both Form & Fire and The Boneyard during Free First Sunday. Free to attend. Masks required at the museum. Register at https://bit.ly/lsumoacelebrateclay 
IMAGE: Lisa Orr (American, b. 1960), Large Rabbit Bowl, 2018, polychrome glazed earthenware; Promised gift of E. John Bullard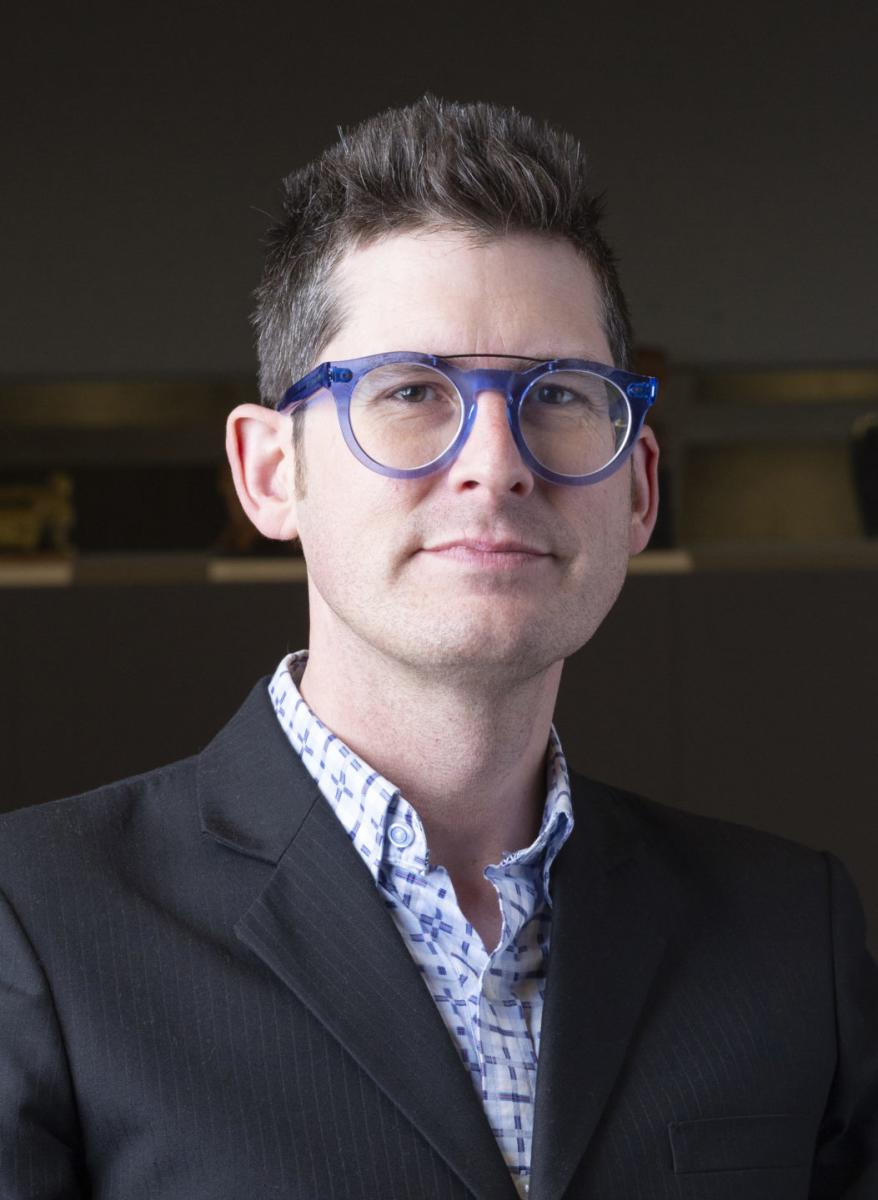 Ceramics Talk with Garth Johnson on August 26 at 5:30 p.m. on Zoom 
Hear from Garth Johnson, Curator of Ceramics at Everson Museum of Art in Syracuse, NY to learn more about ceramic works featured in these two exhibitions at LSU MOA. Free to attend. Register at https://bit.ly/lsumoacelebrateclay 
IMAGE: Garth Johnson, photo by Julie Herman
Visit LSU Museum of Art's Facebook and Instagram pages @lsumoa regularly for program announcements and exhibition updates. For more information: www.lsumoa.org 

ABOUT LSU MUSEUM OF ART 
LSU Museum of Art seeks to enrich and inspire through collections, exhibitions, conservation, and education, serving as a cultural and intellectual resource for the University, Baton Rouge, and beyond.  
LSU Museum of Art is supported in part by a grant from the Arts Council of Greater Baton Rouge, funded by the East Baton Rouge Parish Mayor-President and Metro Council. Additional support is provided by generous donors to the Annual Exhibition Fund, members, and community partners. Supported by a grant from the Louisiana Division of the Arts, Office of Cultural Development, Department of Culture Recreation and Tourism, in cooperation with the Louisiana State Arts Council. Funding has also been provided by the National Endowment for the Arts. Additional support provided by Art Bridges and Junior League of Baton Rouge. Thank you to the following sponsors of Free Friday Nights and Free First Sundays at LSU MOA: Louisiana Lottery Corporation and IBERIABANK, a division of First Horizon, for sponsoring free admission and Louisiana CAT for sponsoring programming. 

VISITOR INFORMATION 
The museum is located in downtown Baton Rouge at 100 Lafayette Street on the Fifth Floor of the Shaw Center for the Arts. General admission is $5 each for adults and children age 13 and over. Admission is free to university faculty and students with ID, children age 12 and under, and museum members. Active duty military members, first responders, and their families receive free admission with ID as part of the Blue Star Museums program. Masks are required during museum visitation and LSU MOA no-touch digital gallery resources can be accessed 
here: www.lsumoa.org/digital  Museum Hours of operation are Tuesday through Saturday 10 a.m.-5 p.m.; Thursday and Friday 10 a.m.-8 p.m.; Sunday 1-5 p.m.; and closed on Mondays and major holidays. Free admission occurs on the first Sunday of each month and every Friday night from 5-8 p.m. For more information: visit www.lsumoa.org, call 225-389-7200, and follow the museum on social media @lsumoa for exhibition and program updates. 

###