FOR IMMEDIATE RELEASE
JUNE 15, 2021
EDUCATION CONTACT: GRANT BENOIT
LSU MUSEUM OF ART EDUCATOR
CONTACT: SARAH AMACKER
LSU MUSEUM OF ART, COMMUNICATIONS COORDINATOR
BATON ROUGE, La. – LSU Museum of Arts Neighborhood Arts Project (NAP) provides free art-making activities in East Baton Rouge Parish neighborhoods free of charge. Led by LSU Museum of Art (LSU MOA) staff along youth mentors supported by Mayor-President Sharon Weston Broome's office's youth employment program, Neighborhood Arts Project has provided free art making activities in East Baton Rouge Parish under pop-up tents at sites in North Baton Rouge, Gardere, and Eden Park neighborhoods for several years. As the pandemic subsides, LSU MOA is excited to announce the return of the museum's pop-up on-site model, which will bring art activities to community locations again this summer.

"LSU Museum of Art's NAP brings instructors, teen mentors, artists, and art supplies to communities with limited access to enrichment programs. Mixing artists, paints, and special art projects activates parking lots, parks, and empty lots to make anywhere youth call home a place to learn and be creative during the summer. Not only do the kids have fun (while secretly learning through art), but we learn more about the community through this mobile art
program." says Grant Benoit, LSU Museum of Art Educator and Public Programs Manager (pictured below with Neighborhood Arts Project participants).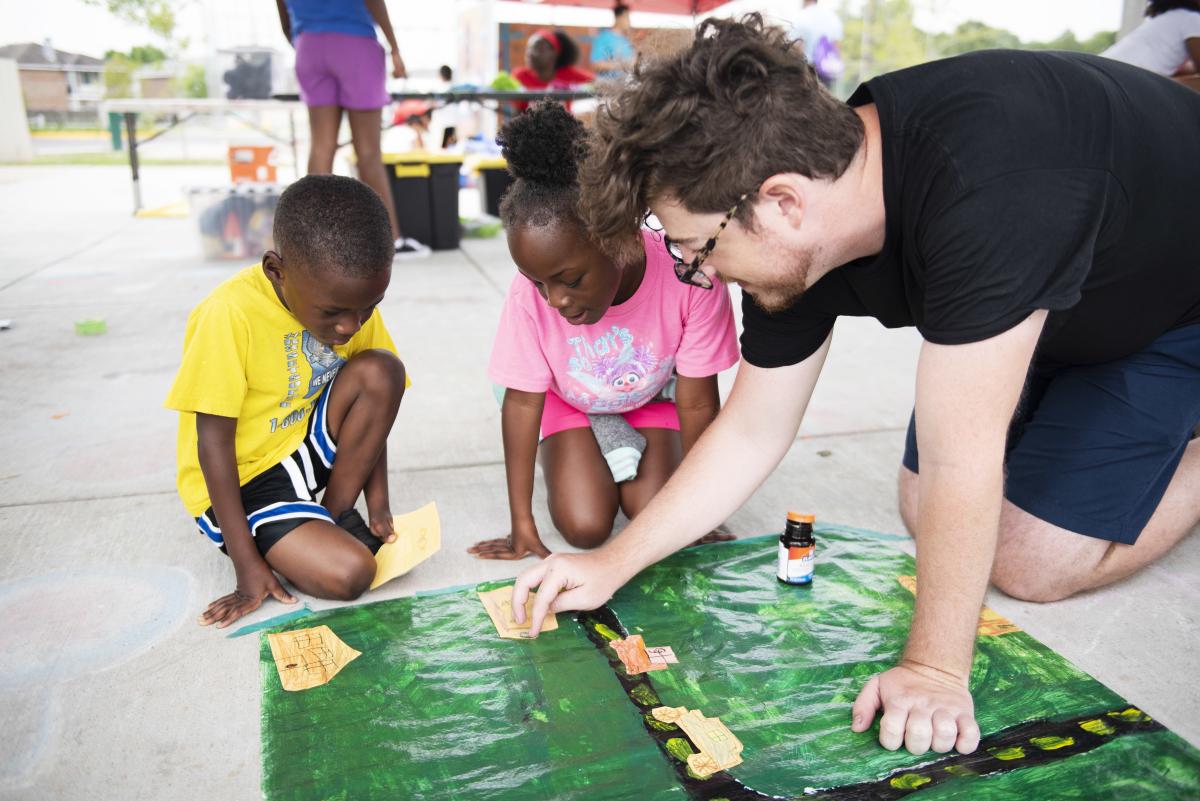 In the summer of 2020, LSU MOA adapted Neighborhood Arts Project (NAP) by distributing art kits with art supplies and engaging lessons that could be safely distributed to long-term NAP collaborators and community organizations meeting current nutrition needs and filling educational gaps. LSU MOA will continue to distribute art kits to multiple East Baton Rouge Parish sites to reach children in under-invested neighborhoods with limited arts education access throughout this summer, but will also bring back safe pop-ups with in-person art activities. At sites listed in the summer schedule below, LSU MOA will set up tents for families to stop by and create art. Visiting artists from the community will also be at the sites on certain dates to share their creative process and provide the opportunity to learn from and to create with professional artists.

By safely distributing boxes and leading community pop-ups, the LSU Museum of Art hopes to provide children and parents with arts educational resources, connect families to the museum, and to encourage art learning, creativity, and engagement.

LSU MOA Neighborhood Summer 2021 / Community Pop-Up Schedule:
At these sites, LSU MOA will come with a tent and art activities for families and children in these communities. Free to attend. Masks encouraged.

June 14–July 23, 2021 in the Community
Tuesdays: 10 a.m.–12 p.m. at Ardenwood Village (1957 N. Ardenwood, Baton Rouge, LA)
Wednesdays: 10 a.m.–12:30 p.m. at Cadillac Street Park (6117 Cadillac Street Park, Baton Rouge, LA)
Thursdays: 10 a.m.–12 p.m. at Gardere Initiative (8435 Ned Avenue, Baton Rouge, LA)
Fridays: 10 a.m.–12 p.m. at Monte Sano Village (3002 E. Mason Avenue, Baton Rouge, LA)

July 27, 28, and 29, 2021 at the LSU Museum of Art
NAP at the LSU Museum of Art from 10 a.m.–12 p.m. (100 Lafayette St., Baton Rouge, LA)
LSU MOA'S Neighborhood Arts Project is made possible with the support of the following community partners: Office of Mayor President Sharon Weston Broome, Art Bridges, Louisiana CAT, and BREC. Thank you also to partners at the Interfaith Federation, Gardere Initiative, Village Resource Center, and HYPE. More information about LSU MOA's Neighborhood Arts Project:

About About Neighborhood Arts Project at LSU MOA: In 2012, the LSU Museum of Art developed the Neighborhood Arts Project, or NAP, a free art outreach program for under-resourced areas with a high density of children, youth and families, who do not attend summer camps or participate in afterschool or weekend programs. Working outside under pop-up tents (prior to COVID-19), the NAP's impact is immediate. All ages can access the program easily without having to rely on transportation or pay a fee. The variety of art activities encourages creative expression through experiential exploration, establishing a foundation for life-long learning and a platform for exploring a broad spectrum of opportunities that are not typically available. More information about Neighborhood Arts Project: www.lsumoa.org/nap Museum Info / Updates and Exhibition Information: www.lsumoa.org

ABOUT LSU MUSEUM OF ART
LSU Museum of Art seeks to enrich and inspire through collections, exhibitions, conservation, and education, serving as a cultural and intellectual resource for the University, Baton Rouge, and beyond.
LSU Museum of Art is supported in part by a grant from the Arts Council of Greater Baton Rouge, funded by the East Baton Rouge Parish Mayor-President and Metro Council. Additional support is provided by generous donors to the Annual Exhibition Fund, members, and community partners. Supported by a grant from the Louisiana Division of the Arts, Office of Cultural Development, Department of Culture Recreation and Tourism, in cooperation with the Louisiana State Arts Council. Funding has also been provided by the National Endowment for the Arts. Additional support provided by Art Bridges and Junior League of Baton Rouge. Thank you to the following sponsors of Free Friday Nights and Free First Sundays at LSU MOA: Louisiana Lottery Corporation and IBERIABANK, a division of First Horizon, for sponsoring free admission and Louisiana CAT for sponsoring programming.

VISITOR INFORMATION
The museum is located in downtown Baton Rouge at 100 Lafayette Street on the Fifth Floor of the Shaw Center for the Arts. General admission is $5 each for adults and children age 13 and over. Admission is free to university faculty and students with ID, children age 12 and under, and museum members. Active duty military members, first responders, and their families receive free admission with ID as part of the Blue Star Museums program. Masks are required during museum visitation and LSU MOA no-touch digital gallery resources can be accessed at www.lsumoa.org Museum Hours of operation are Tuesday through Saturday 10 a.m.-5 p.m.; Thursday and Friday 10 a.m.-8 p.m.; Sunday 1-5 p.m.; and closed on Mondays and major holidays. Free admission occurs on the first Sunday of each month and every Friday night from 5-8 p.m. For more information: visit www.lsumoa.org, call 225-389-7200, and follow the museum on social media @lsumoa for exhibition and program updates.
###