FOR IMMEDIATE RELEASE
MAY 5, 2021
MEDIA CONTACT INFO: AMY SISOYEV
SISOYEV PUBLIC RELATIONS 
Amy@SisoyevPR.com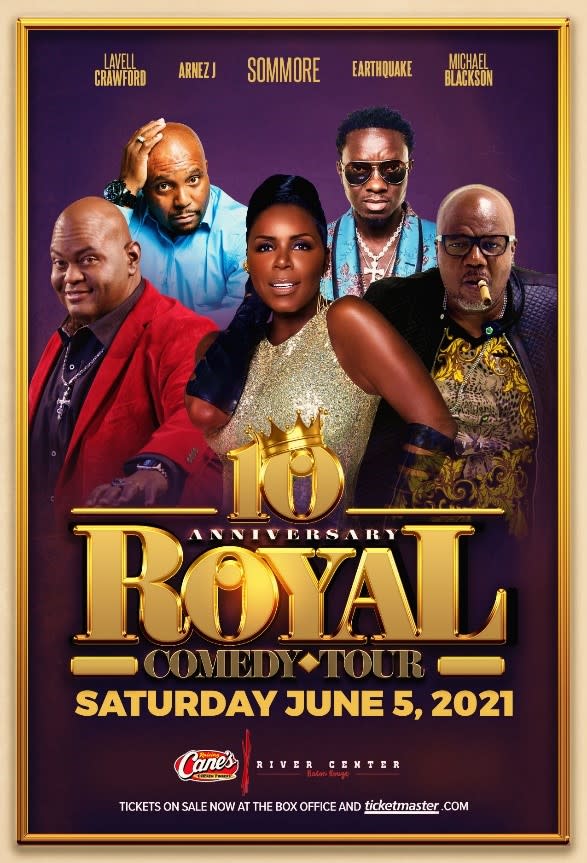 COMEDIANS SOMMORE, LAVELL CRAWFORD, EARTHQUAKE, ARNEZ J AND RYAN DAVIS COMING TO RAISING CANES RIVER CENTER
Tickets go on sale March 19 at 10 a.m. at the Raising Canes River Center Box Office and Ticketmaster.com
BATON ROUGE, La.  – The undisputed Queen of Comedy, Sommore, is set to rule the stage as she hosts the Royal Comedy Tour at Raising Canes River Center in Baton Rouge on June 5 at 7 p.m. Sommore will lead the evening with some of comedy's most talented and sought-after entertainers, including Lavell Crawford, Earthquake, Arnez J and Ryan Davis. Tickets for reduced capacity seating go on sale March 19 at 10 a.m. at the Raising Canes River Center Box Office and Ticketmaster.com. The all-star lineup will be sure to deliver side-busting, non-stop laughter for a memorable night of comedy!
The Royal Comedy Tour is presented by North American Entertainment Group Inc., one of the leading independent promoters of entertainment tours and live events in the United States.
SHOW DETAILS
Date: Saturday, June 5, 2021
Showtime: 7:00 p.m.
Venue: Raising Canes River Center, 275 S River Rd. Baton Rouge, LA 70802
Lineup: Sommore, Lavell Crawford, Earthquake, Arnez J, Ryan Davis
Ticket Prices: $59, $75, $99, $125 (Not Including Fees)
Tickets: Available to purchase at the Raising Canes River Center Box Office and Ticketmaster.com

COVID-19 SAFETY MEASURES
Please visit www.raisingcanesrivercenter.com for information on COVID-19 safety measures
___________________________________________________________________________________________________________________________
ABOUT SOMMORE
In her more than 20-year career, award-winning comedienne of "Chandelier Status," Sommore, has become a trailblazer for women in the comedy business as one of the most successful comedians in the U.S. and abroad. Sommore has been featured in a number of hit films including "Soul Plane," "Something New" and "Friday After Next." Her all-new self-produced comedy special, "A Queen With No Spades" recently premiered on Showtime.

Website: www.sommore.com
Facebook: @QueenSommore
Twitter: @sommoresofunny
Instagram: @sommore

ABOUT LAVELL CRAWFORD
Lavell Crawford is quickly climbing the comedic ranks and becoming one of the hottest stars in the biz today. Lavell first gained national exposure on NBC's hit reality series "Last Comic Standing." His television appearances include "Workaholics" (Comedy Central), "Breaking Bad" (AMC), and "Chelsea Lately" (E! Entertainment), "Shaquille O'Neal Presents: All Star Comedy Jam" (Showtime) and "Comic View" (BET), to name a few.

Website: www.comedianlavellcrawford.com
Facebook: @lavell.crawford.52
Twitter: @Lavellthacomic
Instagram: @lavellsthacomic
ABOUT EARTHQUAKE
Comedian, actor and voice-artist, Earthquake entered America's households on the classic run of BET's "Comic View" and HBO's "Def Comedy Jam," and the special series, "One Night Stand." Appearances include "The Howard Stern Show," "Real Time with Bill Maher," "The View," "The Real," and "Late Night with Conan O'Brien."  

Website: www.therealearthquake.com
Facebook: @RealEarthquake
Twitter: @RealEarthquake
Instagram: @therealearthquake

ABOUT ARNEZ J
Arnez J. is quickly emerging as one of the hottest comedic artists in the game, known for his highly entertaining standup without using profanity. Television appearances include Comedy Central's "Make Me Laugh," Showtime's "Shaquille O'Neal Presents: All Star Comedy Jam," NBC's "Friday Night Videos," "The Mo'Nique Show," his own BET "Comic View Grandstand Hour Special" and "Comedy Central Presents: Arnez J," to name a few. His hilarious new comedy special "Racially Motivated" is available now on Netflix.
 
Facebook: @ArnezJComedy
Twitter: @arnezjcomedy
Instagram: @arnezjcomedy_

# # #