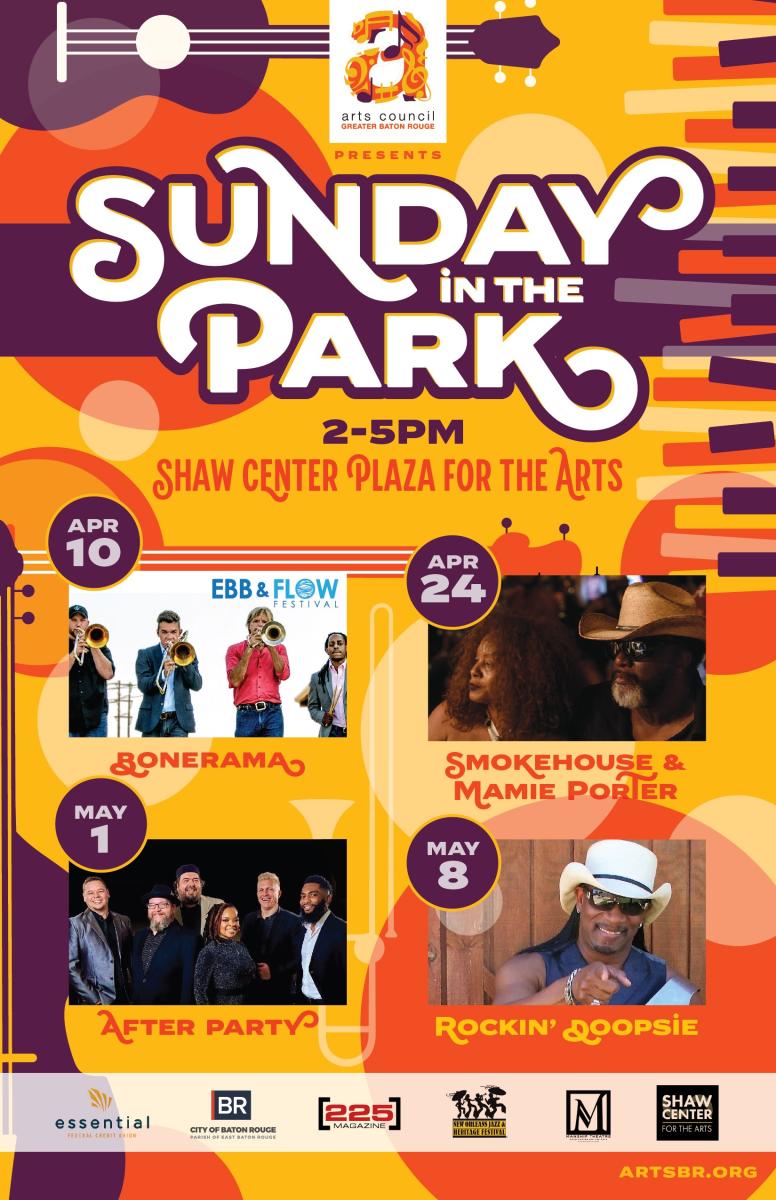 FOR IMMEDIATE RELEASE
March 28, 2022
 
 
Announcing the Spring 2022 Season of Sunday in the Park
BATON ROUGE, LA – March, 28: This April, the Arts Council of Greater Baton Rouge announces the spring edition of the Sunday in the Park concert series! This is the 14th season that program manager, Jonathan Grimes, has curated this concert series, which has grown in popularity each season and offers an opportunity to enjoy local music outdoors.  All Sunday in the Park Concerts are free, outdoor events featuring local musicians at the Shaw Center for the Arts Plaza from 2-5pm on the dates listed below.  
 
Spring 2022 Lineup:
April 10 – Bonerama at the "Ebb & Flow Festival" 
April 24 – Smokehouse & Mamie Porter at the "Baton Rouge Blues Festival"
May 1 – After Party
May 8 – Rockin' Doopsie
Sunday in the Park is an annual concert series featuring a variety of local musicians at an outdoor venue. These family-friendly events are supported by the Office of the Mayor-President Sharon Weston Broome, the Baton Rouge Metro Council, New Orleans Jazz and Heritage Foundation, Essential Federal Credit Union, Shaw Center for the Arts, Manship Theatre, and 225 Magazine. 
 
Follow the Arts Council of Greater Baton Rouge on Facebook, Instagram, and Twitter @ArtsCouncilGBR. For more information about Sunday in the Park, visit www.artsbr.org or contact Jonathan Grimes at JGrimes@artsbr.org.
 
####
 
Contact: Jonathan Grimes
225-344-8558 ext. 236
jgrimes@artsbr.org
Arts Council of Greater Baton Rouge
 
Arts Council of Greater Baton Rouge: Established in 1973, the Arts Council of Greater Baton Rouge endeavors to promote cultural growth, economic development, and educational enhancement through the arts in the 11-parish region that it serves. As the official arts agency for the City Parish of East Baton Rouge, the organization serves as a hub for information and resources organizations and residents across the state. For more information, visit www.artsbr.org