Our friend Anne Milneck over at Red Stick Spice Company has a blog called Supper that not only makes you hungry while eating but most posts include the recipe for the mouth-watering photos.

After reading some of her posts lately, we couldn't resist asking her if we could share on our blog. Anne highlighted Red Stick Spice Company's staff members and their favorite dish for the holidays...adorable!

Now you may want to go make some edits to the Thanksgiving menu...
Grandma Sue's Mac & Cheese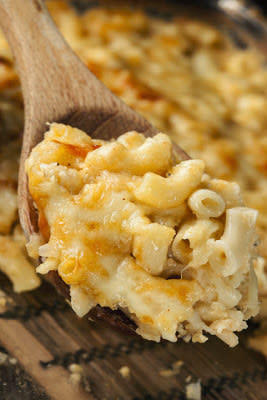 You can find Chris in the store on Saturdays and school holidays. Chris' first calling is teaching--he's a third grade teacher and has been at it for nearly 20 years. He brings the order and patience of an elementary school teacher to the store which is exactly what we need on busy days. Chris favorite side is mac and cheese. After years of making the dish for the family, Chris has taken over for Gramma Sue and now prepares it for their holiday meal. What a delicious tradition!
Ingredients:
1 lb elbow macaroni, cooked al dente in generously salted water
1 Egg, Beaten
4 Tbl Butter plus 2 Tbl Butter
1/4 cup Flour
2-1/2 cups Whole Milk
1 pound Cheese, Grated
1/2 tsp salt
1/2 tsp ground black pepper
Directions:
In a large pot, over medium heat, melt 4 tablespoons butter and sprinkle in flour. Cook, creating a blonde roux, for five minutes not allowing the mixture to burn. Pour in milk and cook for five minutes until very thick. Reduce heat. Have the beaten egg ready in a small bowl. Slowly drizzle in a bit of the mixture from the pot into the egg while whisking continually--tempering the egg.  Then pour egg mixture back into the sauce. Stir until smooth. Add in half the cheese and stir to melt. Add salt and pepper. Taste the sauce and add more salt if necessary. Pour in drained macaroni and stir to combine. Again, taste the mixture and add salt if needed. Pour into a buttered 9X13 baking dish. Top with remaining cheese. Cut remaining 2 Tablespoons butter into bits and place on top the casserole. Bake at 350 degrees until warmed through and the cheese on top is golden brown and delicious.
Pumpkin Cheesecake with Pecan Praline Topping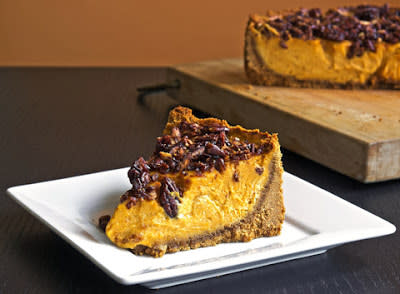 Amy recently joined the Red Stick Spice staff, and we're a lot better for it. Amy is a talented home cook and an even more talented baker. And she's also our go-to girl for gift baskets. Many afternoons, you'll find Amy sitting on the floor assembling gift packages for our corporate accounts--come check out her creativity in action. While you're in store, talk with Amy about baking. She has great baking tips. Be sure to ask about her brownies (the stuff of legends) and this cheesecake...as if Thanksgiving weren't sinful enough.
Crust Ingredients:
2 cups graham cracker crumbs
1/4 cup sugar

1 stick butter, melted
Cheesecake Ingredients:
40 oz cream cheese, softened (5-8oz blocks)

4 eggs, room temp
2 cups sugar

1 tsp Pure Vanilla Puree
1⁄2 cup pumpkin puree (canned works well) with the following spices mixed in:
• 1⁄2 tsp Vietnamese Cinnamon 
• 1/8 tsp ground ginger
• 1/8 tsp nutmeg 

Topping Ingredients:

2 cups butter

2 cups firmly packed brown sugar
1⁄2 tsp Pure Vanilla Puree

1 Tbl heavy cream 

1 1⁄2 cups rough chopped pecans

Directions: 
Mix all crust ingredients and form crust in a spring-form pan (9-10 inch)
Preheat oven to 315°F 
Whip cream cheese and sugar together in a stand mixer or with beaters until very creamy. Add eggs, one at a time, until thoroughly mixed (do not whip). Add vanilla and pumpkin puree that has been combined well with spices and stir on low until well blended. Pour batter into crust and bake for 1 hour at 315 degrees. Without opening oven, turn oven off and let cake remain in oven for 1 more hour. Remove cake from oven and let cool. 

Mix all topping ingredients, except vanilla and cream, in a saucepan and cook until sugar dissolved, then boil for 3-5 minutes until sauce thickens, stirring constantly. Remove from heat, stir in vanilla and cream. Pour over cooled cheesecake. 
Refrigerate for at least 3 hours, run a knife around edge of springform pan, then carefully remove cake from pan.
Ceci's Sweet Potatoes (With a Gluten-Free option!)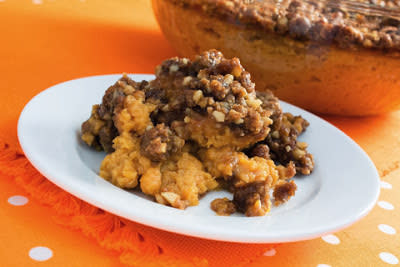 This Thanksgiving side comes to us by way of Red Stick Spice team member Margaret. You'll find her in store most afternoons, and trust us, you can't miss her. She's the whirlwind of laughter and positivity. She joined us one evening for a Slow Food Social and shortly thereafter, she was on staff. Margaret is a foodie who believes that food should be sourced locally and responsibly, cooked deliciously and enjoyed immensely. Margaret has been making her friend Cecilia's yummy sweet potatoes for years. And we love how Margaret's gluten-free lifestyle didn't stop her from making it. Her recommendation for subbing out the wheat flour is included below. 
Ingredients:
4-5 medium to large sweet potatoes, peeled, roasted until soft and mashed
1 cup brown sugar
2 eggs lightly beaten
1 tsp Pure Bourbon Vanilla Extract 
1/2 cup butter melted
1/2 cup raisins
1 tsp Vietnamese cinnamon
1/2 tsp ground nutmeg
Topping Ingredients:
1/2 cup brown sugar
1/3 cup flour--NOTE: Margaret uses Almond Meal for a gluten-free dish
1/3 cup melted butter
11/2 cups coarsely chopped pecans
Directions:
Combine first 6 ingredients. Pour into a buttered 2-quart casserole dish. Mix topping ingredients together and sprinkle over top slightly mixing those through the dish.  Bake at 350 degrees for 30-40 minutes.
Sausage, Artichoke and Parmesan Stuffing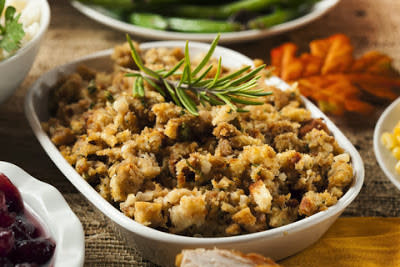 Our intern Cate hails from Atlanta, but we're slowly transforming her into a Red Stick girl. This recipe is what she most looks forward to when she's home for Thanksgiving. Cate's mom adapted this from a recipe in the Atlanta Journal Constitution. We love its simplicity and would be a great way to use locally-made Italian sausage. 
Recipe adapted from the Atlanta Journal Constitution
Ingredients:
1-12oz jar marinated artichoke hearts, chopped
1 lb Italian sausage (hot or mild, your choice)
1 Tbl Arbequina Extra Virgin Olive Oil
1 1/2 (5oz) bags garlic butter croutons
1/2 cup chopped onions
1/2 cup chopped celery
1/2 cup chopped bell peppers
2 cups chicken broth (we like Kitchen Basics)
1/2 cup parmesan cheese, shredded
Directions:
Preheat oven to 425.

If the sausage is in links, remove the sausage from the casings and discard the casings. Cook sausage in olive oil until brown and crumbly, then drain off fat. Stir in all the other ingredients. Pour into 13x9 baking dish, cover with foil and bake 20 min.

Remove foil and bake 10 more min. or until browned on top.
Jack Daniels Chocolate Pecan Pie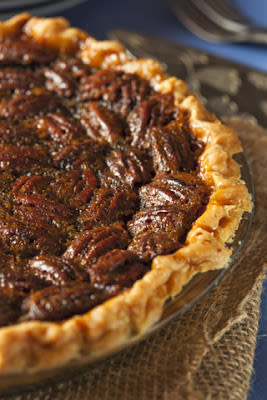 Before coming on board at Red Stick Spice, Lori was a customer and good friend of the store. We couldn't be happier to have her on our team! Lori brings a wealth of knowledge about cooking--she's a trained chef and an accomplished home cook. Look no further than her blog Little White Apron for proof. We love Lori's no-nonsense approach to cooking and everything else in life. And we really love this recipe for pecan pie...an already decadent dessert meets booze and chocolate. Yum!
Ingredients:
3 extra large eggs
1 cup sugar
2 Tbl butter, melted
1 cup dark corn syrup
1 tsp Pure Bourbon Vanilla Extract
1/4 cup Jack Daniels
1/2 cup semi-sweet chocolate chips
1 cup pecan halves
1 10" frozen or homemade pie crust
Directions:
Preheat oven to 375˚. Combine eggs, sugar, butter, corn syrup, vanilla and Jack Daniels in a bowl. Strain mixture and combine with pecans. Place chocolate chips in frozen pie crust. Pour pecan mixture over chocolate chips. Place pie on a lined baking sheet and bake in the oven for 35-40 minutes. Set aside for at least 30 minutes before cutting. Serve with vanilla ice cream or vanilla whipped cream.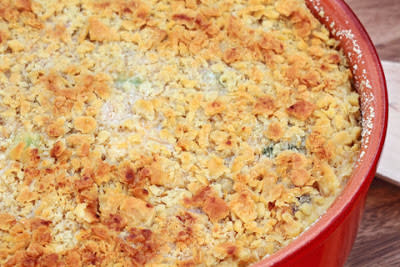 Red Stick Salesperson Beau may be a trained chef, but he understands the simple necessity of comfort food. Each year, he looks forward to his family's feast, but there are two dishes that outshine the main dishes...at least in his eyes (and tummy). His Grandmaw's Green Bean Casserole and Broccoli Rice Casserole. In Beau's opinion, it's not Thanksgiving until these two casseroles appear on the table. We couldn't agree more.
Ingredients:
2-12 oz packages frozen broccoli
 florets, cooked and drained *See note below 
2 cups cooked long grain rice 

1/2 cup chopped onions

2 garlic cloves, minced

3 Tbl flour

1 1/4 cups milk

1-4 oz can sliced mushrooms, with liquid

2 cups shredded Cheddar cheese, divided

Salt and pepper to taste

1/2 cup breadcrumbs
Directions:
Heat oven to 350°. Grease a 3-quart baking dish. 
In a large bowl, combine the broccoli and rice; blend well.
 In a saucepan, cook the onion and garlic in 3 tablespoons of butter until
softened. Add the flour and stir until blended. Stir in the milk
and cook, stirring, until thickened. Add mushrooms with liquid and 1 1/2 cups of the cheese. Stir until cheese is melted. Add salt and pepper, to taste. Stir into the broccoli and rice mixture and spoon into the prepared baking dish. Top with the remaining 1/2 cup of cheese.
Toss bread crumbs with remaining melted butter and sprinkle over the casserole. Bake for 25 minutes, or until hot and bubbly and topping is browned.
*A note from Beau: "For a next level experience, use fresh broccoli."
 More From Beau...
Beau's Favorite Thanksgiving Side Dish, Part Deux: Grandmaw's Green Bean Casserole. Without a doubt, this casserole is one of, if not the most ubiquitous Thanksgiving sides. Even with its popularity, it bears repeating--especially since Beau has a tip for a "next level experience." This dish appears alongside Beau's other Thanksgiving favorite, his Grandmaw's Broccoli Rice Casserole. It seems Beau has a thing for casseroles!
1 can (10 3/4 ounces) condensed cream of mushroom soup

1/4 cup fresh mushrooms, sliced

4 cups fresh green beans 

1/8 teaspoon pepper

1/2 cup milk *See Beau's note below
1/8 teaspoon of roasted garlic granules 

1 1/3 cups French fried onions

1/2 cup of shredded parmesan
Directions:
Mix soup, milk (or cream), pepper, roasted garlic, and cheese in a 1 1/2-quart casserole dish. Stir in beans, mushroom and 2/3 cup of the fried onions. Bake for about 25 minutes at 350 degrees F. Remove and top with the remaining 2/3 cup fried onions and bake about 5 more minutes, until onions are lightly browned.
*Substitute heavy cream for a "next level" experience
A big THANK YOU to Anne with Red Stick Spice for letting us share these recipes!
What's your favorite recipe? Leave your answer in the comments!

Posted By:
Christy Chachere, Communications Coordinator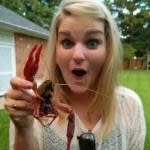 Christy Chachere is the Communications Coordinator for Visit Baton Rouge. Born and raised in Louisiana, LSU grad and now promoting our great city day after day! You can find her tweeting, facebooking, blogging, instagramming and much more for us!