Everyone in Baton Rouge and Tuscaloosa are anticipating the match-up of #4 Alabama Crimson Tide and #14 LSU Tigers this weekend in Baton Rouge. It can easily be said this is one of the biggest games, if not THE biggest game, each season and this will be the 79th time the two teams have met.
Most of the excitement is for what happens at 7:15 pm in Death Valley but there are many other reasons to be excited this weekend.
For starters, take a look at the forecast. It really doesn't get much better. And of course the rain chance is 0% because IT NEVER RAINS IN TIGER STADIUM!



SEC Nation will be airing live from LSU on Saturday! 
We just had College Gameday at our last home game against Ole Miss and now we have SEC Nation coming for a visit! All football fans are invited to join Joe 
Tessitore, Tim Tebow, Marcus Spears, Paul Finebaum and Kaylee Hartung as they break down 
everything from touchdowns to tailgating live from a different SEC school each week. Kick off 
college football Saturday this week in Baton Rouge, La., with SEC Nation, where fans are invited
to join the SEC Nation set tailgate experience and be part of the show.
           Where: Lot 106 - Nicholson Dr, outside Tiger Stadium
           When: Fans are encouraged to arrive by 8 a.m. CT; show airs live 10 a.m. - Noon ET
We can't forget the food! This cooler weather is going to get the chefs out to the tailgates and I think we will see a lot of this delicious concoction - GUMBO - doesn't matter what kind it is - shrimp, chicken, sausage, okra, oyster - all of it is good! 
Some people may refer to their gumbo as "Dumbo Gumbo" this weekend, get it? Like the elephant, AKA Bama's mascot. Yes, we know it's corny, but we are corn dogs here at LSU and hope you have a sense of humor like we do!
It's the last home game of the season so be sure to take part in the traditions you may not have gotten to during the season!  
Visit Mike the Tiger's Cage




Walk around the Parade Ground

Watch the Golden Band from Tigerland, Mike the Tiger, The Golden Girls and the Colorguard march down Victory Hill into Tiger Stadium 

 

Arrive in Tiger Stadium a half hour before game to experience pre-game with the band, Golden Girls and Mike the Tiger.
We hope everyone has a wonderful weekend and show our visitors our southern hospitality!
Posted by:
Christy Chachere, Visit Baton Rouge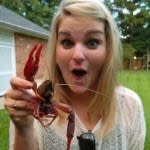 Christy is the Communications Coordinator for Visit Baton Rouge. Born and raised in Louisiana, she loves everything southern and charming. After graduating from LSU in 2011, she began her new journey promoting our lovely city day after day! She's loves everything Baton Rouge has to offer travelers and locals alike and will keep you in the know! You can find her blogging here and posting on Visit Baton Rouge's Facebook,  Instagram,  Twitter, Pinterest, LinkedIn and more!