A city with as much history as Baton Rouge has enjoyed the influences of many cultures and nations throughout the years. One of those is Irish heritage, which has deep roots in Southern Louisiana. Because of this, Baton Rouge is a top destination for where to celebrate St. Patrick's Day. From cold green beer on draft at local pubs, to a parade that rivals Mardi Gras, spend St. Patrick's in Baton Rouge.
Pre-Parade
Before heading out on your St. Patrick's Day adventures, fuel up at La Divina Italian Café's St. Patrick's Day Parade Breakfast. This quaint establishment is conveniently located right on the parade route and boasts a hearty custom-made breakfast plus unlimited beverages! Enjoy unique St. Patrick's Day gelato flavors, Irish coffee, sorbet mimosas, plus their usual delicious espresso beverages to perk you up. Chef Erik's Guinness Irish Stew and other specials will be featured. Check out the mouthwatering menu for La Divina's Parade Breakfast this year and get your tickets ASAP as this breakfast always sells out!
The Main Event
Wearin' of the Green Parade
For 33 years, Baton Rouge locals and visitors have awakened at the crack of dawn, adorned themselves in their best green head to toe, and lined the streets for the Wearin' of the Green St. Patrick's Day Parade. This event is a Baton Rouge staple and the 2018 Wearin of the Green Parade is set to be the best. The local's hot spot to catch the parade is near the Perkins Road overpass, due to its proximity to bathrooms and beer from nearby restaurants and bars. Be sure to secure your spots on the route early, as streets close at 8:30 sharp!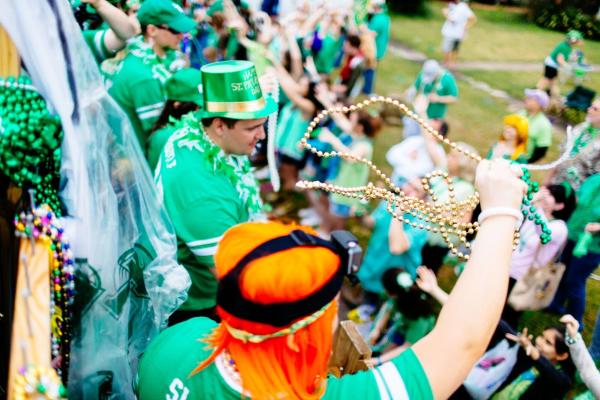 Post-Parade
Ninth Annual St. Patrick's Day Music Festival
Uncle Earl's hosts an after-party of the St. Patrick's Day parade like no other. This popular local dive transforms into a full-on music experience including a DJ all day inside, and an outdoor stage hosting a line-up featuring amazing bands like The Chee Weez, Parish County Line, 17th Floor and The Chase Tyler Band. Local food trucks Taco de Paco and Pulling Pork BR will be parked at Uncle Earls for festival-goers. Skip the line and pre-purchase your wristbands!
This Irish pub in downtown Baton Rouge will be serving green beer and opening early at noon on St. Patrick's Day! Drink specials on Jameson, Guinness and Irish car bombs accompany live entertainment on the patio by Matt Kayda Band from 5pm-8:30pm and Boogie Long Band to end the night from 9:15pm-1:15am, with Rusty Yates on the piano from 9pm-1am inside.
Spring Green at the Zoo
If you're more into enjoying St. Patrick's Day in Baton Rouge with the family, The Baton Rouge Zoo is hosting Spring Green at the Zoo March 17. Celebrate being green and learn what you can do to help wild animals and wild places at special amphitheater programs throughout the day. Games and crafts will also be available for children.
Other places for a good time near the 2018 St. Patrick's Day Parade Route include Ivar's Sports Bar and Zippy's Burritos, Tacos & More. If you have a few too many green beers, stay safe and take advantage of local attorneys, Dudley DeBosier Injury Lawyers, offering free UBER rides home on St. Patty's Day within the city limits of Baton Rouge.
Love the luck of the Irish? Baton Rouge has many Irish heritage and cultural events throughout the year. The Baton Rouge Irish Club works to preserve these traditions in the community and has hosted featured events such as the Irish Film Festival and Dinner Theaters, as well as a Wine and Food Experience.