Coronavirus Information for Baton Rouge
*Please note: While the City of Baton Rouge and State of Louisiana has lifted the mask mandate, many businesses are still requiring you to wear masks.
Masks are required when entering a city-parish building, on public transit, in state government buildings, K-12 schools, early childhood education centers, colleges and universities, and healthcare facilities. 
Masking Recommendations:
The Louisiana Department of Health recommends that the public follow the "Two out of Three" rule to keep themselves safe during COVID.
When in doubt about whether to wear a mask at a certain activity where people outside of a person's everyday household will be present, they can stay safe by:
Making sure everyone around them is vaccinated, or
Maintaining the 2 out of 3 Rule: To lower risk for COVID-19, make sure the activity meets two out of the following three conditions: Outdoors, Distanced and Masked.
Outdoors + Distanced = No Mask Recommended
Outdoors + Not Distanced = Mask Recommended
Indoor + Distanced = Mask Recommended 
Visit Baton Rouge has taken several measures to follow federal, state and local mandates as well as to continue to support local businesses during this difficult time. Out of an abundance of caution, Visit Baton Rouge visitor centers and offices remain closed to the public until further notice.
As our city and state continues to stay in a modified Phase 3 of reopening, we will remain cautious and vigilant in best practices for combating the spread of COVID-19. Our hospitality partners including hotels, restaurants, attractions and retailers are taking the proper precautions for a safe opening. A detailed outline of current restrictions can be found below.
Social distancing and masking are recommended by both the state of Louisiana and the CDC.
Theaters, Event Spaces, Festivals and Fairs and other outdoor events no longer have capacity restrictions. This means outdoor events can operate at 100% capacity. Indoors facilities may choose to operate at 75% capacity, while enforcing six feet of social distancing, or at 100% capacity with masking required and enforced.
Restaurants, spas/salons, barber shops, shopping malls, gyms, casinos and many other businesses are operating at full capacity, while maintaining social distancing.
Bars are allowed to open for indoor service for on premise sales and consumption at full capacity, while maintaining social distancing. Patrons must be 21 years or older.  
Live music will require 10 feet of space between the stage and the audience. Crowds must be seated.
Events held indoors will be limited 75% capacity, while maintaining social distancing, or at 100% capacity with masking required and enforced. 
Indoor Sporting Events can operate at 75% capacity, while maintaining social distancing, or at 100% capacity if a mask mandate is enforced at the venue. Capacity is not limited for outdoor sporting events, like college football games. For those 21 years or older, on-site consumption of alcoholic beverages are permitted, where allowed.
Religious services can continue to open at full capacity, while maintaining social distancing.
To our visitors: We thank you for visiting Baton Rouge. Our visitor center located at 359 Third Street in Downtown Baton Rouge is open, allowing no more than two visitors inside at a time and requiring the wearing of a mask to enter.
We're available via email at info@visitbatonrouge.com and via our regular phone lines at (225) 383-1825 or (800) 527-6843. We also encourage you to check our website, www.VisitBatonRouge.com  for available virtual resources including digital brochures, maps and a list of businesses in operation.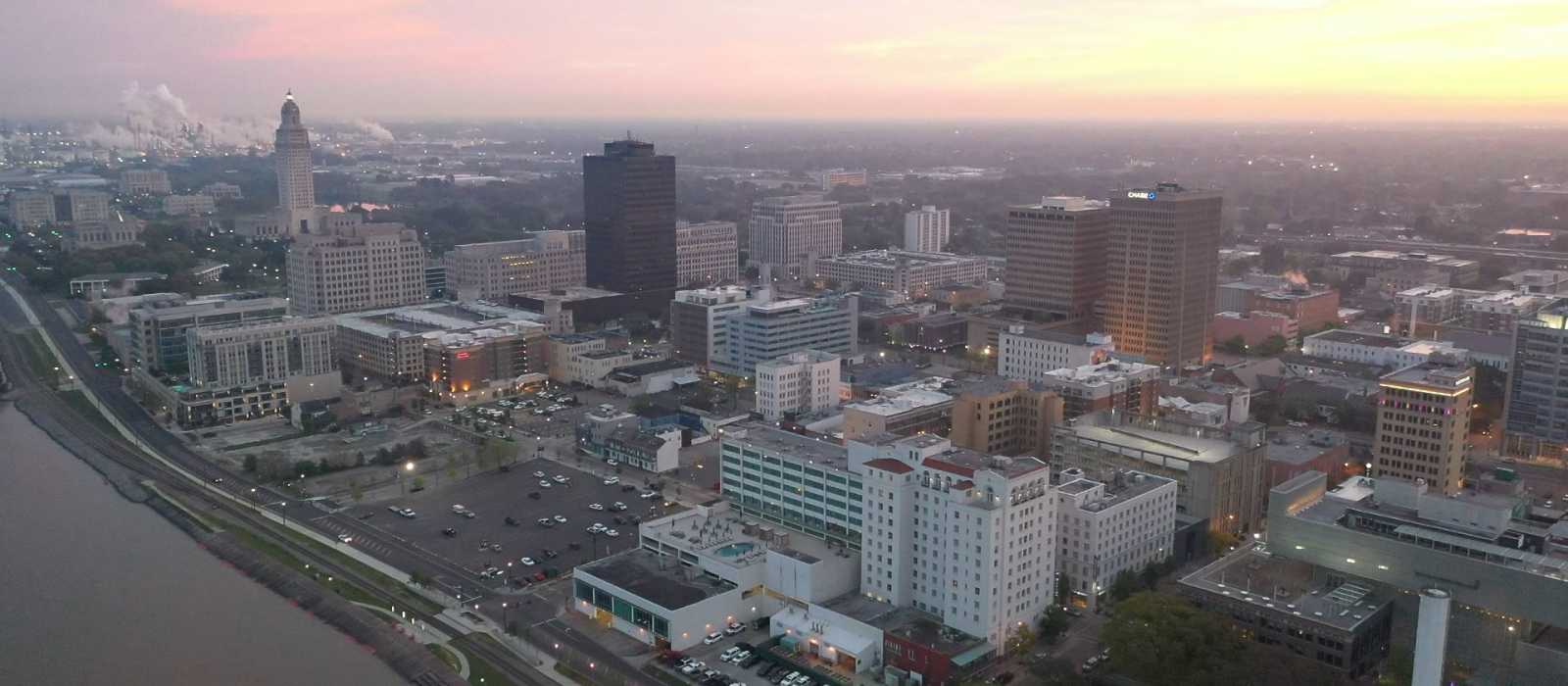 Discover Baton Rouge Online
Virtual museum tours, online cooking classes, live animal videos from the zoo and more!
Helpful Links
State of Louisiana Coronavirus Information
For information on the virus, COVID-19, please visit the link here to be directed to the CDC Website: https://www.cdc.gov/coronavirus/2019-nCoV/summary.html
CDC Travel information regarding COVID-19
Guidance for Mass Gatherings and Large Community Events
Louisiana Department of Health Information
Louisiana's Governors Office of Homeland Security and Emergency Preparedness
Covid Defense App
Who will you protect? COVID Defense is Louisiana's new app to help protect ourselves and those closest to us from the virus. It notifies you if you've been exposed so that you do not expose others. Download the app today.