3rd Street Songwriter's Festival-Saturday, April 16
In one day, experience 8 venues, songwriter rounds, original bands and an industry panel. Check out the day's schedule*!
Industry Panel, Jolie Pearl: 9:30 AM - 12 PM
NSAI Baton Rouge Chapter Coordinator, Barry Hebert, and Nashville NSAI rep discuss benefits of membership and what the local chapter has to offer songwriters. Enjoy an Industry Panel with Nashville PRO, NSAI, publishing company reps, and hit songwriter with Q&A followed by a listening session. Attendees may bring a single song on a CD for a chance to have your song listened to and critiqued by the panel. Click here view the Songwriter's Festival Industry Panel line-up.
Jolie Pearl Songwriter Rounds, hosted by Barry Hebert:

1:00 - Chris House, Crystal Eldringhoff, Caroline Schaff
1:45 - Josh Martin, Joshua Gourgues, Maci Sampson
2:30 - Barry Hebert, Steve Judice, Martin Flanagan
3:15 - Nashville Round - Hailey Whitters, Brinley Addington, Jordan Brooker
4:00 - Patrick Cooper, Patrick Sylvest, Gina Forsythe
4:45 - Ray Stumbo, Bud Torres, Will Wesley
5:30 -  Lynn Anselmo, Gary Ragan, Ray Corona
Hotel Indigo Songwriter Rounds, hosted by Bill Romano:
1:00 -Tommy Ike Hailey, Ben Bell, Keith Harelson
1:45 - Ralph Goodson, Dorothy LeBlanc, Daniel Patterson
2:30 - Nashville Round - Jameson Rodgers, Hunter Phelps, Smith Ahnquist
3:15 - Matt Sigur, Jim Standley, Mike Atkinson
4:00 - Tony Cobb, Thelda Adams, Clayton Rayborn
4:45 - Bill Romano, Shaw Furlow, JF Oakes
5:30 - Eric Disanto, Nancy Roppolo, David Craig
Lucy's Songwriter Rounds, hosted by Tony Cobb & Daniel Patterson:
1:00 - Nashville Round- Hailey Whitters, Nick Donley, Jordan Brooker
1:45 - Pensacola SWF Round - Nicole Johnson, Jim Pasquale, Charlie Black, Dana Hunt Black
2:30 - Ryan Harris, Eric Schmitt, Denton Hatcher
3:15 - Kelly Maples, Katie Swetman, Sara Collins
4:00 - Florabama Round - (HonkyTonk Angels) Donna Slater, Kim Carson, Rhonda Hart, Elaine Petty
4:45 - Chris Cole, Destiny Manzella, James Fogle
5:30 - Shawn Cleveland, Reece Sullivan, David Randall
Happy's Songwriter Rounds, hosted by Kay Willson of Blondefire Productions:
1:00  Mississippi SWF round - George Cumbest, Derek Norsworthy, Chad Parker
1:45  Benjy Davis, David Borne, Kree Harrison
2:30  Last Honky Tonk Music Series - Brigitte London, Robert Cline, Jr., Moondawg Hall
3:15  Louisiana Country Music Round - Ronnie Calhoun, Charlie Hugg, & Matt Tortorich (Vidalia) 
4:00  Nashville Round - (Jameson Rodgers, Hunter Phelps, Brinley Addington)
4:45  Blues Foundation Round - Henry Turner, Jr., Chris Leblanc, & Will Vance
5:30  Kristen Foreman, Emily Miller, JT Lewis (aka. Jordan Tarajano)
Moonshine & Music Dinner, Special Dinner with Hit Writer at Stroube's: 5 PM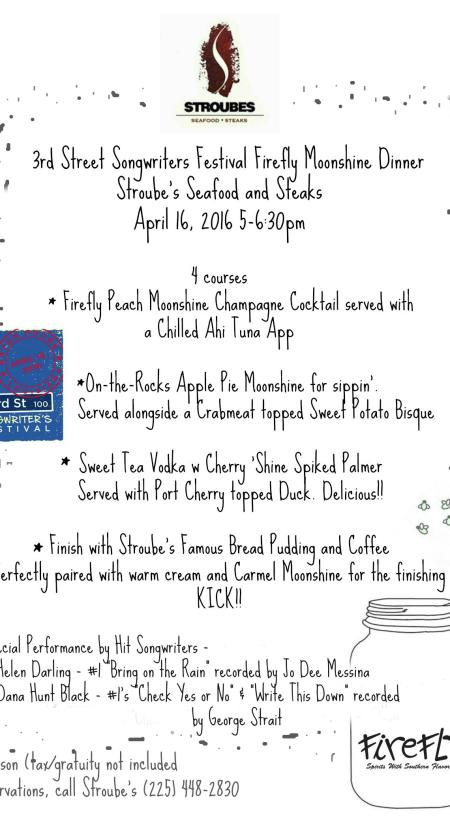 Dinner pairing with specialty cocktails featuring Firefly Moonshine and hit songwriter serenade with each course! To make reservations, call the restaurant at 225-448-2830.
Manship Theatre "Hit Writer Showcase": 7 PM, Nashville Songwriter Round Opens. Headliner: Jeffrey Steele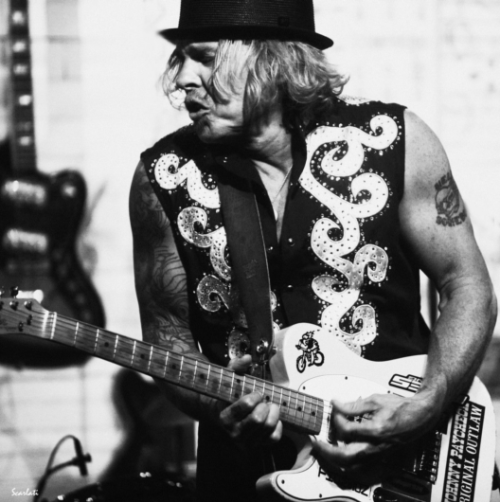 Among his many accolades over the past few years, Jeffrey Steele has been named to the Nashville Songwriter's Hall of Fame (2013), awarded BMI Songwriter of the Year (2007 and 2003) and the Nashville Songwriters Association International (NSAI) Songwriter of the Year (2006, 2005 and 2003). CMA has twice awarded him the coveted "Triple Play Award" for three No. 1 songs in a year (2010 & 2007). His country and A/C megahits include a string of chart toppers including: "Raise 'Em Up", "Knee Deep", "Here," "My Wish," "The Cowboy In Me," "These Days", "Everyday" and the groundbreaking "What Hurts The Most," nominated for Best Country Song at the 2007 Grammy Awards.
Additionally, he has won numerous BMI Country and Pop awards, was nominated for a Golden Globe and Critic's Choice Award for Best Original Song "I Thought I Lost You" for the Disney/Pixar animated feature BOLT, performed by Miley Cyrus and John Travolta, been named one of Billboard Magazine's top 5 writer's 8 years in a row, as well as Music Row Magazine's 2006 Songwriter of the Year Award. Steele was featured as an artist and writer on Colt Ford's song it's all off his latest Billboard no. 1 Country Album declaration of independence.
BMI has recognized Jeffrey for 63 million airplays for hits he penned for a multitude of artists including Montgomery Gentry, Faith Hill, Tim McGraw, Trace Adkins, Steve Holy, Phil Vassar, LeAnn Rimes, Rascal Flatts and Van Zant. Jeffrey's compositions can be found on recent and up and coming releases by Keith Urban, Cher, Rascal Flatts, Tim McGraw and more!
The Nashville Songwriter Opening Round performers include: CJ Solar, Brent Anderson, Michael Hardy and Jake Mitchell. 
To purchase tickets, click here.
After the show, stay downtown for more live music - shows at Hotel Indigo (Meet n'Greet immediately after the show in lobby), Roux House, and Boudreaux & Thiboceaux's.
*Schedule's subject to change.
After Party Information:
Hotel Indigo: Jody James & Clay Parker
Boundreaux & Thibodeaux's: Nashville Band of Brothers Jam
Roux House: Kim Carson & Rachael Hallack