Black History in Baton Rouge
The beautifully diverse Baton Rouge community is the great city it is today because of its deep roots in Black history and culture. Baton Rouge has been home to many African American leaders, artists, authors, film makers, chefs, inventors and more. It's one of the top destinations on African American heritage trails and civil rights trails across the country. Stops along the way include the site of the Baton Rouge Bus Boycott of 1953, Southern University (the largest historically Black college and university in the world), The State Capitol Building, and the Baton Rouge African American Museum.
Baton Rouge's Black History Trail
A Timeline of Black History Facts and Civil Rights in Baton Rouge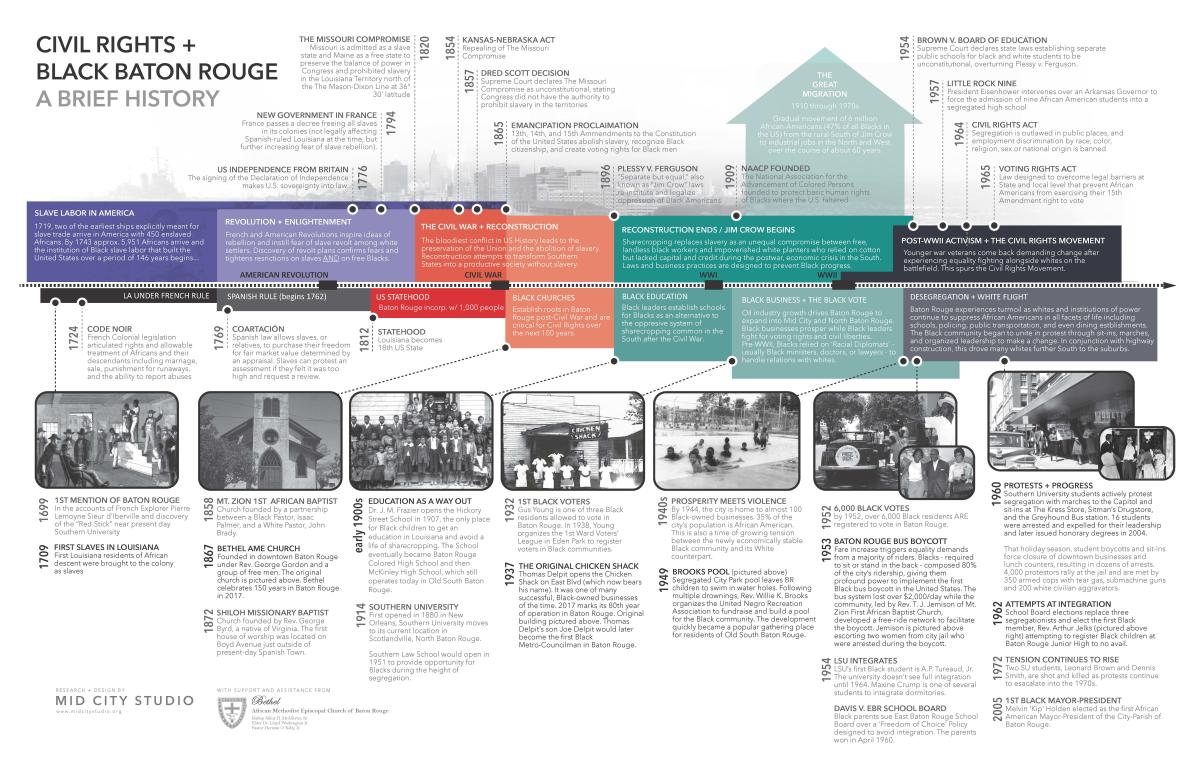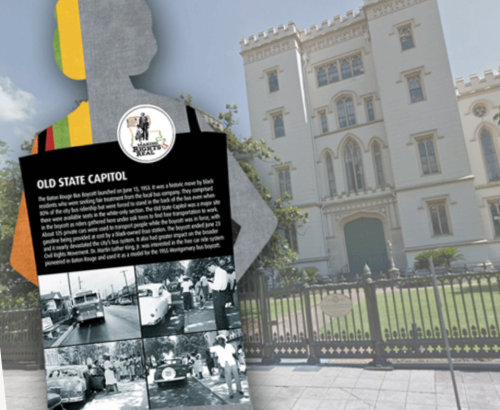 Civil Rights Markers 
You can now find another piece of civil rights history in downtown Baton Rouge. Located just a few steps from the Old State Capitol and a Martin Luther King Jr. memorial site, Louisiana Office of Culture, Recreation and Tourism has installed a 7-foot civil rights marker to portray just how much Baton Rouge contributed to the movement. It'll serve as a part of the Louisiana Civil Rights Trail to mark a significant moment in the history of the state.
In 1953, a peaceful bus boycott was organized to bring awareness to the racial disparities and scrutiny that African Americans faced on a daily basis. Activists proposed the right for them to be able to sit at the front of buses just like their white counterparts. To respond to the segregated bus system, African Americans refused to ride any buses and instead drove to work, caught rides or walked. The boycott resulted in the city council reducing the number of whites-only seats.
The Baton Rouge Boycott served as the first large boycott of the south that gained nationwide attention. The Baton Rouge bus boycott did not end segregation. However, it did spark a national conversation that resulted in other notable protests that will go down in the history of the civil rights movement. 
A.Z. Young Park - Bogalusa to Baton Rouge March 
The Louisiana Office of Culture, Recreation and Tourism has installed another 7-foot civil rights marker in Baton Rouge, located at A.Z. Young Park.
On August 10, 1967, members of the Bogalusa Civic and Voters' League led by A.Z. Young, Robert "Bob" Hicks and Gayle Jenkins embarked on a 10-day, 105-mile march from Bogalusa to Baton Rouge to present a list of grievances to Governor John McKeithen on the steps of the State Capitol. Their efforts led to less discriminatory hiring practices. Three weeks earlier, members of the same group marched 25 miles from Bogalusa to the courthouse in Franklinton, Louisiana, in what was the first nighttime march in Washington Parish history.
Black-Owned Businesses in Baton Rouge