Tailgating
LSU is legendary for its tailgating tradition, and it's certainly a family affair! Take a stroll over to the infamous Parade Grounds, a central location for LSU tailgating on campus, where you'll find some of the best Louisiana cooking. Feast your eyes on groups of Tiger fans firing up vats of jambalaya, playing football and socializing with friends, family and even rivals!
LSU fans are notorious for their southern hospitality, so don't be surprised if you're invited over to a fan's tailgate or asked to join in a Fais Do Do!
Popular Tailgating Locations
Parade Grounds

This is home base for the majority of tailgaters on LSU's campus. It's a large, open green space in the center of campus, filled with revelry and the perfect backdrop for many editions of College Game Day. Bonus: if you're there at noon you'll hear the LSU Alma Mater played from Memorial Tower that anchors the Parade Ground.
Touchdown Village 
This is where the tailgaters of all tailgaters stay. These designated lots of RV parking are the dream tailgate spots for those that like to pregame in luxurious style. 
Indian Mounds
These two Native American ceremonial mounds are part of the oldest mound system in North America. Families in particular love to tailgate around here, as their kiddos take turns rolling down and playing other games.
Greek Amphitheater
Tailgating around the Greek Amphitheater is special because it is where the Golden Band from Tigerland warms up! Fans and kids can go to watch and even sometimes meet them and take pictures when they're standing by. Close to game time, the Golden Girls dancers and LSU Flag Girls meet up with the band at the Greek Amphitheater and all proceed to march down Victory Hill for one of the best LSU Tailgating Traditions!
Dressing Up
Tiger fans don their best purple and gold on game days, some even in wacky costumes and body paint to show their team spirit! If you're in need of official LSU apparel and merchandise, walk over to the LSU SportShop's on-campus store by Mike the Tiger's habitat or the LSU Barnes & Noble Bookstore off of Highland Road to help you prep for game day. Baton Rouge boutiques also offer outfits for the trendiest Tiger fans.
Victory Hill March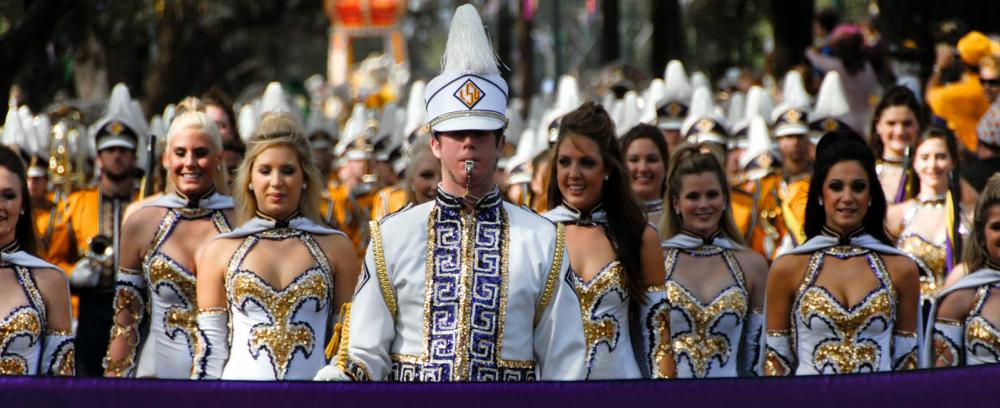 Don't forgot to stop by Victory Hill and join in on one of the most well-known game day traditions to watch the LSU coaches and football team, Golden Girls and The Golden Band from Tigerland march down Victory Hill. The 325-member band marches from the Greek Amphitheater to Tiger Stadium playing the "Pregame Salute" and the introduction to "Touchdown for LSU." This tradition kicks off an hour and a half before game time.
SAY HI TO MIKE
While on campus, be sure to visit LSU's live mascot, Mike the Tiger (Mike VII), in his state-of-the-art habitat! Young Mike VII joined the university in 2017 and welcomes visitors of all ages on campus. Go say hello and give him a gameday salute before kick off! You may even catch him going for a swim when passing by, which is rumored among LSU students to be good luck!
Pregame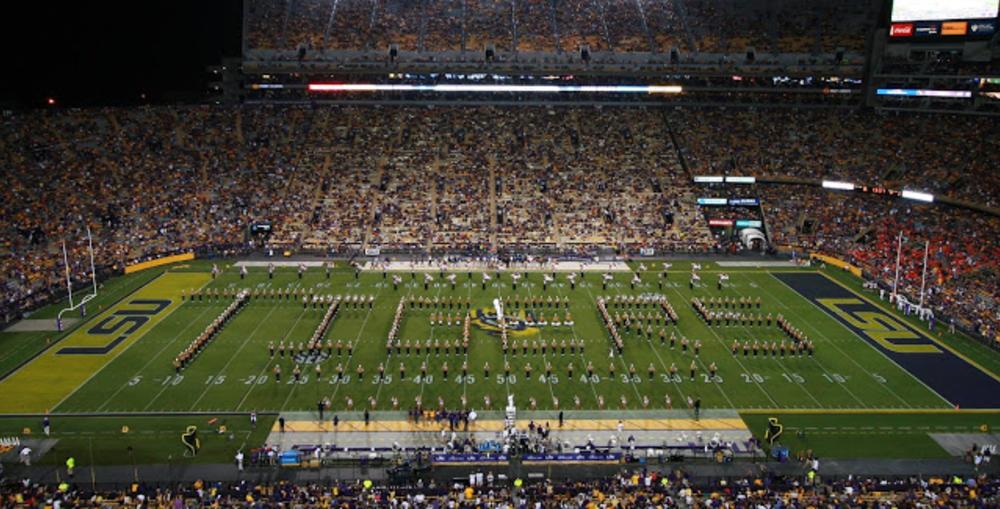 Get to your seats a half hour before game time to experience the pregame show, a tradition carried on by The Golden Band from Tigerland before each home game. It's simply an experience you cannot miss. Sports fanatics be prepared -- there's nothing like a Saturday night in Death Valley!