BATON ROUGE GIRLS' GETAWAY GUIDE
Continue your Essence Festival girls trip in Baton Rouge!
Baton Rouge, Louisiana is one of the best cities for a girls' weekend thanks to its abundance of music, shopping, dining, nightlife and group activities. Whether making your way to or home from Essence Fest in New Orleans, we're on the way and worth a stop-through with your closest girlfriends to the Red Stick for a truly unforgettable trip.
ACTIVITIES
SIGHTSEEING
Explore Baton Rouge's walkable and vibrant downtown, connected by beautiful sights, historic landmarks, free things to do and attractions.
Take a self-guided photo tour of the murals and public art instillations, offering the perfect backdrops for your group pictures. Stroll along the riverfront plaza and levee path with stops for breath-taking views of the river, bridge, towering architecture, the "Castle on the River" and other points of interest. Make your way to the top observation deck of the tallest state capitol building in the nation and feel on top of the world!
Venture out to Baton Rouge's renowned HBCU – Southern University, to see the Red Stick Sculpture nestled on the bluff of the Mississippi River, and discover how "Baton Rouge" earned its French name. After your trip to Southern, visit LSU's Mike the Tiger Habitat, and tour the rest of the its stately campus.
Keep the music flowing
We're known for the birth of the blues, and the Baton Rouge music scene embraces that and genres beyond. Whether your friends enjoy full-band productions, appreciating musicianship, or the hype of a hot DJ, if you share a love for music, Baton Rouge will be music to your ears.
Get a feel for how we do music in Baton Rouge through an intimate concert at a juke joint or listening room. Teddy's Juke Joint founded by Blues legend Lloyd "Teddy" Johnson has been attracting music enthusiast to Baton Rouge for more than 40 years. The Varsity is hot concert venue which has brought top names to LSU's Northgates for decades. Enjoy the weather and sounds of the city at a music festival or weekly outdoor concert series with your girls.
ADVENTUROUS ACTIVITIES
If you're an adventurous group, check out these recommendations: To get moving, book a paddle boarding party or paddleboard yoga session for your friends on the lakes with Muddy Water Paddle Company. For a more immersive drinking experience, tour Three Roll Estate and learn about the process of cocktail creation from sugar mill to glass, finishing with a taste of one of their refreshing daiquiris. Feeling lucky? Head to L'Auberge Casino and take your chance on the tables and slots, or let loose at their Edge Bar's dance floor and karaoke stage.
RELAXATION
Life is too short to not relax on vacation. Pamper yourself and your girls in one of the "Best Groomed Cities!" thanks to the Baton Rouge's spas and wellness centers. Regal Nails Salon and Spa downtown accommodates groups with special party packages for those looking for a relaxing day of illuminating facials, heavenly pedicures or one of the latest nail art crazes. An experience unlike any other, The Healthcare Gallery doubles as a socially-conscious art gallery and a wellness-focused day spa specializing in personalized fitness, massages, beauty and wellness experiences all in one beautiful environment, making it a must-visit for the girls in town.
TREAT YOURSELVES
With a mix of classic retail shopping to quirky local finds, Baton Rouge is a shopping hot spot. To find some of your favorite, well-known brands, stroll around Perkins Rowe's beautiful outdoor shopping center or peruse the Mall of Louisiana which hosts classics like Nordstrom Rack, Lush Cosmetics, and Ulta Beauty. For some local finds, check out the Royal Standard offering vendors with timeless collections, or Time Warp Boutique for authentic vintage picks. For more shopping inspiration in Baton Rouge, visit our Red Stick Blog article.
EVENTS
Summers in Baton Rouge host a good time for all different interests and excitements. From food and art festivals, to concerts and outdoor gatherings, plan a trip around one of Baton Rouge's signature summer events. Every Independence Day, Downtown Baton Rouge's sky lights up with the largest fireworks display in the state, the 4th of July Spectacular. You and your girlfriends can join thousands of guests from around the country enjoying an evening-long event of fun from the greenspaces or a rooftop bar, ending with a breathtaking fireworks display overlooking the mighty Mississippi River.
FOOD & DRINK
Named one of the "Best Foodie Cities" you'll see why Baton Rouge is known for its local flavor. From fun atmospheres at Baton Rouge eateries such as Blend and Eliza, to the unbeatable views from Tsunami Sushi's rooftop terrace overlooking the Mississippi River, there's plenty of tasty choices for dinner with the girls. If you've got a rather indecisive crowd, head to White Star Market, a gourmet food hall right in the heart of Mid City neighborhood that can satisfy any taste. And for all things brunch, check out 225 Magazine's guide to brunch in Baton Rouge! Even if you're trying to keep healthy when dining out with friends, many Baton Rouge restaurants have partnered with Eat Fit, a dietician-led program that uses a seal to identify healthy dining options on menus, making it easy!
When it comes time to wine down, Baton Rouge has a glass for everyone. Stroll down the lively 3rd Street downtown, bar hopping with your girls until you find the perfect hot spot. Pick up a bottle from the extension selection at Martin's Wine Cellar. Happy hours spread out throughout the city at places like Bin 77 and French Market Bistro offer the opportunity to taste local specialty cocktails and Baton Rouge's twist on your classic favorites.
PLACES TO STAY
For places to stay in Baton Rouge with the girlfriends, consider the hotel at L'Auberge with their spa, rooftop pool and other amenities; the Watermark or Hotel Indigo to be walking distance to all the fun downtown, or the Stockade Bed & Breakfast for a cozy, homestyle stay with your best friends.
Whisk away to Baton Rouge for a weekend and have the girls' trip of a lifetime.
Make the most of your girls' getaway to Baton Rouge by using VisitBatonRouge.com to discover more trip ideas, group activities, and even special offers.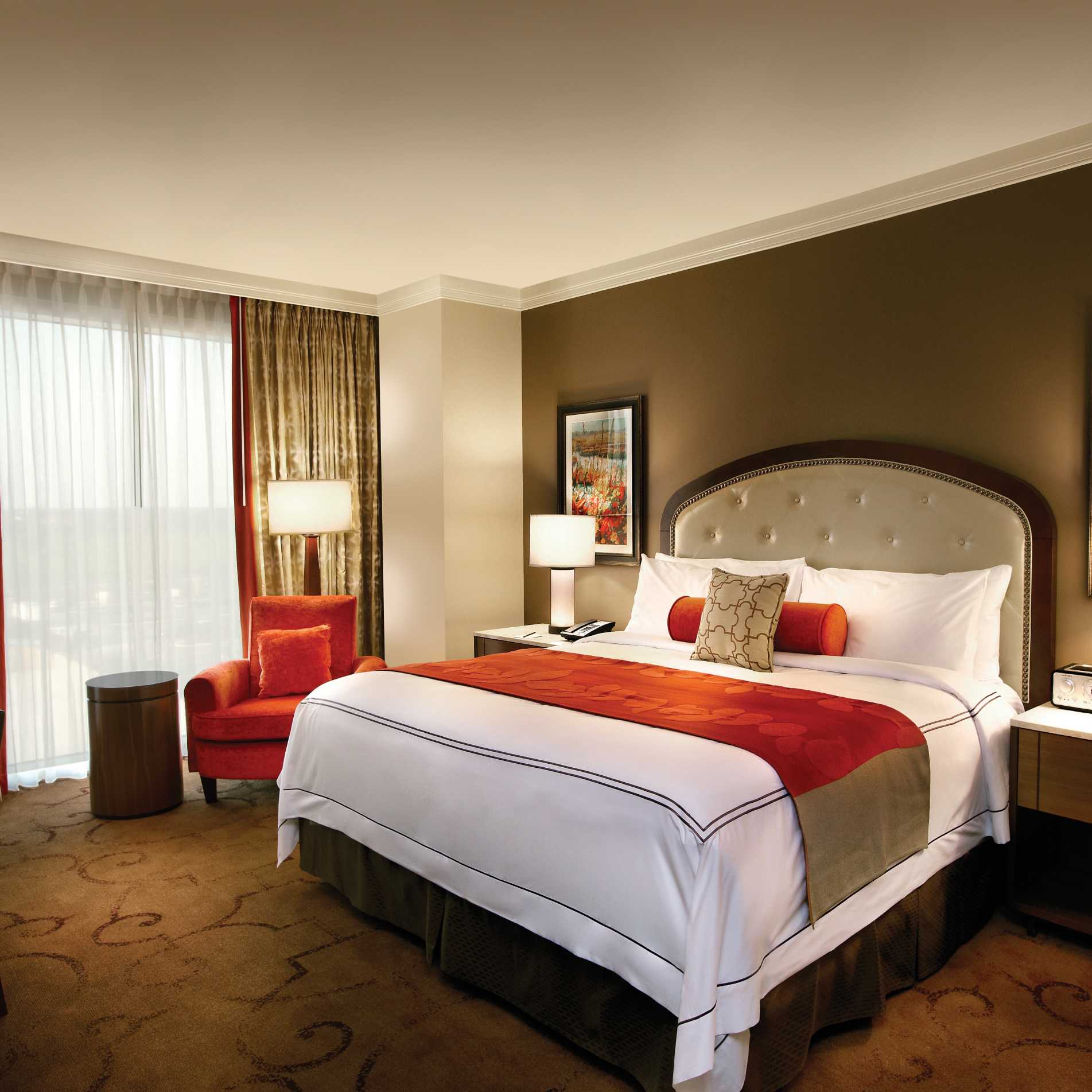 Rest easy in one of our many hotels located throughout the city. No matter what area, there are...