Back To Previous Page
Baton Rouge Food Tour- All About Baton Rouge
Why We Love This
EAT- Sampling some of the delicious cuisine that Baton Rouge has, including salty, savory, sweet and unique flavors!

LEARN- Our tours include culinary cultural experiences, history, music, art and much more! Learn about the local merchants and chefs who breathe life into our city

SMILE - You'll meet new and friendly faces, make new friends, and leave with a memorable experience sampling mouthwatering Baton Rouge cuisine giving you a newfound appreciation for Baton Rouge that you can take with you wherever you go.
Get a taste of Baton Rouge on this culinary cultural experience! This is *the* Baton Rouge Food Tour, Share in the cultures that helped shape Baton Rouge through sampling their foods! It's so EASY! Enjoy a comfy ride on our mini-bus, (hotel or Air BNB pickups may be available), menus are pre-selected, and we share tastings at five (5) or more locations that take you OUT into the city- into the heartbeat of what is Baton Rouge. You'll enjoy music, art, history, FOOD, of course, and on our tours, there are SHOPPING opportunities as well! All of this fun covering more than seven (7) areas of town (not just one area) including bringing you into the center of Baton Rouge's creative scene. All of this- for a great price. Best value and most experienced guides in the city! SEE MORE, DO MORE, EXPERIENCE MORE AND NOW TASTE MORE for less with us! BY PURCHASING TICKETS, YOU AGREE TO OUR "WAIVER AND RELEASE CLAIM NOTICE" available to view here: https://redstickadventures.com/tour-faqs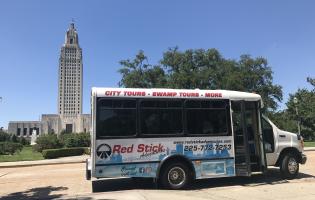 BATON ROUGE AREA SIGHTSEEING TOURS (by RED STICK ADVENTURES): The best Baton...