Back To Previous Page
Baton Rouge Food Tour- All About Baton Rouge
Why We Love This
EAT- Sample the delicious cuisine that Baton Rouge has to offer, including salty, savory, sweet and unique flavors!

LEARN- Learn about our culture, culinary tresaures, history, music, art and much more! Learn about the local merchants and chefs who breathe life into our city

SMILE - You'll meet new and friendly faces, make new friends, and leave with a memorable experience sampling mouthwatering Baton Rouge cuisine giving you a newfound appreciation for Baton Rouge that you can take with you wherever you go.
Get a taste of Baton Rouge as you learn about the city's historically diverse culture and the city's history on our All About Baton Rouge Food Tour. Our fun, casual Baton Rouge Food tour is a tasting tour that takes you by mini-bus effortlessly off the beaten path to include five (5) or more tasting stops that reflect the city's historical culture and local favorites in the center of Baton Rouge's creative scene. By purchasing tickets for this tour, you agree to the Waiver and Release, Consent to Medical Attention, and Grant of Rights which is available for review on our website: https://redstickadventures.com/tour-faqs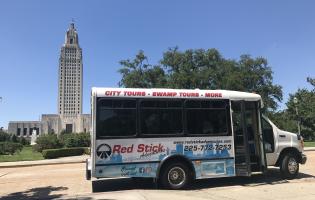 BATON ROUGE AREA SIGHTSEEING TOURS (by RED STICK ADVENTURES): The best Baton...