Back To Previous Page
Antebellum Plantation Tour Houmas House Plantation
Why We Love This
Thirty-eight acres of formal gardens provide a leisurely self-guided tour with walking paths and sitting nooks throughout.

Three on-site restaurants offer breakfast, lunch, and dinner featuring the finest Louisiana cuisine.

A large gift shop is a perfect place for gifts ranging from souvenirs to cookbooks to high-end gifts and art.
Just a short drive from Baton Rouge, Houmas House is an escape into the 1880's. Here you'll hear stories of ambitious sugarcane farmers, a succession of owners and how the Mississippi River grew this manor house to today's grand estate. This home has survived wars, floods, abandonment and the test of time. The Mansion is filled with rare period antiques and original artwork. The guided mansion tour leads you through the evolution of the Houmas Mansion and how a succession of 14 owners stripped, added and changed the estate, once sprawling over 300,000 acres. The restaurants are perfect for indulging in a leisurely breakfast, lunch or dinner. With three restaurants to choose from, you can experience fine dining or a more casual setting. After visiting the mansion you'll want to take time to stroll through the gardens. 38 acres are perfectly manicured and seasonally replanted for a colorful self-guided tour.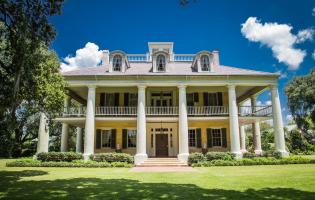 The Crown Jewel of Louisiana's River Road. Mansion construction was completed in 1828. The...