Louisiana State University's Memorial Tower and Parade Grounds


For many at Louisiana State University, the Parade Grounds are an impeccable spot to set up, eat up and drink up. Tailgaters scout out their spots weeks before games and try to beat the others to the prime spot a few days before the game and mark their territory. Here's the sights you'll see on game day:
Humongous tents with crowds of people...






An immense amount of food...






Really, really good food like Boudin, Jambalaya and what's a party without chips and salsa?...
Sometimes tailgaters decide to cook a whole pig out there...






So tell us, where is your favorite tailgating spot? What do you cook up on game day?


Lagniappe History: Louisiana State University's Memorial Tower, located to the West of the Parade Grounds is a 175 foot clock tower in the center of campus. Built in 1923 and officially dedicated in 1926, the Memorial Tower stands as a memorial to Louisianans who died in World War I.

Posted by:
Christy Chachere, Visit Baton Rouge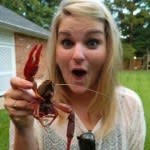 Christy is the Communications Coordinator for Visit Baton Rouge. Born and raised in Louisiana, she loves everything southern and charming. After graduating from LSU in 2011, she began her new journey promoting our lovely city day after day! She's loves everything Baton Rouge has to offer travelers and locals alike and will keep you in the know! You can find her social-mediaing for us on here, Facebook, Instagram, Twitter, Pinterest, LinkedIn and more!