Now that Baton Rouge's snow days are long gone, I know all of you are just itching to get out of the house and enjoy a day on the town. There's always something fresh to see and do in the Red Stick, so I figured I'd help you out with highlights from our monthly event calendar. To view the full calendar, you can visit our
website
, or, you can opt to get more information by signing up for our newsletter!
Concerts at the Baton Rouge River Center
 
This month, the River Center is hosting Merle Haggard on February 9th and R. Kelly on February 13th. A concert is the perfect way to enjoy the evening with a friend or special someone. Make a night out of it by stopping by a downtown restaurant before the show starts! 
LSU men and women's basketball is in full swing. Pack the PMAC at one of the many home games this month:
Saturday, February 8, 3:00 p.m.  LSU vs. Auburn
Wednesday, February 19, 7:00 p.m. LSU vs. Mississippi St.
Wednesday, February 26, 7:00 p.m. LSU vs. Texas A&M 
Sunday, February 16, 2:30 p.m. LSU vs. South Carolina 
Sunday, February 23, 1:00 p.m. LSU vs. Arkansas 
Thursday, February 27, 8:00 p.m. LSU vs. Tennessee 
OneofAKind Baton Rouge Fashion Week
OneofAKind Baton Rouge Fashion Week will take place February 10-15 in downtown Baton Rouge. Come check out designer spring/summer collections, musical performances, exhibitions and more! Proceeds from the event will benefit the Louisiana Museum Foundation. 
"Right Here, Now" The LSU Museum of Art
 
LSU Museum of Art always has wonderful exhibitions open to the public. "Right Here, Now" features more than 100 pieces by 24 current LSU faculty-artists. The exhibition provides the opportunity to see the quality and variety of art created by this accomplished group. Hurry in, because the exhibit ends on February 16th!
Know of any exciting events that I missed? Let me know in the comments below!
Posted by:
Cathy Juarez, Communications Intern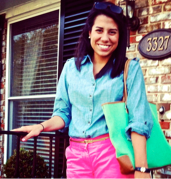 Cathy is the Communications Intern for Visit Baton Rouge. She's a New Orleans girl, born and raised, yet she has fallen in love with Baton Rouge throughout her time at LSU. Cathy will be graduating in May and hopes to continue promoting tourism in Louisiana. She loves good company, good food and a good time. Geaux Tigers and Who Dat!