They're known for their Tiger tailgates, Cajun delicacies and juicy burgers, but Baton Rouge-based Walk-On's Bistreaux and Bar is offering more of something else in their new 'Lagniappe' limited-time menu. Included on the menu are additional seafood selections that will make any mouth water. Luckily if you're observing Lenten season in Louisiana, that doesn't mean you have to sacrifice flavor.
Some dishes on Walk-On's Lagniappe menu are favorites from last year, some are bold new experiments, but they are all packed with taste and available now through Lent.
Boom Boom Tacos
Taco lovers don't have to miss out during Lent thanks to Boom Boom Tacos. The beloved Boom Boom Shrimp appetizer has been given a whole new twist. Although this dish was featured on last year's Lent menu, Walk On's has upped the taco count from two to three Boom Boom Tacos per order, making it more than satisfying.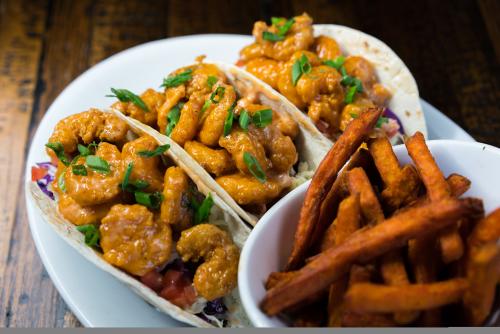 Mahi Mahi Fries
Your new favorite finger food will be the Mahi Mahi Fries. These thinly-sliced mahi fingers are lightly fried and perfect for dipping into the chilled mango dipping sauce.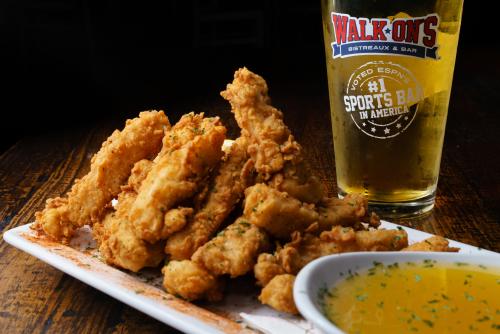 Seafood Salad
In case you vowed to eat healthy during lent, and want to eat on the lighter side, Walk-On's is offering a Seafood Salad. Unlike any other seafood salad, this one is piled high with a generous serving of boiled crawfish, boiled shrimp AND lump crabmeat. It's served with a green goddess-style dressing made specially to accompany this creation.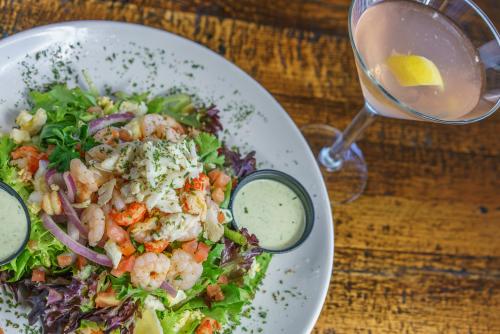 Other offerings on Walk-On's Lagniappe Menu include:
Crawfish Boil Bisque
Sweet & Spicy Oysters
Shrimp Alfredeaux
Blackened Gator Wrap
New Orleans Shrimp & Grits
Oyster Poboy
Quench Your Thirst
Wash it all down with a crisp and refreshing Raspberry Iced Tea made with freshly-brewed tea from another Louisiana-based and beloved brand Community Coffee. Or try it with a twist from the bar as the new 'Back Porch Tea.' The Back Porch Tea fuses the raspberry iced tea with raspberry vodka, black raspberry liqueur and fresh mint leaves, making it perfect for Spring sippin'.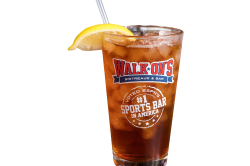 Burger of the Month
Not on the Langiappe menu but still worthy of note is Walk-On's Burger of the Month. This month's feature plays into the seafood and lent love with the Ahi Tuna Burger – accompanied by caramelized onions, swiss cheese, gochujang sauce, oven roasted tomatoes and garlic aoli on a brioche bun.
Baton Rougeians have been loving the Lagniappe Menu with certain dishes standing out as the undoubtedly most-popular. In the past, Walk-Ons has used limited time offer, or "LTO," menus to determine in-demand dishes to carry over and make available year-round on their main menu. This year, Walk-On's is testing oysters as a potential year-round menu item through two dishes on their LTO menu, their Oyster PoBoy and Sweet & Spicy Oysters.
Seafood lovers have just a few more weeks to try the lagniappe menu at Walk-On's. No one says you have to suffer through not eating meat on Fridays during Lent. "Break the rules" with these limited-time dishes that you'll crave even after Easter!
More About Walk-On's
Two "walk ons" to the LSU basketball team opened the first Walk-On's in 2003 at the familiar location on Burbank at the corner of Nicholson drive, just outside of LSU's campus. The original Walk-On's location stays packed and is a go-to spot for before, during and after LSU sporting events, especially football.
Since those humble beginnings, the eatery has gone on to be voted ESPN's #1 Sports Bar in America, launched franchising opportunities, and has continued to expand across Louisiana with additional locations, including the most-recent grand opening in Zachary earlier this month. Walk-On's most recent announcement, however, was that they'd be bringing the taste of Louisiana to Texas with four new locations planned for the Lonestar State.
Although you'll soon be able to find Walk-On's everywhere, there's nothing like Callin' Baton Rouge and making a trip to the original Walk-On's on Burbank!