Weekend mornings in downtown Baton Rouge can seem quite calm to the untrained Baton Rouge-goer...until you stumble across N. Fifth and Main, where you can find the all the action happening!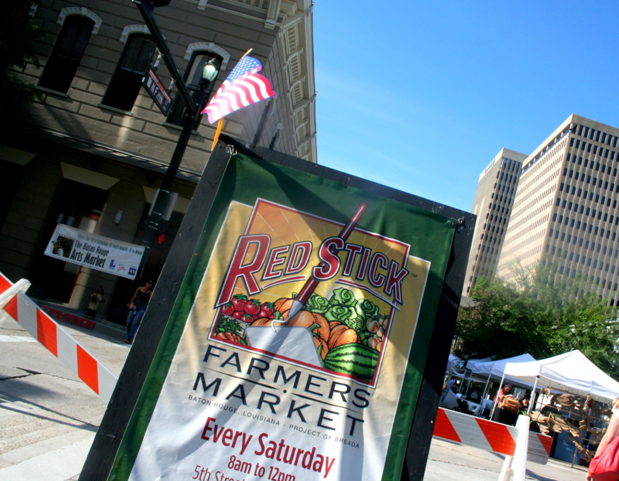 The Market is open every Saturday, rain or shine, from 8 a.m. to 12 p.m. on N. Fifth and Main Street. This weekend was the first time I have ever heard a band playing, and it was such an electric sound that it made the day even more exciting. It gave off the neighborhood block party feel that made never want to leave.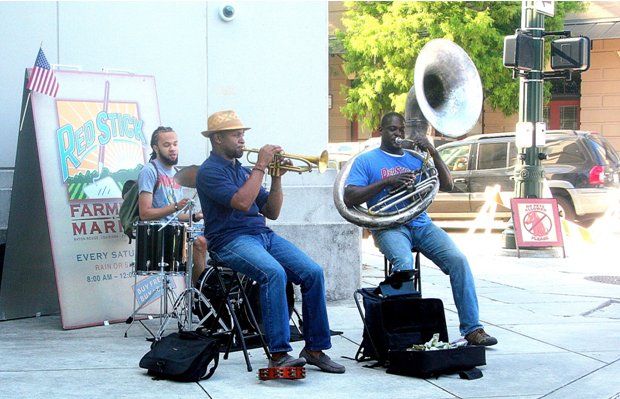 One tip you should know about going to the Farmer's Market: the earlier the better. The earlier you arrive, the more you are able to wander around with less of a crowd. You are also able to have your choice of just about everything before the crowds get there.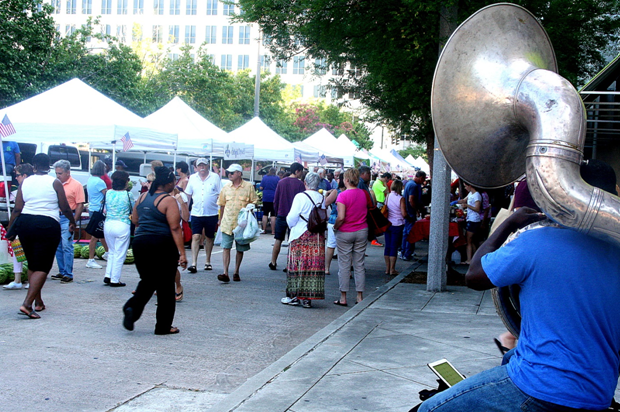 The Market was full of the freshest summer vegetables around, and they are all local. Some of the leading produce were: cucumbers, tomatoes, eggplants, zucchini, summer squash, potatoes, onions, bell peppers and lots and lots of fresh corn.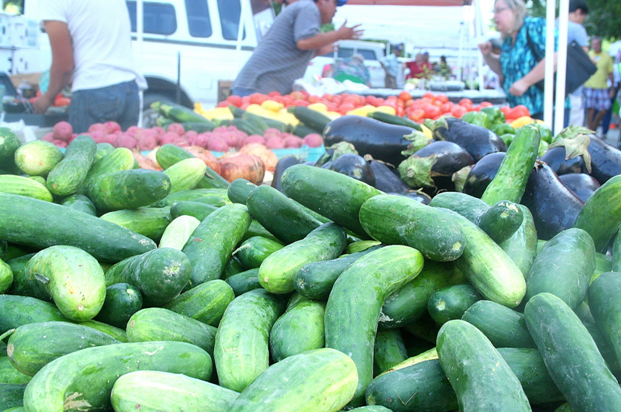 I set out to the Farmer's Market with the goal to buy all local ingredients and make an entire meal using them. There was so much to choose from, and I chose pork chops as the main dish from
Iverstine Family Farms
, and a fresh summer vegetable to make zucchini "Noodle Pasta" as the side dish. 
When I spoke with the guy at the Iverstine booth, he recommended I use
Re: a garlicky vinaigrette Dressing and Marinade
, which is also sold at the Farmer's Market and bottled right in Baton Rouge. I cannot thank them enough for pointing me towards this marinade. It truly made the pork chops that much better! 
If you decide to venture inside of Main Street Market, you will find even more local sellers and all of their delicious products such as cheeses, marinades, olive oils and more.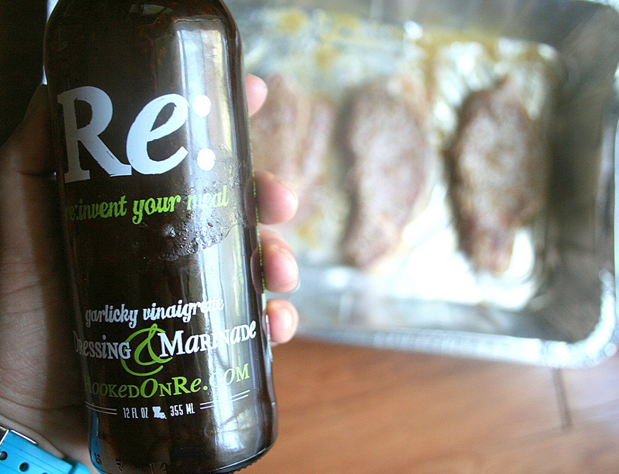 Ingredients:
½ cup Panko Bread Crumbs
2 Large Zucchinis (spiralized into "noodles")
1 medium Red Onion (chopped)
2 medium Green Bell Peppers
2 Corn on the cobs
2 Sweet Potato medallions
2 TBSP Red Pepper Flakes
2 TBSP Garlic Salt
1 TBSP Rosemary Garlic Herb Blend
1 TSP Garlic Powder
1 TBSP Ground Black Pepper
Directions:
1. In a large pan, place the defrosted pork chops side by side. Using the Re: Marinade, evenly coat each pork chop with the marinade [1/2 cup distributed between all Pork Chops].
2. Season all evenly using 1 TBSP red pepper flakes, 1 TSP black pepper, 1 TBSP garlic salt, and ½ TBSP rosemary garlic herb blend [seasoning distributed over all pork chops, not individual].
3. Next, place the marinated pork chops in 2 separate Ziploc bags [2 per bag] and let marinate for 4-6 hours, for optimum flavor.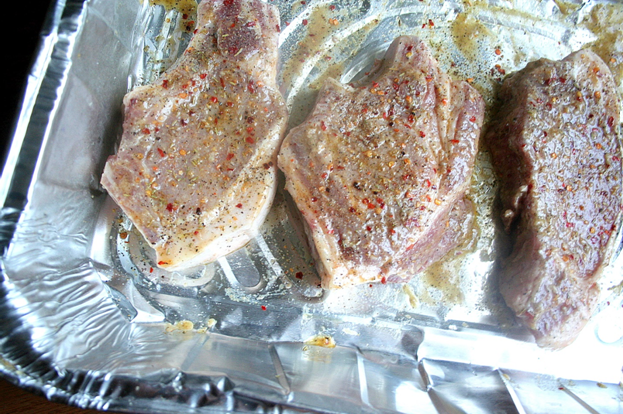 4. Once the pork chops have marinated, preheat your oven to 375 degrees Fahrenheit. While the oven preheats, even sprinkle ½ cup Panko Bread Crumbs over all of the pork chops. Place on a foil wrapped baking sheet and place in the oven. Bake the pork chops for 10-12 minutes, each side.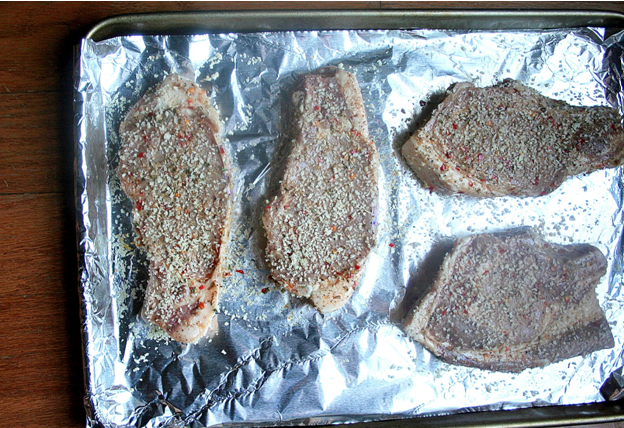 5. While the Pork Chops bake, using a vegetable spiralizer, slice the 2 zucchinis to make "zucchini noodles". If you do not have a vegetable spiralizer, chopping the zucchini into thin "sticks" will work great too!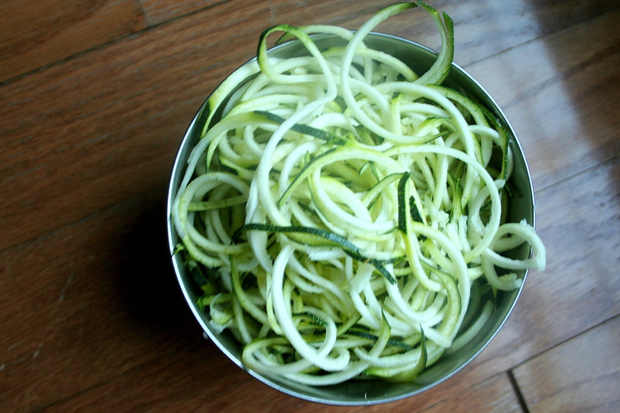 6. In a large, nonstick skillet, place the zucchini noodles, and chopped onion and Militello's Zesty Onion Olive Oil and sauté on medium to high heat.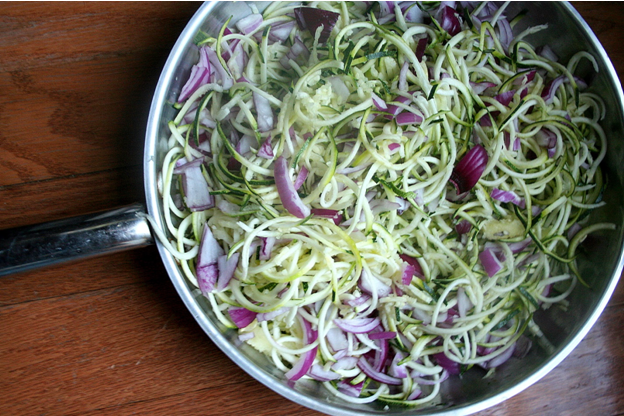 Militello's
is a local Olive Oil blend that is sold at the Farmers' Market. Mr. Militello has about 12 different flavors that are all amazing. I chose to get the Zesty Onion Olive Oil because when I tasted it, I knew it was the one. I have previously purchased the Cajun Olive Oil which is perfect for any Cajun trying to spice up a regular dish.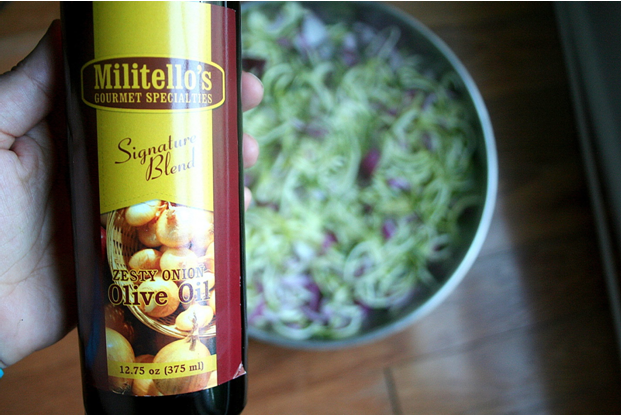 7. Sauté the zucchini noodles with the chopped onion and olive oil until onion is fragrant and slightly tender. Next, add the chopped bell pepper [stem and seeds removed] and the corn kernels. Mixing in the remaining seasonings [1 TBSP red pepper flakes, 1 TBSP garlic salt, ½ TBSP rosemary garlic herb blend, 1 TSP garlic powder, ½ TBSP ground black pepper]. Cook until all vegetables are tender and fragrant, about 7-10 minutes.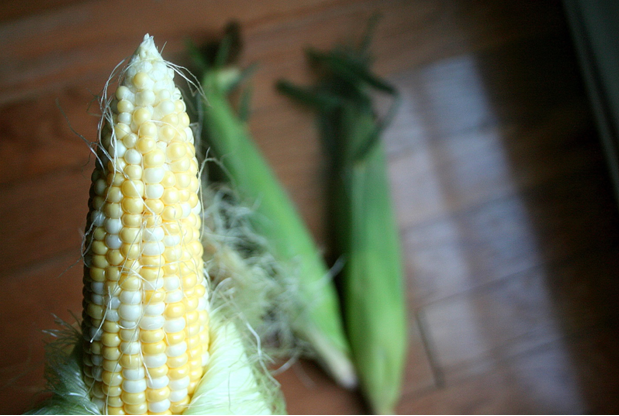 8.In the microwave heat up 2 sweat potato "patties" for about 4 minutes [I buy these at Po Folks in Port Allen, they are also sold at Fresh Pickin's in the frozen section]. Once cooked, mash together.
9.Once the pork chops are done, take out and let cool for about 3-5 minutes.
10. Serve and enjoy!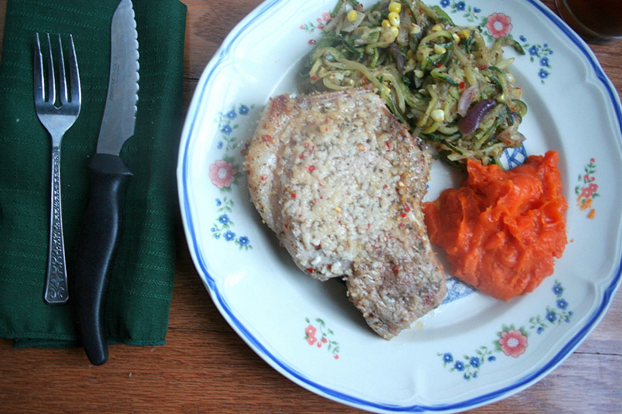 This was the perfect summer afternoon dinner that was full of flavor! It also felt great knowing that I was supporting all local farmers!
What is your favorite item from the Red Stick Farmer's Market?
Have a fit + fantastic day!
--Morgan
Tweet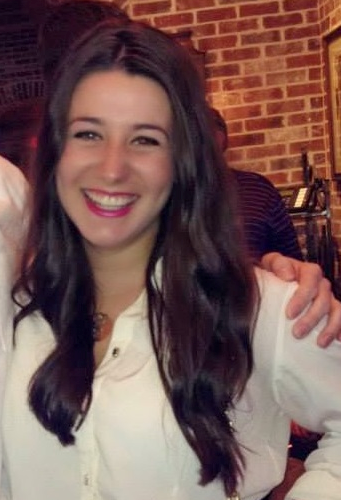 Morgan is a Senior at Louisiana State University majoring in Psychology & minoring in Nutritional Sciences with a passion for any and all things food, fun + fitness related. She started her personal health + fitness blog,
unapologetic fitness, foodie
, on a whim to document her healthy recipes, workouts and all around tips and ideas. Since then, she has contributed to the Skinnygirl Daily Blog, and worked with numerous health + fitness companies.  Morgan is currently the first LSU Ambassador for CHAARG, an organization aimed towards college-aged women to "liberate them from the elliptical" and show them fitness can/should be fun!