We love hearing from our visitors! Check out this blog post originally posted on Solo Mom Takes Flight. Have fun story/ experience to share? We'd love to hear about it--we could even feature you! Email your experience to cathy@visitbatonrouge.com.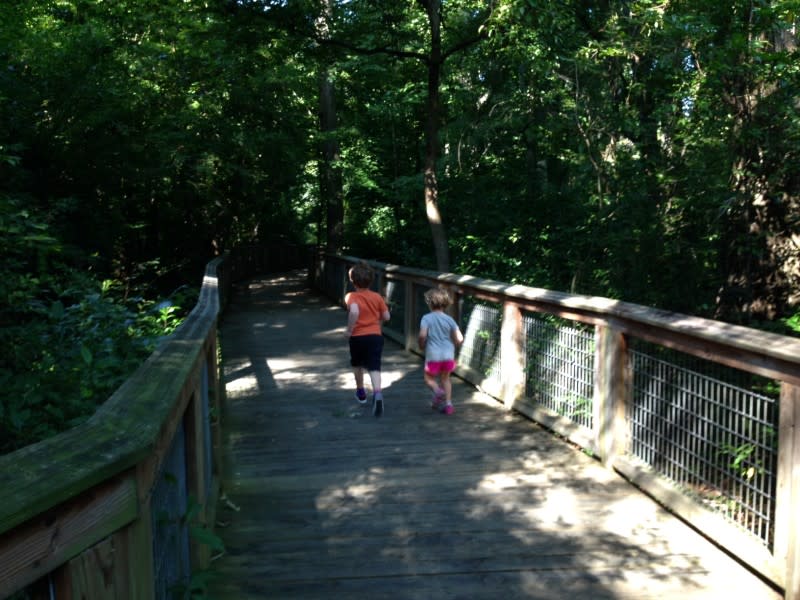 Disclaimer: We were hosted by visitbatonrouge.com. My opinions, as always, remain my own.

As we left New Orleans, I announced to the kids that we were headed to Baton Rouge. Will spoke up and said "that means the red stick". How he knew that I am not quite sure. What does the red stick have to offer for kids? A great day. Here's our favorites from Baton Rouge for Kids.
With a great pool and awesome restaurant, you'll want to start your trip by staying at the
Renaissance Hotel in Baton Rouge
. We checked in to super friendly staff and foot long gummy gators they give pint-sized guests. I was a little apprehensive about heading to the restaurant for dinner as everyone was dressed nice and every other diner was an adult. The kids were also in their pjs. We were welcomed with open arms equally by the staff and other guests. The Renaissance staff realizes kids are traveling and doesn't judge when tiny tykes need to run around a little after dinner. The breakfast buffet is the perfect place to start and plan your day.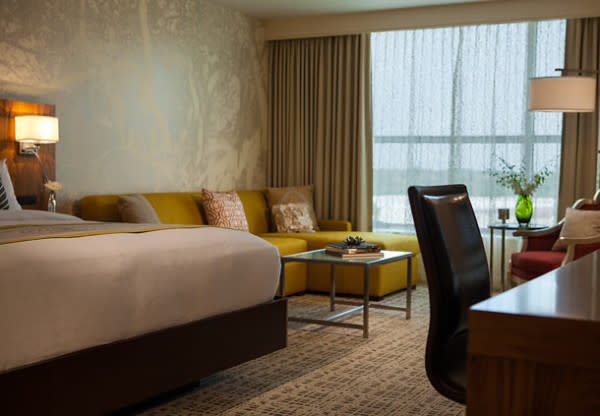 Photo Credit: Renaissance Hotel Baton Rouge
The rooms at the hotel are amazing. If you take a close look you'll realize they reflect Baton Rouge. There is a great piece of wallpaper with all sorts of local terms, pronunciations and meanings as well as snakeskin wallpaper. The rooms are big, clean, modern and very comfortable. My favourite thing was that they left toothpaste and toothbrushes out in case you forgot yours. Was a nice touch to not need to call down to the front desk.
Bluebonnet Swamp Nature Center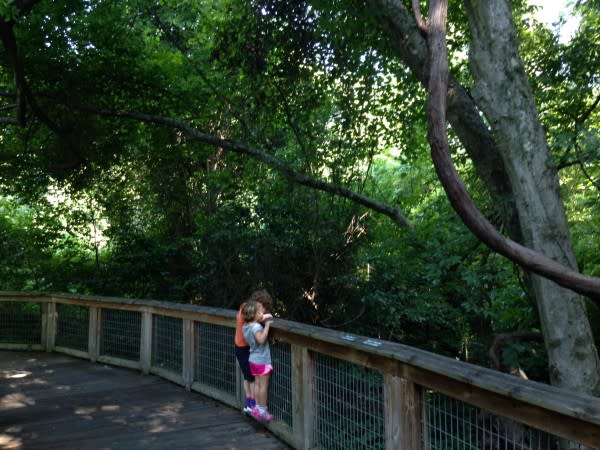 They don't call this a swamp for nothing. The
Bluebonnet Swamp Nature Center
is a swamp. The good news for you is that its a cool swamp and one that is easy to navigate with kids. Mine loved the nature center. They went from tank to tank looking at turtles, reptiles and you guessed it- snakes. The nature center is staffed by young adventurous staff that know a lot about the area and the animals they care for.
The swamp is 103 acres of real swamp but with over a mile of gravel paths and wood boardwalks it easy to check out the wildlife, trees, and birds. Mostly you'll see turtles, birds and snakes but people have seen raccoons, opossums, armadillos and even coyotes. We saw the worlds biggest spiders, a lot of birds and caught a glimpse of a raccoon. Tip: Go early in the morning. The animals are more likely to be out and Louisiana is hot in the summer.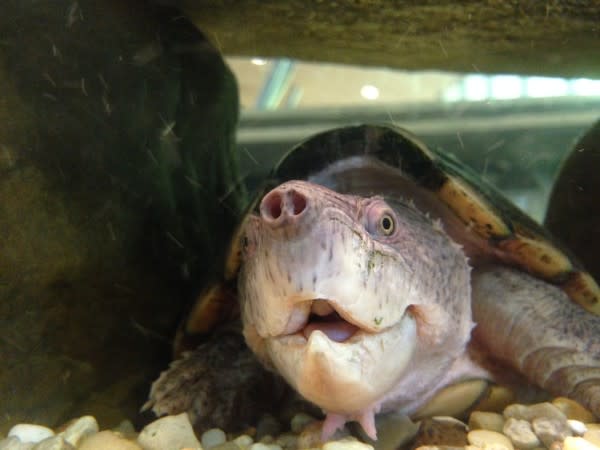 What's a sneauxball? Well, just the best thing you have ever tasted. They are an ice cream treat with shaved ice, ice cream, flavoring and topped with condensed milk. Stay with me. They are delicious.
We showed up at Baton Rouge's Sneauxball Stop and were sold. I ordered the "three best things" they had and for under $6 we had enough frozen concoctions to keep us going all day. Sneaxball's are about $1.50 each. Try to eat just one.
Head on Down the Bayou
You cannot go to Louisiana without taking your kids down the Bayou. Extra points if you make then watch the Princess and the Frog before going. We took a ride down the Bayou with
Cajun Pride Swamp Tours
, one of the most recommended tours we found. Cajun Pride is perfect for kids. The ride is on a boat with seats and benches and the Captain made sure both sides of the boat saw a lot of the Bayou. At first the gators were shy but within 10 minutes we had seen quite a few of them. Captain Tom was raised on the Bayou and could answer any questions you may have. He also was great at explaining how the ecosystem works. The tour lasted over an hour and the kids didn't get bored, tired or hot. During the tour, you also get to hold a baby alligator that lives on the property. Will was blown away and it really made our day. When we had to pass him along I gave him one extra hug for the smiles he put on my kids faces.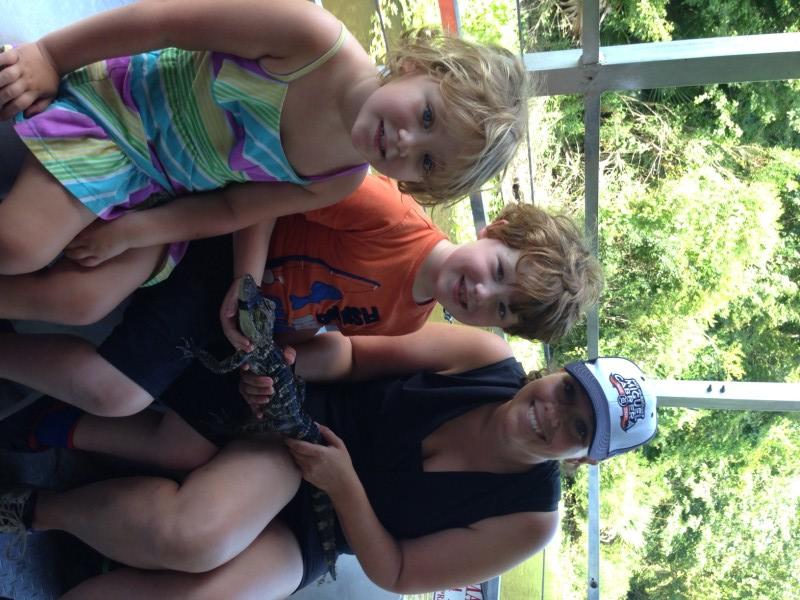 Eat Real Louisiana Cuisine at Louisiana Lagniappe Restaurant
Everyone we met at the Sneauxball Stop had suggestions on what to do but they all agreed that we should eat at
Louisiana Lagniappe Restaurant
. I never ignore locals' food suggestions and off we went. We are talking fresh crab, fish and seafood specials. Charlie loved the kid's fried catfish and the crab cakes were delicious. If you are staying at the Renaissance, they will drive you there by shuttle so you can feel free to relax and enjoy a glass of wine.
Baton Rouge
Our short time in Baton Rouge will be remembered fondly for great food and even greater people. There wasn't a place on this list that didn't make us feel welcome and try and teach us a little bit about the city. We took home cajun spices and finally were corrected and told that New Orleans should be pronounced New Orlinz. So thank you Baton Rouge. We can't wait to come back and play in your swamps again. Just after we eat some more Sneauxballs.
Posted by:
Sarah Pittard, Solo Mom Takes Flight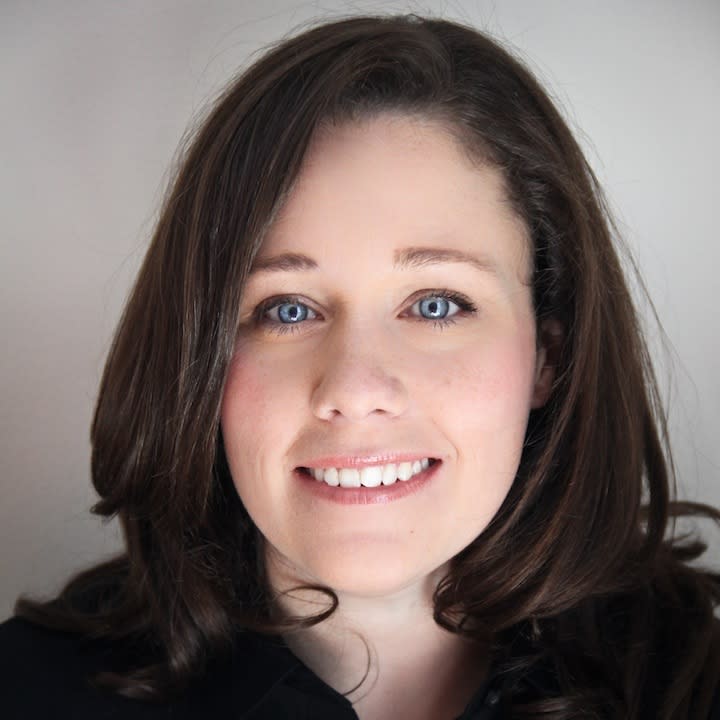 Sarah Pittard is the mom of two young and well traveled children. An avid traveler since her youth she has not let motherhood stop her or her kids from seeing some amazing sights. As a former lawyer and current stay-at-home mom, Sarah loves to educate her children by showing them the world.