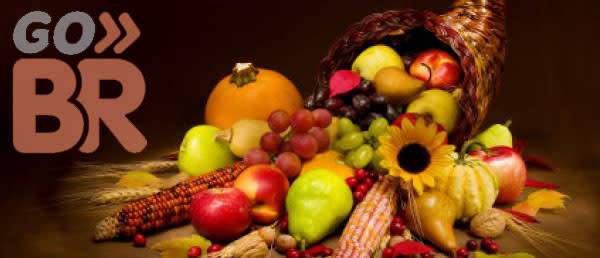 So you aren't the best cook, or maybe you are, but just don't have any plans for Thanksgiving. Don't let making plans for the holiday stress you out because, Visit Baton Rouge has compiled a list of restaurants that will be open for Thanksgiving Day!

1. Ruffino's Italian Restaurant
2. Juban's Restaurant – open until 3 p.m.
3. Ralph & Kacoos
4. Copelands of New Orleans
5. Mansurs on the Boulevard - open for lunch only
6. King Fish Grill located at the Hilton Baton Rouge Capitol Center – open for brunch
7. Latil's Landing at Houmas House Plantation and Gardens – open 11:30 a.m. – 2 p.m.
8. Tallulah Restaurant in the Renaissance Baton Rouge Hotel
9. Louie's Café- open half day
10. Crowne Plaza Baton Rouge
11. Piccadilly Cafeterias - All locations
12. Epic Buffet at Hollywood Casino
13. The Mansion Restaurant at Nottoway Plantation
14. The Little Village
Some of these locations have a reservation only policy. Make sure you call and reserve seating just to be on the safe side. 
Have a happy Thanksgiving! 
Posted by: Julie Thomas, Visit Baton Rouge
Julie is the new Communication Intern for Visit Baton Rouge. Before relocating to Baton Rouge, Julie lived in Haughton, Louisiana and attended Louisiana State University in Shreveport where she graduated in May 2014 with a degree in public relations. She now attends LSU as a graduate student at the Manship School of Mass Communications. She loves reading, watching Law and Order, playing with her dog, traveling and exploring the amazing city of Baton Rouge. You can follow her on Instagram or on her personal blog.