'Tis the season for holiday parties! What better way to impress your guests and fellow party-goers than by making amazing cocktails and punches for everyone to enjoy!

Below are 8 holiday cocktail recipes from our Pinterest page for you to enjoy every day until Christmas!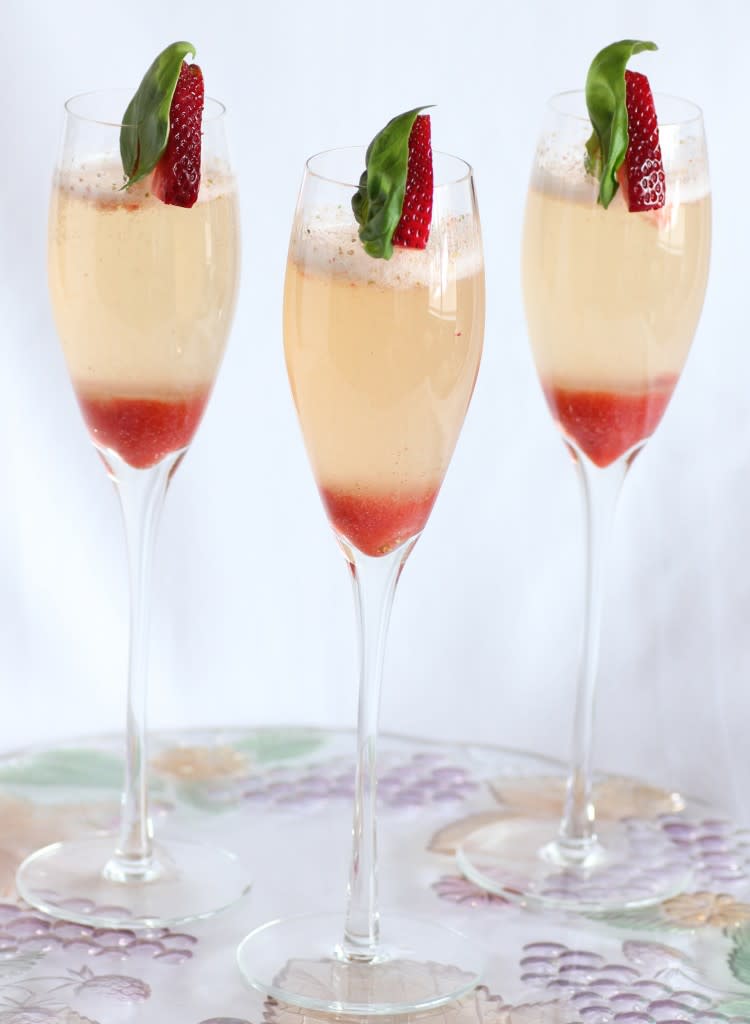 1. Strawberry Basil Bellini  
1/2 cup strawberries, sliced
1 oz. simple syrup
2 small basil leaf or 1 medium
*Makes 4 drinks

Instructions: 
For the simple syrup, mix one cup sugar and one cup water in a saucepan, stir and bring to a boil. Once sugar is dissolved remove from heat. Refrigerate until cold. Blend the rest of the  ingredients in a blender until pureed.

Divide the puree between four glasses and top with your favorite sparkling wine. Garnish with a slice of strawberry and basil leaf.



2. Cherry Sorbet Champagne Floats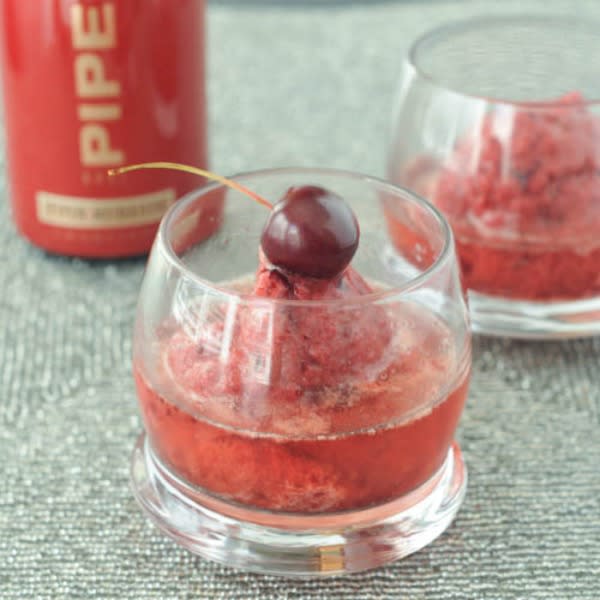 1 cup vegan sugar
1 cup coconut water
4 cups fresh cherries, pitted
juice and zest of 1 lime
1 bottle of your favorite champagne or sparkling wine
Instructions:
In saucepan over low heat, combine sugar and coconut water. Stir until dissolved, remove from heat and cool completely. Transfer sugar water to a blender, combine with cherries, lime juice, and zest. Blend until smooth. Pour into prepared ice cream maker, process according to manufacturer instruction. Transfer to freezer safe covered container, freeze several hours.

Serve one large scoop into glass or small bowl, pour champagne over and top with fresh cherry.
1 bottle chilled Champagne
White Creme de Cocoa
candy canes

Instructions: 
1. In a ziplock bag, crush 1 whole candy cane with a rolling-pin or something sturdy until you are left with a semi fine powder.
2. Dip the rims of your champagne flutes in a small dish of White Creme de Cocoa and then in the crushed candy cane.
3. Fill champagne glasses 1/3 full with White Creme de Cocoa and then the rest of the way with chilled Champagne.
4. Garnish with a whole candy cane (this adds color and flavor to the cocktail).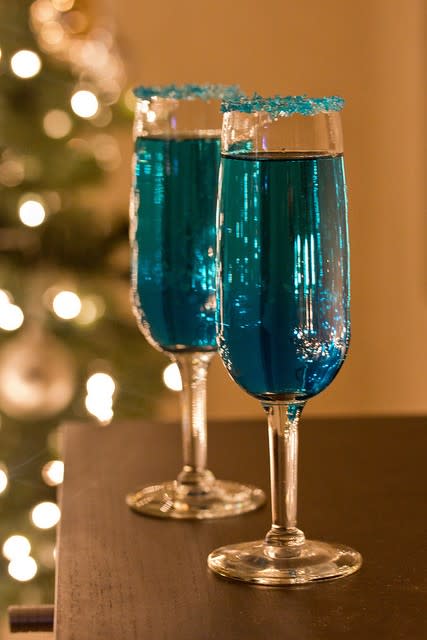 2 ounces orange infused vodka
2 ounces blue curaçao
Champagne
*Makes 2 drinks

Instructions:
Rim 2 glasses with champagne then dip into blue cocktail sugar.
Pour 1 ounce orange infused vodka into each of the prepared champagne glasses.
Pour 1 ounce blue curaçao into each into each of the prepared champagne glasses.
Top each glass with champagne
8 tablespoons pomegranate juice
1 pint raspberry sorbet (your choice of brand)
4 tablespoons pomegranate seeds
chilled champagne

Instructions:
1. Freeze your glasses until frosty.
2. Add 2 tablespoons of pomegranate juice to the bottom of each glass.
3. Add a few small scoops of the raspberry sorbet and 1 tablespoon of pomegranate seeds to each glass.
4. Top with chilled champagne. (Continued to top off the glass with more champagne as you drank, because there is more than enough sorbet to flavor several glasses full if you wish.)
10 frozen cranberries that have been defrosted
1 ounce of orange liqueur (like Cointreau, Grand Marnier or Triple Sec)
½ cup of dry sparkling wine
6 or 7 frozen cranberries

Instructions:
In a cocktail shaker combine the defrosted cranberries and orange liqueur. Muddle them to mush up the cranberries a bit. (Note that you can do this with a mortar and pestle if you don't have a cocktail shaker and muddler).
Strain the orange liqueur into a martini glass (use a fine mesh sieve if you don't want tiny cranberry seeds in your drink. If you don't mind the seeds, then use whatever strainer you'd like).
Top the glass up with the sparkling wine. Drop in the frozen cranberries (these look pretty and help keep the drink nice and cold). Drink!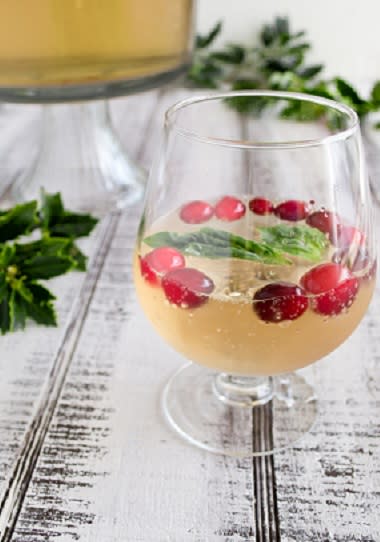 3 cups of cold ginger ale
1 ounce (that's 2 Tbsp) orange liqueur (like Triple Sec)
8 fresh basil leaves
30 frozen cranberries
Instructions:
Pour the sparkling wine into a punch bowl. Slowly add the ginger ale and the orange liqueur. Add the basil and frozen cranberries (if using) or a few handfuls of ice. Cheers!
R.W. Knudsen Organic
) well chilled
Organic Coconut Juice Blend (
Lakewood Organics
) well chilled
Champagne or Prosecco well chilled
Simple Syrup
Unsweetened finely shredded coconut.
Instructions:
Pour some simple syrup in a small bowl and the shredded coconut in another small bowl. Dip the top ¼ or so of your champagne glasses in the simple syrup and then in the shredded coconut making sure the rim is well coated. Set aside to dry a little
Fill each champagne glass with 1 ½ ounces of EACH pineapple and coconut juices. Fill the rest of the way with the champagne or Prosecco. Serve immediately.
Tell us in the comments what  your favorite holiday cocktails are and if you tried any of ours!
Happy Holidays!
Posted by: Julie Thomas, Visit Baton Rouge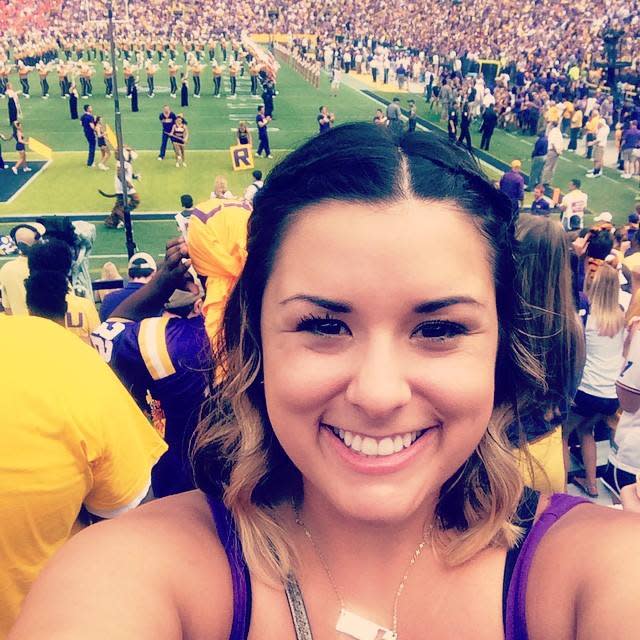 Julie is the new Communication Intern for Visit Baton Rouge. Before relocating to Baton Rouge, Julie lived in Haughton, Louisiana and attended Louisiana State University in Shreveport where she graduated in May 2014 with a degree in public relations. She now attends LSU as a graduate student at the Manship School of Mass Communications. She loves reading, watching Law and Order, playing with her dog, traveling and exploring the amazing city of Baton Rouge. You can follow her on Instagram or on her personal blog.