It's no secret, I am always on the search for the perfect cocktail. After stopping by Olive or Twist last Friday, I think I may have found it (and 12 others to choose from). I like classic drinks with a twist, maybe a little bit fancy, made with a stroke of genius on the side. Olive or Twist delivers that in every glass. Located at 7248 Perkins Rd Suite A, in between Essen Lane and Kenilworth Parkway, Olive or Twist is a must try for anyone that values a well constructed drink.

From the minute we walked in the door I was impressed. The wow starts as soon as you get a glance behind the bar. The wall is covered in a library of every liquor you could ever imagine, complete with a rolling shelf ladder. The next wow happened when the menu hit my hand. It was like everything I had every dreamed a cocktail menu to be – innovative mixes, unbelievable flavor profiles and the coolest ingredients.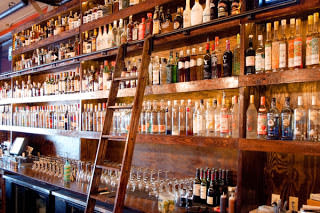 Photo Credit: Olive or Twist

Under the suggestion of the bartending staff I tried the strawberry basil lemon drop, one of their most popular drinks. The drink came in an aluminum martini glass, which I am now going to refer to as my favorite drink wear of all time, garnished with a giant fresh basil leaf floating on top. I have always been a fan of lemon drops, but I don't think I will ever have another that lives up to this take on it. The fresh juices and basil completely changed the game.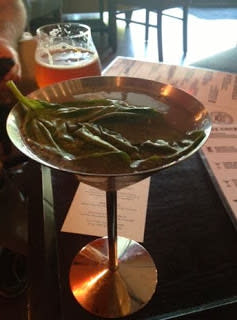 Photo Credit: Chelsea Bennett

Next, we ordered a few snacks for the table. Going out on a limb, I insisted that we try the Boudin Egg Rolls. I can not even lie about this – I have never enjoyed boudin more in my life. What could be better than handmade boudin rolled up and fried into and egg roll? Don't even get me started on the out of this world home made remoulade sauce severed on the side.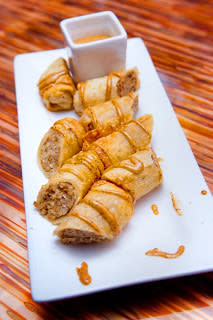 Photo Credit: Olive or Twist

We also tried the couchon de lait sliders. I have never been a fan of cole slaw, but Olive or Twist's creole cole slaw had me thinking twice about that. The slow cooked pork was also fantastic.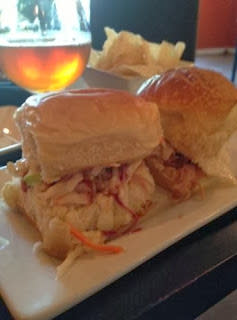 Photo Credit: Chelsea Bennett

After my strawberry basil lemon drop, I went for the pineapple mojito. Maybe it was the fresh pineapple bits or the perfectly balanced ingredients, but it made every other mojito I have ever had taste mediocre.
Photo Credit: Chelsea Bennett

A friend of mine tried another crowd favorite, a drink dubbed "Eudora's Purple Hat." Just reading the ingredients in this one had me impressed. It's citrus vodka, black raspberry liqueur, creme de violette, lemon juice, simple syrup, and egg whites. I mean, who can even come up with turning all of this random stuff into delicious drinks? The egg whites sound scary, but that's what makes the beautiful white foam topping this drink.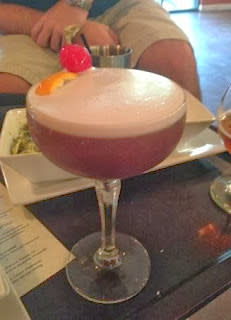 Photo Credit: Chelsea Bennett

We closed out the night with the Couchon De Lait nachos. After the sliders, we just had to have more of the incredible pork. These come topped with the slow cooked pork, red onion, and barbecue sauce. If you are thinking that the picture looks too good to be true you should think again.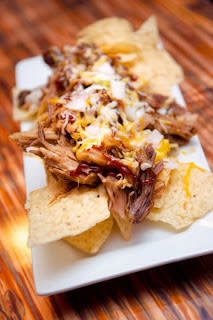 Photo Credit: Olive or Twist

I fell in love with the bar even more when I heard the inspiration for the concept. Drawing inspiration from what Olive or Twist calls the "golden age of bartending" and the "new age of cocktails," they created the concept for the bar. The blending of the two inspirations together called for innovative and eclectic cocktails, made with a heavy focus on utilizing uncommon and seriously fresh ingredients. Tying it all together with an incredibly clever name, Olive or Twist created a great menu and a wonderful concept that Baton Rouge was surely missing.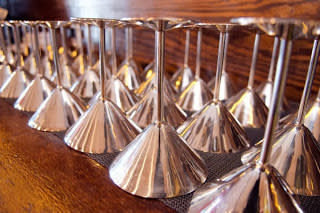 Photo Credit: Olive or Twist

Everything about Olive or Twist is well thought out. From the perfectly paired glass wear to the names of the cocktails, they never missed a beat. If you are looking for an intimate night out and value the gift of a truly high quality cocktail, look no further than Olive or Twist. It airs on the side of classy, however it never gets pretentious. With a warm atmosphere, it begs cocktail lovers to get adventurous with their drinks and try something new. Personally, I reveled in every second of it. With no doubt, Olive or Twist leaves me asking – Please sir, can I have some more?

Have you tried Olive or Twist yet? What are your favorites on their menu? Drop us a line in the comments!

Posted by:
Chelsea Bennett, Communications Intern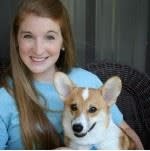 Chelsea Bennett is a Communications Intern for Visit Baton Rouge. She is a proud lifelong resident of Baton Rouge and LSU student. A lover of all things southern, she is completely infatuated with the sweet Louisiana life and everything quintessentially "Baton Rouge." Follow Chelsea on Twitter @GeauxChels