If you're like every other person in Louisiana, crawfish season is something you look forward to. How those tiny crustaceans hold so much delectable flavor, I'll never know…but I'm not complaining. I'm just thanking the seafood gods that crawfish season has arrived. And, boy, it's good.
I had my first batch of crawfish last weekend, and it got me thinking of a favorite pastime: crawfish boils. Who doesn't love a good boil? Friends, family and crawfish on a warm spring day--doesn't get better than that! 
Thanks to Pinterest, I have been able to find a few ideas to help take your crawfish boil to the next level:
Creative Invitations
Everyone loves a little snail mail, right? Make your guest feel special from the second they open their mailbox with some awesome invites:
Decorations
It's the little touches that go a long way. There a tons of DIY decorations you can make to transform your backyard into the perfect venue for a party.
Dessert
After the crawfish has been devoured, send your guests off a sweet treat. Festive desserts are the perfect final touch to your celebration.
Do you plan on throwing a crawfish boil this spring? I'd love to hear about it!
Posted by:
Cathy Juarez, Communications Intern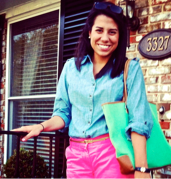 Cathy is the Communications Intern for Visit Baton Rouge. She's a New Orleans girl, born and raised, yet she has fallen in love with Baton Rouge throughout her time at LSU. Cathy will be graduating in May and hopes to continue promoting tourism in Louisiana. She loves good company, good food and a good time. Geaux Tigers and Who Dat!