As hit songwriters descend upon Baton Rouge for the annual Third Street Songwriter's Festival, the city's music scene is in the spotlight.
This is the fourth year of the festival and it has grown tremendously just in that short time due to its quality of talent brought in, hot location downtown, historic local music venues, national interest in the songwriting process, and the growing local songwriter base from Baton Rouge.
This year's headliner is Gary Nicholson, a number one hit songwriter, a two-time Grammy winning producer, recording artist, world traveling performer, and session guitarist. This guy has hits with everyone, spanning across a multitude of genres, and best known for his work with Willie Nelson, Waylon Jennings, Garth Brooks, George Strait, Ringo Starr, BB King, Fleetwood Mac and Billy Joe Shaver.
Also playing at the festival is CJ Solar, a native of Baton Rouge who made a living as a songwriter in Nashville and is now releasing his own EP titled "Get Away With It" . Visit Baton Rouge sat down with CJ and his guitarist Nick Gibbens to talk all things Songwriter's Festival, the music scene in Baton Rouge, and his new music.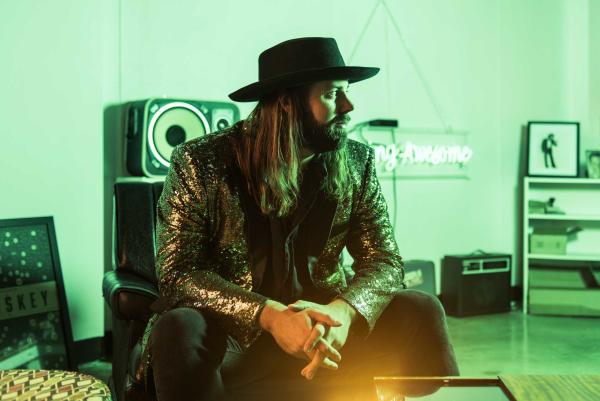 Though he's had success in Nashville as a songwriter, most recently with his co-written hit "Up Down" by Morgan Wallen and Florida Georgia Line at #13 on the Billboard Charts and climbing, when it came time to release his own new music, he wanted to come home and share it with Baton Rouge first.
CJ held his EP Release Party at The Texas Club, a local Baton Rouge music venue famous for being played by artists such as George Strait, George Jones, Bonnie Raitt and more, early on in their career before they "made it."
"If you're wanting to listen to country music in Baton Rouge, that's the place," CJ said, noting that The Texas Club's history and "smoky, old-school bar kind of vibe," is what makes playing there so special. The event was packed and the new music was received well, with CJ saying how great it is to play for his hometown crowd filled with family and friends.
Baton Rouge is home to many music venues with character and a storied past like this. From The Texas Club and the historic Varsity Theater on LSU's campus, to quaint listening rooms like the Red Dragon and the large-scale acts that fill the Raising Cane's River Center.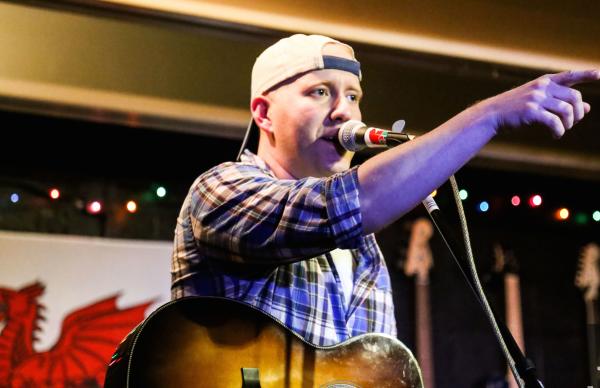 (Brent Anderson at the 2017 Songwriter's Fest Kickoff Party at The Red Dragon)
But when it comes to defining the music scene in Baton Rouge, CJ wants people to know that Baton Rouge is more than the blues. Sure, the city hosts one of the first and largest blues festivals in the nation every spring, but that's not even the first thing that comes to mind when CJ thinks of Baton Rouge music.
 "The Baton Rouge music scene is extremely diverse, there's such a variety of music here." 
"There's a big blues scene yes, but a lot of people playing country, a lot of rock music, there's all different kinds of music coming out of Baton Rouge and when people from here get some traction it's really cool to see."
Baton Rouge is a great place to hear quality local music of all kinds, and coupled with its other events and attractions, there's always something to do in town.
CJ's guitarist Nick hails from Texas, and as an outsider that frequently travels to Baton Rouge for shows, he noted the energy of the city.
"Baton Rouge is so energetic! There's always something going on, especially in the downtown area. There's any number of events at any given time, and they're always something cool. The city's good about making sure there's a lot of draw and a lot going on for people whether they're local or visitors."
He even joked that, 
"It seems like south Louisiana has more festivals than there are calendar days!"
And that shows in Baton Rouge. The city has ramped up its festival season, continuing past the annual April festivals, and adding many new festivals this year.
CJ and his band are excited to play again at Songwriter's Festival, where he'll be playing both his own music and his songwriting hits. A favorite part of the festival was hard for him to pinpoint, but CJ said one the events he was most looking forward to was the Songwriter's Showcase at the Manship Theater. A staple event of the festival, this showcase brings down huge hit writers that have written a ton of music for big-named artists. This is the event at Songwriter's Festival where if you like music at all, you're going to know most of these songs. Anyone who listens to the radio will recognize the hits played at the Songwriter's Showcase.

The rest of the festival's events are carried out at various spots downtown, and a full lineup can be found on their website. By hosting talent at the different venues throughout the city, the festival "forces you to see every little spot down there; you have to hop from one spot to the other and catch the different energies of all the rooms and it's just fun," says CJ.
Nick added that, 
Songwriters Fest "is like a bar crawl, but you're running around seeing all of your friends play songs."
And Songwriter's Fest is huge in the national songwriting community. "There's a lot of people from Baton Rouge especially, and all over the state, who live in Nashville now doing music out there, who come down here to go to Songwriters Fest and bring their friends," CJ said.
Outside of the songwriter's festival, people making a trip to Baton Rouge can catch other music festivals, outdoor concert series in the spring and fall, and many music shows throughout the city from acoustic sets in restaurants and big shows at local music venues.
Share your pictures from the festival and enjoying the Baton Rouge music scene with @visitbatonrouge on social media and Listen to CJ's new EP "GET AWAY WITH IT" on Spotify after it's release April 20!