Big news came out of New York this weekend. After being voted the top bloody mary in Louisiana by an online poll for Thrillist.com, Kristen Alfandre and Chris from Mason's Grill attended the live competition as part of the New York Wine and Food Festival. Sponsored by Absolut, the contest sought to name the very best intoxicating tomato based drink in the country.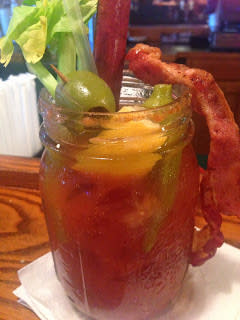 The Bloody Mason
Photo Credit: Jay Ducote
So the big news... Mason's won! That's right, the Bloody Mason, which you can find right here in Baton Rouge, has gone to New York and conquered the boozing world by winning the contest.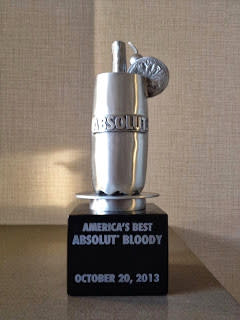 America's Best Absolute Bloody Mary Trophy
Photo Credit: Mason's Grill
This is something for Baton Rouge to be proud of. This is cause for celebration across the state of Louisiana. We've long known the best bloody marys in the world come from Louisiana, and now we have proof. Please join me in congratulating Mason's Grill. Send them a tweet (@masonsgrill), post something on their Facebook wall, or just go have a Bloody Mason!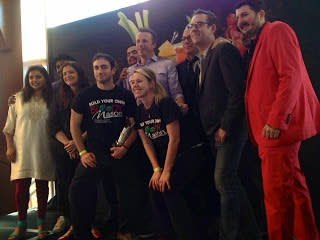 Photo Credit: Mason's Grill
Posted by:
Jay D. Ducote, Bite and Booze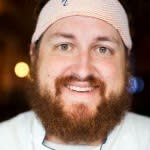 Jay D. Ducote is a chef, food and beverage writer, and overall culinary personality. He is the author of the blog Bite and Booze, host of the Bite and Booze Radio Show, and co-host of Raise a Glass, both on the air in Baton Rouge.
You can find him on his blog, and keep up with him on Twitter and Facebook!