Carnival time is upon us
, and the parades are kicking off next week! Get your bead bags ready, y'all.
Photo Credit: Eric Singleton
Here's the 2015 Baton Rouge Mardi Gras schedule:
Mystic Krewe of Artemis Parade, 
February 6 @ 7:00 p.m.
Krewe of Mutts Parade, 
February 8 @ 1:30 p.m.
Krewe of Mystique Parade, 
February 7 @ 2:00 p.m.
Krewe of Orion Parade, 
February 7 @ 6:30 p.m.
Krewe of Southdowns Parade, 
February 13 @ 7:00 p.m.
Krewe of Spanish Town Parade, 
February 14 @ 12:00 p.m.
For more information on the Mardi Gras season in BR, visit the Mardi Gras page on our website. Laissez les bons temps rouler!
Posted by:
Cathy Juarez, Visit Baton Rouge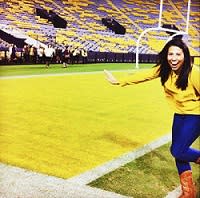 Cathy is the Destination Content Manager for Visit Baton Rouge. She's a New Orleans girl, born and raised, yet she has fallen in love with Baton Rouge throughout her time in college. A recent LSU graduate, Cathy is passionate about promoting tourism in Louisiana. She loves good company, good food and a good time. Geaux Tigers and #GoBR!