Football season has officially started.  Over 30,000 LSU fans have returned from Dallas and thousands more are preparing to be on LSU's campus this Saturday. Whether you have seats in Tiger Stadium or in front of a TV under a tent, here are a few suggestions for tailgating in style.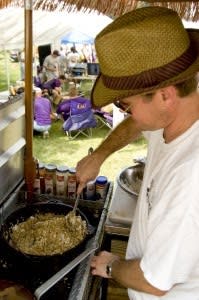 Bella Bella – A one stop shop for ladies of all ages carrying clothing, shoes, and jewelry to make you look your best in purple and gold. Bella Bella is easy for everyone to get to with locations on Perkins Road, Siegen, and Jefferson Highway
Tiger District – An online secret you'll be glad to know. T-shirts and tanks for both men and women featuring simple designs and bold lettering that stand out to everyone who sees you.  Gameday t-shirts are also their specialty.  Deals include buying a game shirt before the design is revealed for a discounted price or the entire season of game shirts for an even bigger discounted price.
For more gameday shopping ideas in Baton Rouge click here.
Baum's Fine Pastries & Chocolates – Get your tiger toes today! (Yes, you read correctly – tiger toes) These small candies are perfect for this week's tailgate. They're easy to eat while socializing and won't melt in the heat. If you want to give your tailgate buddies a real treat, purchase a few of Baum's famous petit fours.  Baum's offers football shaped petit fours during football season or their classic square petit fours with LSU lettering or a tiger paw drawn on the top. Baum's has two locations for your pick up convenience
Ambrosia Bakery – Ambrosia is the home to the purple and gold sandwich tray. Keep your tailgate crew fueled with either a small or large sandwich tray in your choice of meat. Cookies iced to look like tiger paws or LSU football helmets are also festive for the occasion.
For the perfect tailgate stop by Calandro's Supermarket for a 6-pack of Tin Roof beer before picking up a tailgate package at Monjunis, Maxwell's Market, or Rasing Canes