Imagine 13 professional water ski jumpers flying off of a six foot ramp at 70 miles per hour, launching over 200 feet across the water.
Sounds like some pretty intense stuff, right?

Now imagine it in the dark.  

Welcome to LA Night Jam.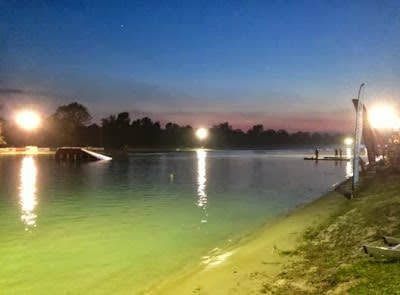 The Tri-Lakes at Sunset | Photo Credit: Chelsea Bennett
This past Saturday spectators flocked to Bennett's Waterski and Wakeboard School in Zachary, La to catch the fifth annual LA Night Jam. Personally, I've always thought of it as one of my favorite local events of the year. It blows my mind that such an incredible extreme sporting event is right in my own backyard. 

The event is non-stop extreme entertainment. Before the event even started we were wowed by barefoot skiers flying past us and Tandem wakeboarders throwing tantrums like it was second nature. However, I have to admit - I had a total nerd moment when I saw this: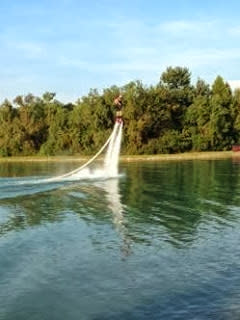 Photo Credit: Chelsea Bennett

Yes, those are a water powered jet pack boots. They are propelled by a jet ski, which is hooked to that tube. Talk about mind blowing extreme sports. Apparently, these things are extremely difficult to use and require a ton of muscle power. As unbelievable as it may be, this was just the pre-show.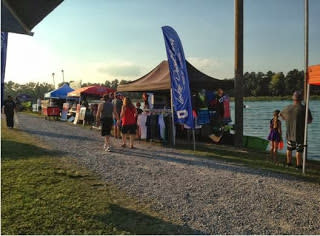 Shopping, food and sponsors filled the event.
Photo Credit: Chelsea Bennett

During the main event, Canadian Ryan Dodd stole the show with an incredible jump of over 236 feet. Russian Natallia Berdnikava won the women's competition with an astonishing jump of 179 feet. If you missed out on the action, you can see the entire webcast of the event on LA Night Jam's website.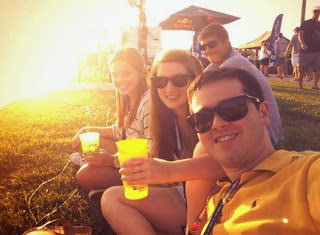 Waiting for the main event! Photo Credit: Chelsea Bennett
By the end of the event I was practically drooling over the flawless MasterCraft boats used for the competition that delivered a custom ride for each skier. Bennett's is a MasterCraft dealer. They also offer boat service and a great pro shop. 
When it comes to wake and ski athletics, Bennett's never disappoints. From early spring to late fall you can take ski and wakeboard lessons on the tri-lakes. I can tell you from experience, the instruction is just as incredible as the facility. In one week I went from having never touched a wakeboard to jumping a wake. Learn more about the school here. 
LA Night Jam V was the perfect blend of a great Louisiana festival and extreme sports. If you made it out to the tri-lakes, drop us a line in the comments and share your favorite part of the event with us!

Posted by:
Chelsea Bennett, Communications Intern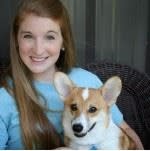 Chelsea Bennett is a Communications Intern for Visit Baton Rouge. She is a proud lifelong resident of Baton Rouge and LSU student. A lover of all things southern, she is completely infatuated with the sweet Louisiana life and everything quintessentially "Baton Rouge." Follow Chelsea on Twitter @GeauxChels