Crawfish Fettuccine from Gulf Coast Favorites Cookbook
When I want to showcase crawfish and need to prepare enough to feed a crowd— I often double this classic savory recipe and it always comes to my rescue. Best of all, you can make ahead on your own time and freeze for up to a month. Simple to prepare, the fettuccine and crawfish in this wonderful cheesy white sauce is a very requested recipe – you will get asked to make this year after year! Cooked shrimp may be substituted, if you prefer. If making to bring to a party or tailgate, make and freeze in a foil pan so no extra dishes to wash.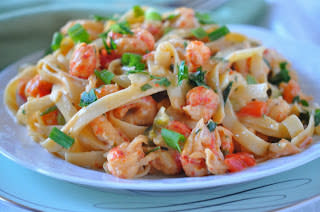 Photo Credit: Holly Clegg
Makes 4–6 servings
1 (8-ounce) package fettuccine
1 tablespoon butter
1 onion, chopped
1 green bell pepper, cored and chopped
1 teaspoon minced garlic
2 tablespoons all-purpose flour
1 (12-ounce) can evaporated skim milk
4 ounces reduced-fat pasteurized cheese spread
1/2 cup shredded, part-skim, mozzarella cheese
1 pound crawfish tails, rinsed and drained
2 tablespoons chopped parsley
1 tablespoon Worcestershire sauce
1 teaspoon hot sauce
1 bunch green onion, chopped
1. Cook fettuccine according to directions on package. drain and set aside.
2. In a large nonstick pot, melt butter and sauté onion, green pepper, and garlic until tender. Add flour and stir until combined.
3. Gradually stir in milk until mixture is smooth and bubbly. Add cheese spread and mozzarella, stirring until melted. Add the remaining ingredients, except green onions, and cook for 2 minutes or until heated.
4. Toss with pasta and green onions and serve.
Nutritional information per serving:
Calories 376, Calories from fat 18%, Fat 7 g, Saturated Fat 4 g, Cholesterol 125 mg, Sodium 563 mg, Carbohydrate 46 g, dietary Fiber 3 g, Sugars 14 g, Protein 30 g, Diabetic exchanges: 2 starch, 1/2 fat-free milk, 1 vegetable, 3 lean meat
Terrific Tip: Try using whole wheat or multi-grain blend pastas.
Posted By:
Holly Clegg, Guest Blogger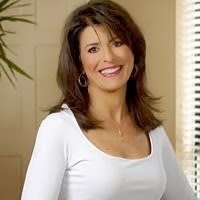 As a long-time Baton Rouge resident, Holly brings her Southern charm to every aspect of her life. Her busy lifestyle and desire to feed her own family health-conscious, homemade meals – even when in a time crunch – has served as her inspiration throughout the years.
For more information on Holly, visit her website and blog!