In February, JuJu's Boutique made its runway debut in Baton Rouge Fashion Week showcasing this season's biggest trends. Now that it's officially spring, JuJu's has dresses, tops, shorts, and more literally from the floor to the ceiling at their Jefferson Highway location. Plus, let's not forget the endless selection of shoes and full wall of accessories!
Last week I stopped in to let the JuJu's girls dress me from head to toe. We put together this Bohochic look featuring this floral kimono with fringe hem, which can be dressed up or down. We paired it with cutoff denim shorts and a white tank for a more casual look. My favorite piece was the stone necklace, which I thought added the perfect Bohemian touch.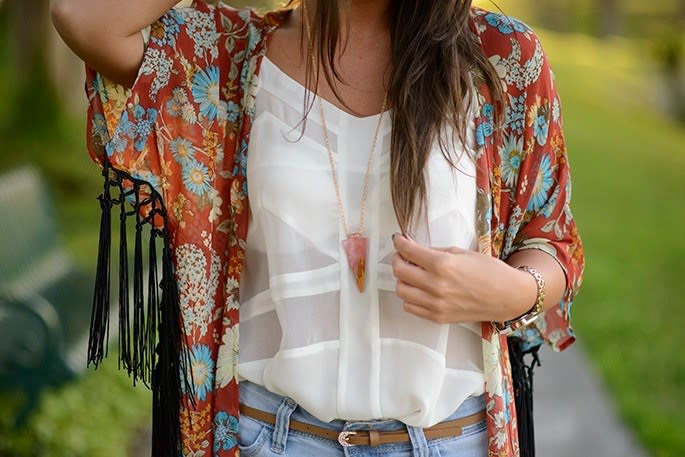 JuJu's has four locations in Houma, Baton Rouge, Mandeville and Lafayette. You can check out some more of their goodies on Facebook, Instagram, and Twitter!
Photos by Katie Hope.


Leslie is a middle school English teacher by day and a Louisiana fashion blogger by night. She started her personal style and shopping blog, Southern Flair, in 2010 after a summer interning in New York City for a fashion and beauty magazine. She has also served as The Daily Reveille's entertainment editor and DIG magazine's fashion editor. In the past four years Leslie has worked with many local brands and companies and immersed herself into the growing Louisiana fashion scene.

Follow Leslie on Twitter @southernflair10.