At the end of January, I had the tremendous pleasure of speaking at Food Blog South in Birmingham, Alabama. The food conference featured speakers and attendees from all over the country. Jason and Shaun, the event's organizers, invited me back for a second year in a row to speak about incorporating video into a food blog. Local videographer Tommy Talley and I tag-teamed the presentation by offering valuable insight into the world of video and how it can be an effective tool for food bloggers.
After the conference, Visit Baton Rouge and Juban's sponsored the after party, which was held at the Good People Brewing Company. Chef Jaime Hernandez from Juban's brought a spread of Louisiana cuisine including Smoked Chicken, Duck, and Andouille Sausage Gumbo with Herbed Cajun Country Rice, Grilled Honey Bourbon Brined Pork Rib Chops, Petite Greens Salad with May Haw Jelly Vinaigrette, Grilled Corn and Crawfish Maque Choux, and a Bayou Cassoulet with slow braised Alligator Tail Meat, Alligator Sausage, Frog Legs, Pink Eye Peas, Baby Lima Beans, Soy Beans, and Market Pepper Chow Chow. I could tell that a good time was had by all, and the food most certainly delighted the guests in Alabama.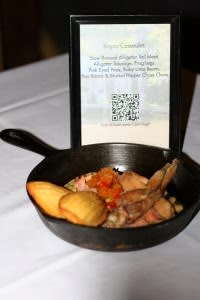 Now that I'm back in Baton Rouge for a few days following my trips to Las Vegas, the Sundance Film Festival, and Food Blog South, I've got more exciting news! Out of thousands of applicants, I have been named one of 52 finalists for the Major League Baseball FanCave. If selected, I'll spend a good bit of this summer living a baseball fan's dream at the FanCave in NYC. In order to get there, I need some help. The first goal is to be in the top 30 in online voting taking place until 2/13, thus earning me a spot at the Spring Training auditions. From there, I'd try out to be NYC bound. So vote . Vote again. Refresh the page and vote again. And then make sure you share on Facebook and Twitter!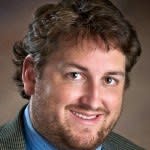 Jay D. Ducote is a chef, food and beverage writer, and overall culinary personality. He is the author of the blog Bite and Booze, host of the Bite and Booze Radio Show, and co-host of Raise a Glass, both on the air in Baton Rouge.
You can find him online here!