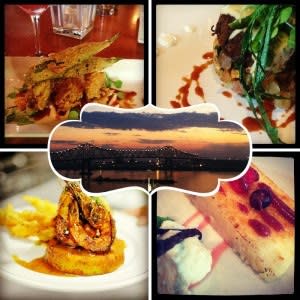 Stuffed yet? We know visitors and locals of Baton Rouge are! Baton Rouge's Restaurant Week is officially over and all those in attendance left with their bellies full and their wallets still heavy. The incredible menu items paired with unbeatable prices already have many Restaurant Week participants craving seconds! Whether you're still aching for some more of
Bin 77
's unbelievable Roasted Beef Tenderloin or just dying for another piece of
Tallulah
's delectable Bananas Foster Bread Pudding, make sure to visit all your favorite restaurants from Restaurant Week and support the local Baton Rouge food scene.
Every year, friends of Baton Rouge come together to enjoy an appetizing cuisine and good times for the city's Restaurant Week. This year, participants were encouraged to snapshot their plates and add the hash tags #EatBR, #IDigBR and #RWBR to their social media postings so that the social media world would be able to share their Restaurant Week experiences! As always, just to keep things interesting,
Dig
hosted Restaurant Week's Best Bartender Competition, which was a little friendly competition between local bartenders to see who can provide the best poison. They all did a great job, and
Doe's Eat Place
's bartender, George, took home the title of Best Bartender!
If you didn't get a chance to make it out to Restaurant Week this time, there's no need to fret! Just keep updated with
Visit Baton Rouge
and
Dig Baton Rouge
for any and all things delicious in Baton Rouge!
Posted By:
Alison Wisecarver, Visit Baton Rouge