Need something to revive you after that long night in Tigerland or downtown Baton Rouge, Curbside Burgers is the place to be.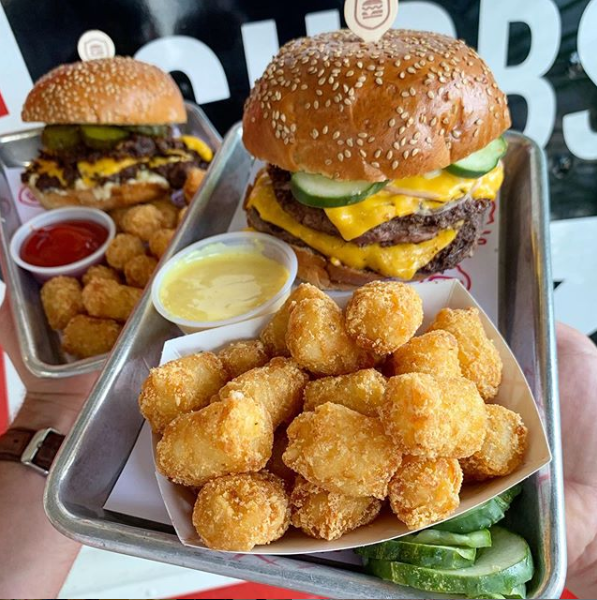 Curbside, located on Government Street, is known for its delicious spin offs on burgers and milkshakes. It is a modernized version of a burger joint, with a fun outside patio rendering live music and decorative lights. Not to mention, Curbside offers something special that many people have come to love: a brunch menu perfectly tailored to cure your hangover.
Curbside does its Sunday brunch from 11 a.m. to 3 p.m. and offers a wide range of food items that will get your mouth watering after one glance. It has burgers with glazed donuts for buns, burgers with a fried egg and praline bacon on top, and, of course, its famous chicken biscuit with gravy, which I couldn't resist. The chicken was perfectly fried and paired with delicious gravy on top, all wrapped up in a homemade, fluffy biscuit. That dish will definitely bring you back to life after just one bite.
If you're one who needs more hair of the dog that bit you to get through your morning struggle after a night out, don't worry because Curbside has you covered. Not only does it offer bottomless mimosas for only $10 to go with your meal, it also has an entire brunch drink menu full of delicious options. Curbside offers a modern spin on a Bloody Mary called the Bloody Mary Frozé, which is a refreshing frozen version of the original. You also can't forget the famous booze-filled milkshakes Curbside offers. Its best known for its Death by Chocolate shake or its Root "Beer" Float, which is, of course, made with actual beer.
Curbside is an awesome addition to the Baton Rouge local restaurant community and is a place that has something for people of all ages. It has an eccentric atmosphere and a menu that will leave you wanting more. From its fun drink options to its brunch that will remind you of your grandmother's kitchen, Curbside is definitely not your typical burger joint.
---
Blog Contributed by: Natalie Myers as part of Visit Baton Rouge's Student Blog Series
Natalie Myers from Monroe, La., is a junior at LSU, studying public relations at the Manship School of Mass Communication. She plans to pursue a law degree and serve as an attorney.
If you'd like to contribute a blog post to The Redstick Blog, let us know!
---