For those of you who are not going to Tuscaloosa this weekend for the LSU vs. Alabama (game of the season), we've put together a list of great places to tailgate in Baton Rouge for away games!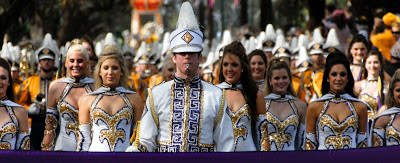 Feel free to comment and add your own suggestions of fun game day experiences.
The Chimes- Work on getting your name on an 'Around the World' plaque on the wall while watching the game and enjoying the full Chimes menu of southern favorites. If you're near the Coursey or Sherwood Area, check out Chimes East.
The Varsity- Experience the game on 2 GIANT High Definition TV Screens. Take advantage of great specials, including "Thirst and $10," where $10 gets you a free Foot-Long Hotdog or plate of Red Beans N' Rice, a 32oz Varsity Mug and complimentary Miller Light Draft until the end of the game.
Schlitz and Giggles- See the game on the only 2-story screen in Baton Rouge while enjoying amazing pizza, knots, and $2 draft beer!
Walk-On's- Surround yourself with TVs and LSU memorabilia at Walk-On's Bisrtreaux & Bar. Enjoy flavorful Cajundillas or have the Mega Cheeseburger along with a full bar.
LSU Student Union- Take advantage of air conditioning and dining options while watching the games at the LSU Student Union. The Union is a great place to watch LSU games (on basic cable channels), other SEC games, or to watch the Saints on Sundays.
Voodoo BBQ- Stop by the Nicholson Drive location, in the Shadows of Tiger Stadium and grab a drink at the outdoor game day bar. Be sure to ask your server about food and drink specials!
The Londoner Pub- Ask your server about drink specials while watching the game in a fun pub atmosphere.
Tony's Seafood- If you're craving fresh Louisiana seafood, check out Tony's deli specials on game days! Pick up seafood to cook with or cooked seafood entrées and appetizers.
Raising Cane's- Order your Cane's Tailgate combo package for great chicken tenders for game day parties, and don't forget to get extra sauce!